How To Watch and What To Expect From the LGBTQ Presidential Forum
Ten of the Democratic candidates for president will participate in a forum exclusively focused on LGBTQ issues Friday night in Iowa. It's a historic moment for the community considering the last such forum was in 2007.
Since then a lot has changed for LGBTQ Americans, from marriage equality, the long-overdue abolishment of the military's "Don't Ask, Don't Tell" policy and now an openly gay person, Pete Buttigieg, is a serious candidate for the Democratic presidential nomination.
Here's everything you need to know about the GLAAD, One Iowa, The Advocate and The Gazette sponsored forum.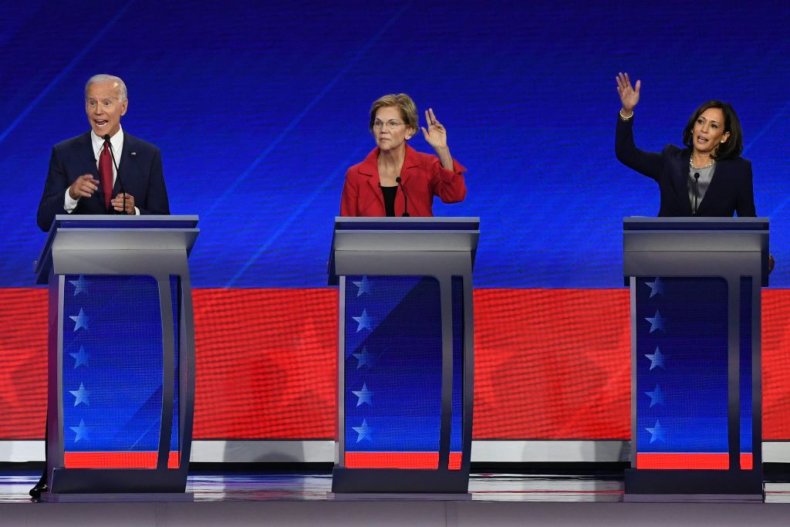 Who are the candidates?
Joe Biden, Elizabeth Warren, Pete Buttigieg, Cory Booker, Julián Castro, Kamala Harris, Amy Klobuchar, Tulsi Gabbard, Joe Sestak and Marianne Williamson will all take part in the forum, held at Coe College in Cedar Rapids, Iowa.
However, Bernie Sanders will not be at the forum because of a prior campaign commitment. He also will not attend the second LGBTQ debate on October 10, which will be hosted by the Human Rights Campaign and CNN, also due to prior campaign commitments. The candidates set to appear at that CNN televised debate are Elizabeth Warren, Kamala Harris, Joe Biden, Pete Buttigieg, Amy Klobuchar, Cory Booker, Beto O'Rourke, Tom Steyer and Julián Castro.
Pose's Angelica Ross, who will be hosting the GLAAD, One Iowa, The Advocate and The Gazette sponsored forum, tweeted about Sander's absence on Monday.
What's to be expected and how can you watch?
"This event will focus on LGBTQ people living in the heartland and their needs," One Iowa Interim Executive Director Courtney Reyes said in a statement announcing the event. "The overarching narrative that LGBTQ people in the U.S live in urban coastal areas ignores the millions of LGBTQ individuals living and working in the middle of the country. We look forward to hearing what the presidential candidates have to say to this often overlooked, but politically powerful community."
Each candidate will have a moment to address the audience, followed by questions from the moderators. Then there will be a Q&A period from the audience.
The forum starts Friday, September 20 at 8 p.m. ET. It will be live-streamed on GLAAD's website, NBC News Now and NBC Out. It's expected to last approximately two hours.
The Friday night event will be the first time the 2020 Democratic candidates have been given the opportunity to address LGBTQ Americans concerns directly in a debate forum, considering the lack of attention the LGBTQ community has received at previous debates. It will also be only the second time frontrunners Warren and Biden have been able to appear on a debate stage together.