How to Watch 'Xena: Warrior Princess' for Syfy's Pride Month Marathons
The Syfy network is celebrating National Pride Month in conjunction with the non-profit GLAAD, and that means the television channel will be holding several marathons of Xena: Warrior Princess, starting this Thursday. As part of the special programming, viewers can count on seeing brief new segments in which Xena stars Lucy Lawless and Renee O'Connor will talk about issues of representation and give out a big battle cry to their legions of LGBTQ+ fans.
All throughout the month of June, Syfy will air a block of must-see Xena episodes every Thursday. In just a few days, the first marathon begins at 6:30 a.m. and ends at 11:30 a.m. The second marathon will run from 6 a.m. to 12 p.m. on June 11; the third will take place on June 18, from 6:30 a.m. to 12:30 p.m.; and the last day to catch-up on your favorite Warrior Princess episode will be June 25, when the final marathon will air from 6:30 a.m. to 11:30 a.m.
In their new bits of content discussing the iconic series, Lawless and O'Connor will also shoutout Xena die-hards. For an idea of what to expect from the clips featuring the two lead actresses, check out the promotional video up above.
For those who need a refresher course, Xena (Lawless) and her faithful companion, Gabrielle (Connor), had a "will-they/won't-they" type of relationship. The two obviously had feelings for each other, but they never officially called themselves a couple. Sure, the dim-witted Joxer (Ted Raimi) and conceited Autolycus (Bruce Campbell) were dropped in on the show as potential love interests. But they were really sidekicks to our female protagonists.
As the show progressed, the two lead characters had their fair share of long gazes and near-kisses. Xena and Gabrielle shared an unbreakable bond as they always chose each other. In the video above, Connor recalls how the show found its LGBTQ+ fanbase. "We were embraced by the lesbian and gay community," she says. "Their feelings were seen on television for the first time. Feeling like, they could get on the internet, and come out, and talk to other people around the country and say, 'Wow! I'm really attracted to these women! I think that's strange, but I have no moral problem with this at all.'"
"That resonates to this day. There's no shame in who you love," added Connor.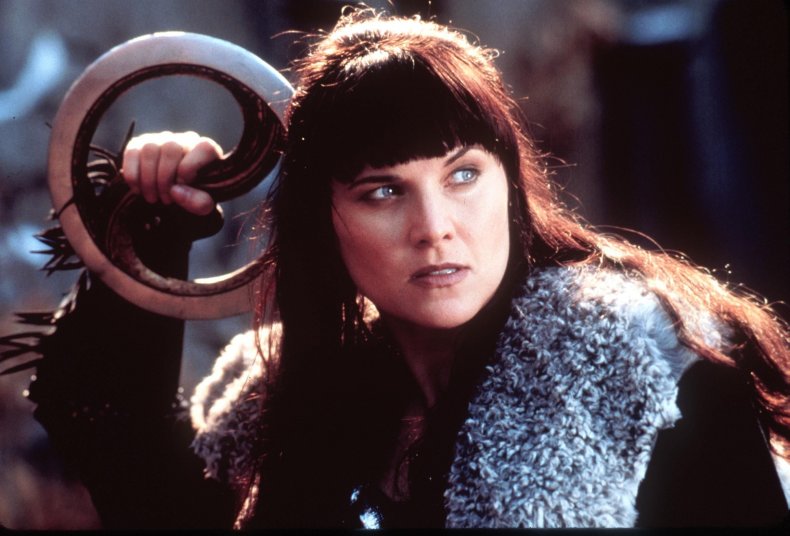 Due to the coronavirus outbreak, many Pride events have either had to be cancelled or move to a virtual avenue. It's a shame that masses of people will not be able to gather outside at a parade, but people will no doubt find a way to commemorate Pride Month, and the Syfy network is taking part.
GLAAD Chief Communications Officer Rich Ferraro said to Deadline, "During a Pride month when many LGBTQ community members will not be able to gather in-person, LGBTQ visibility matters more than ever and SYFY and USA's content will help to ensure the spirit of Pride still shines bright."
If you're a longtime Warrior Princess fan, this marathon will give you a chance to catch up with some of your favorite characters. And if you're someone who's only heard about the show, then now's the chance to discover all the fun, romance, and action that Xena and Gabrielle have to offer.