'How to Weep in Public' Will Have You Laughing Through Tears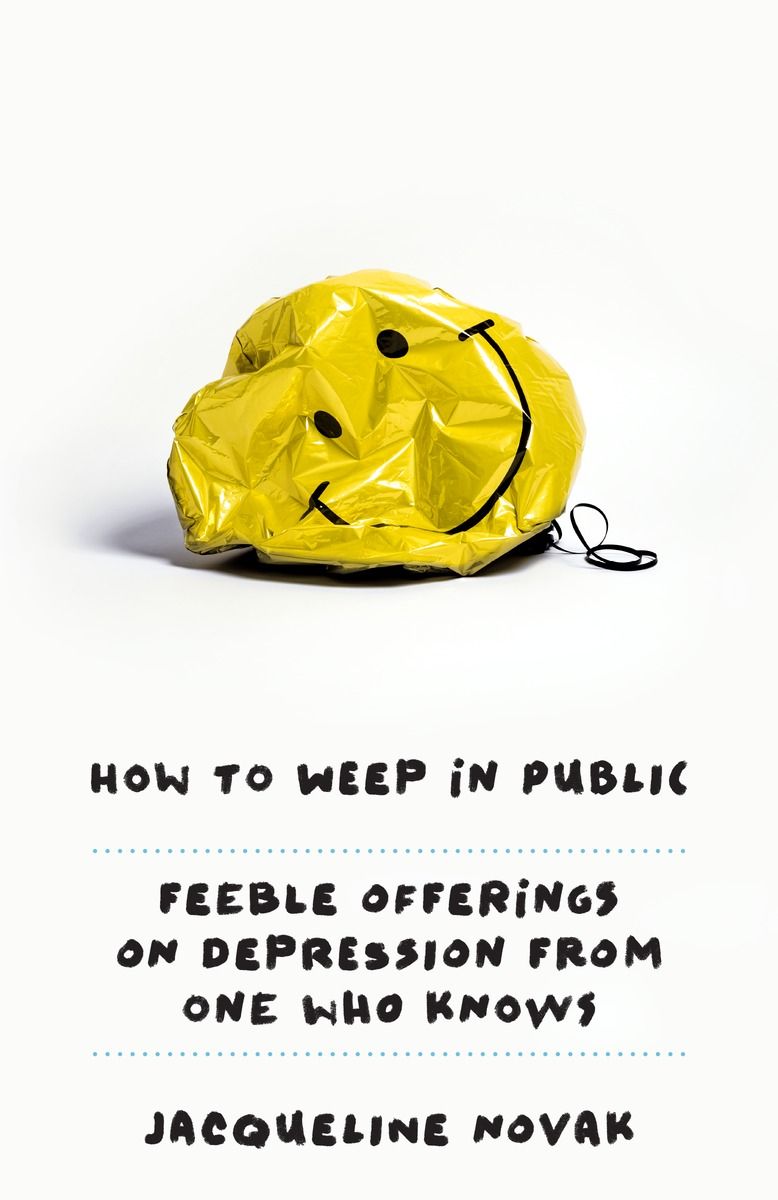 Is there a technique to crying in public? Jacqueline Novak, the New York-based comedian and self-proclaimed "depresso" behind the new book How to Weep in Public: Feeble Offerings on Depression From Someone Who Knows, has a few lessons to share. "When you feel like it is so overwhelming that you have no choice but to cry, simply stop in your tracks and bend over like you're catching your breath after a run," she offers. "Then, let the tears fall straight down out of your eyes to the ground. Aim for perpendicularity."
In a way, Novak's wry book is the natural evolution of the NYC Crying Guide Tumblr, which singles out the best places in the city for teary breakdowns, for example touting the No. 7 train as an "all-star cry." And while it helps to validate feelings of sadness in a very public forum, the guide doesn't much cover the technique of public weeping itself. That's where Novak comes in, with an array of "feeble offerings" garnered from a lifetime of grappling with depression, buffeted by hilarious insights and self-deprecating asides. (One footnote reads: "Yes, I've been withholding mentions of my stand-up comedy throughout this book, because no one likes a comedian. That being said, check out my album, Quality Notions, on iTunes.")
Don't mistake How to Weep in Public for a self-help book, though. Up front, Novak cautions that "while most books on depression try to help you win the war, this one is merely a cigarette in the trenches." While in there with Novak, you'll find meditations on childhood sadness, and lists that are especially helpful on the days one don't have the fortitude to get out of bed, such as, "Top Four People Who Dressed Like Shit and Nonetheless Thrived."
How to Weep In Public does not attempt to be a depression cure, per se, but rather a small, good thing during the bad times. "It's like a consult your doctor before doing these exercises thing," Novak tells Newsweek. "I'm not promising anything here. I try to elaborate on it a little bit so the reader can find a tour guide around their depression that maybe makes it a little easier."
Novak says the book came out of a period of deep depression, during which she was holed up at her parents' house and taking a breath. "I was struggling, but I was still trying to be creative. I really felt like I couldn't escape how the mood was impacting my mind," she says. "It's such a strange thing, because [depression is] changing how you're thinking. You're aware of it and at the same time not able to stop it." So she decided to, as she puts it, attempt to "set up camp in that illusion" and try to extract something positive from the experience. "I remember sitting at this desk in my parents' basement, and thinking: 'What is the benefit of this? What could I possibly do to make use of me being in this situation?'"
She concluded that she'd set out to write the book that she would want to read: a kind of dialogue between herself and others who were struggling. "I imagined that if I had something to read from someone who was in that state and knew it, it would be very comforting to me," she says. "It's like sharing the same collective hallucination or something. We're both at the mercy of our illusions, and our depressive perspective. But we are here."
Unfortunately, it still takes a lot to admit that you are there at all in our world. While forums like Tumblr and Twitter have widened discussions of depression, mental health is often ignored as a legitimate disability that in addition to being limiting can be life-threatening. And while Novak's book isn't exactly a campaign to destigmatize depression, How to Weep in Public helps to break down difficult topics in a casual way—and if discussions are bred out of it, all the better. That's what led her and her team to create the hashtag #weepinpublic, which invites people to speak openly about their experiences, or just share an anecdote about a recent damn good cry they had out in the open.
Later this month, Novak will celebrate the book's release with an event that she calls a "depression world's fair" in Brooklyn. While it's still in the works, Novak mentions that she envisions it as a comedy show melded with activities such as a whack-a-mole-type contraption to cathartically smash bad feelings and a "social anxiety chamber" that she's been building. "I really like the idea of ridiculous inventions that cause more problems than they solve," she says. "But they legitimize feelings, and that's the whole idea. I wanted to give you permission to be doing this. There's some kind of power in doing that."