How Will Cavaliers Use Isaiah Thomas Against Trail Blazers? LeBron James Must Gel Fast With Returning Star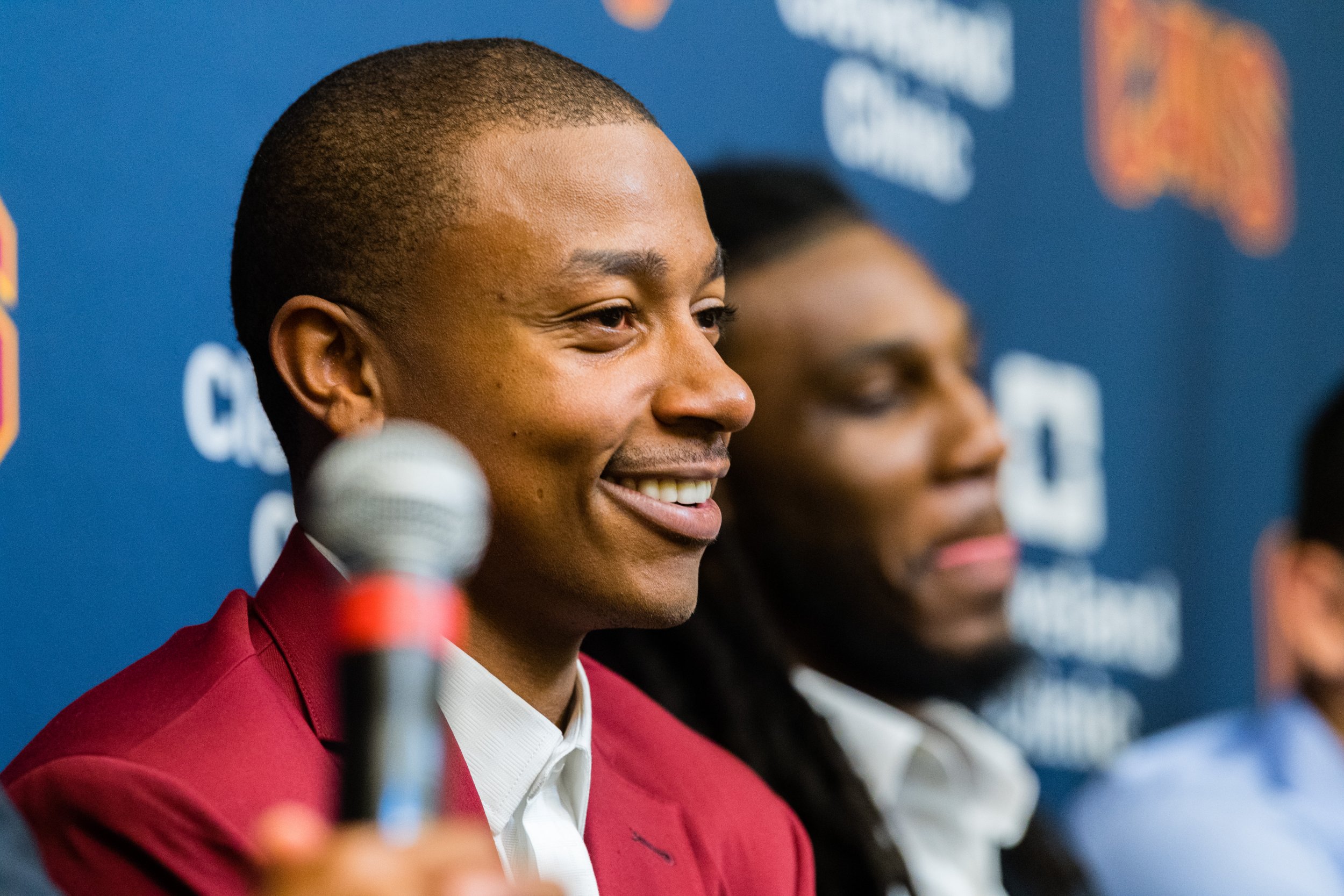 Isaiah Thomas will make a debut for the Cleveland Cavaliers on Tuesday night that has been far too long in its gestation.
Thomas, the former Boston Celtics point guard, has overcome the hip injury that has sidelined him since his trade to the Cavaliers in the summer. Thomas's first game as a Cavalier comes against the Portland Trail Blazers at Quicken Loans Arena, a contest that will shape up to be a tough test for a Cleveland team that has lost three in a row over the Christmas period.
As hard as getting on the court has been for Thomas, though, it's what happens next that will surely prove tougher. In the middle of a frenetic season, and without the benefit of a preseason, Thomas has to learn how to integrate himself into the Cavaliers' offense (and defense) next to LeBron James, a man used to doing everything in pretty much every position for this team.
Tyronn Lue, the Cavaliers' head coach, sounds like he's going to do everything possible to make the transition as smooth as possible for Thomas, who ranked third in scoring in the NBA with the Celtics in 2016-17. " Everybody is excited for him and I'm excited," Lue told Cleveland.com on Tuesday. "But it's going to be a process. Getting in shape. Timing. He can't get frustrated thinking it's going to happen overnight. But we're very excited to have him back." Lue will limit Thomas's minutes against a Trail Blazers team that may be without its own star point guard in Damian Lillard, through injury.
In a New York Times piece published on Monday, Benjamin Hoffman pointed out the importance of Thomas' return to play in finally allowing Lue to settle on a starting point guard. The Cavaliers have been winning, and keeping pace at the top of the Eastern Conference, with a hotchpotch of veterans playing the point including Jose Calderon, Derrick Rose and the veteran Dwyane Wade, who is much more of a shooting guard anyway.
At the same time, Hoffman struck a warning note. "There is at least some ambiguity as to how much he [Thomas] can help the team because, to put it bluntly, the offense is not the problem in Cleveland," he wrote.
The Cavaliers have the second-worst defense in the NBA this season and even a fully fit, up-to-speed Thomas isn't going to help that statistic. Thomas is worse defensively than Kyrie Irving, who wasn't great. To get back to the NBA Finals, and to beat the Golden State Warriors, the Cavaliers have to find a way of improving on the defensive side of the ball.
Or, they could just score a bucketload more points, especially if James and Thomas can form a lucid understanding with each other. Thomas's return to basketball with the Cavaliers is going to be box office, whatever the result. Sit back and grab the popcorn.