It wasn't immediately clear—contextually at least—why LaVar Ball chose to renew his feud with President Donald Trump on Thursday evening.
Context is often a relative term with Ball, of course. It's a pretty pointless exercise trying to predict what the Big Baller Brand patriarch will do next, outside of assuming that it will be done at full volume.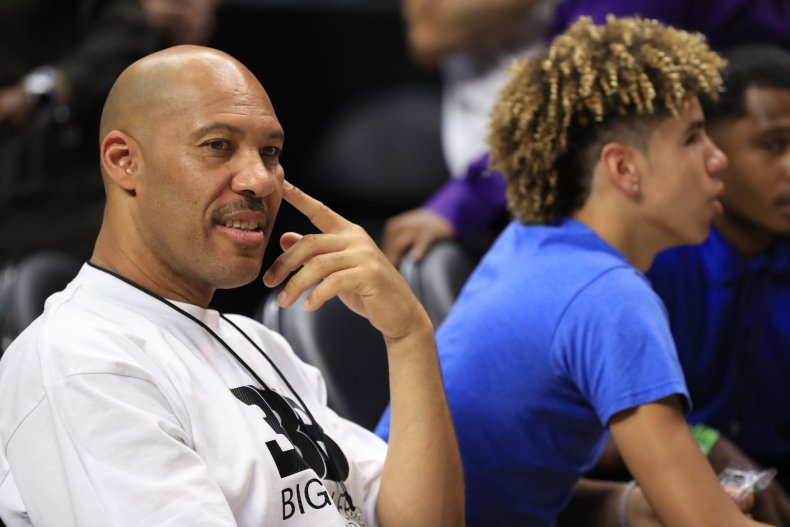 Ball became a self-parody on Thursday in Philadelphia as the Lakers beat the 76ers on a three-pointer from Brandon Ingram. But the momentous win turned out to be more about LaVar than anyone else.
Fans at Wells Fargo Center glimpsed LaVar in his suite before the final buzzer, and obviously LaVar riled them up and loved the whole thing. Then he met Joel Embiid and talked about how LaVar Ball is a genius. There was some other stuff too, better watched in this NBC video than typed out. To reduce LaVar to words on a page feels a bit like pouring water over an irritating yet entertaining fireworks display.
Ball was also busy on Twitter, pinning a gif to his page showing him dunking over a cartoon Trump, with the hashtags, "#thetrumpdunk" and "#stayinyolane."
As CNN pointed out, the wording goes back to an interview Ball gave to Chris Cuomo in November, after his middle son LiAngelo had been released from detention in China for shoplifting.
Trump, who spoke with Chinese President Xi Jinping about the release of LiAngelo and two of his UCLA teammates, demanded that they thank him. LaVar took umbrage at Trump; Trump called LaVar an "ungrateful fool" and "a poor man's version of Don King, but without the hair" on Twitter.
"If you help, you shouldn't have to say anything," LaVar told Cuomo. "Let him [Trump] do his political affairs and let me handle my son, and let's just stay in our lane."
It was all so painful to watch and read about, and now LaVar has ignited it all again, albeit with a pretty sweet piece of internet artwork. Because there's no way Trump won't respond, surely. Get ready for more completely unnecessary noise.
About the writer
Sportswriter at Newsweek.