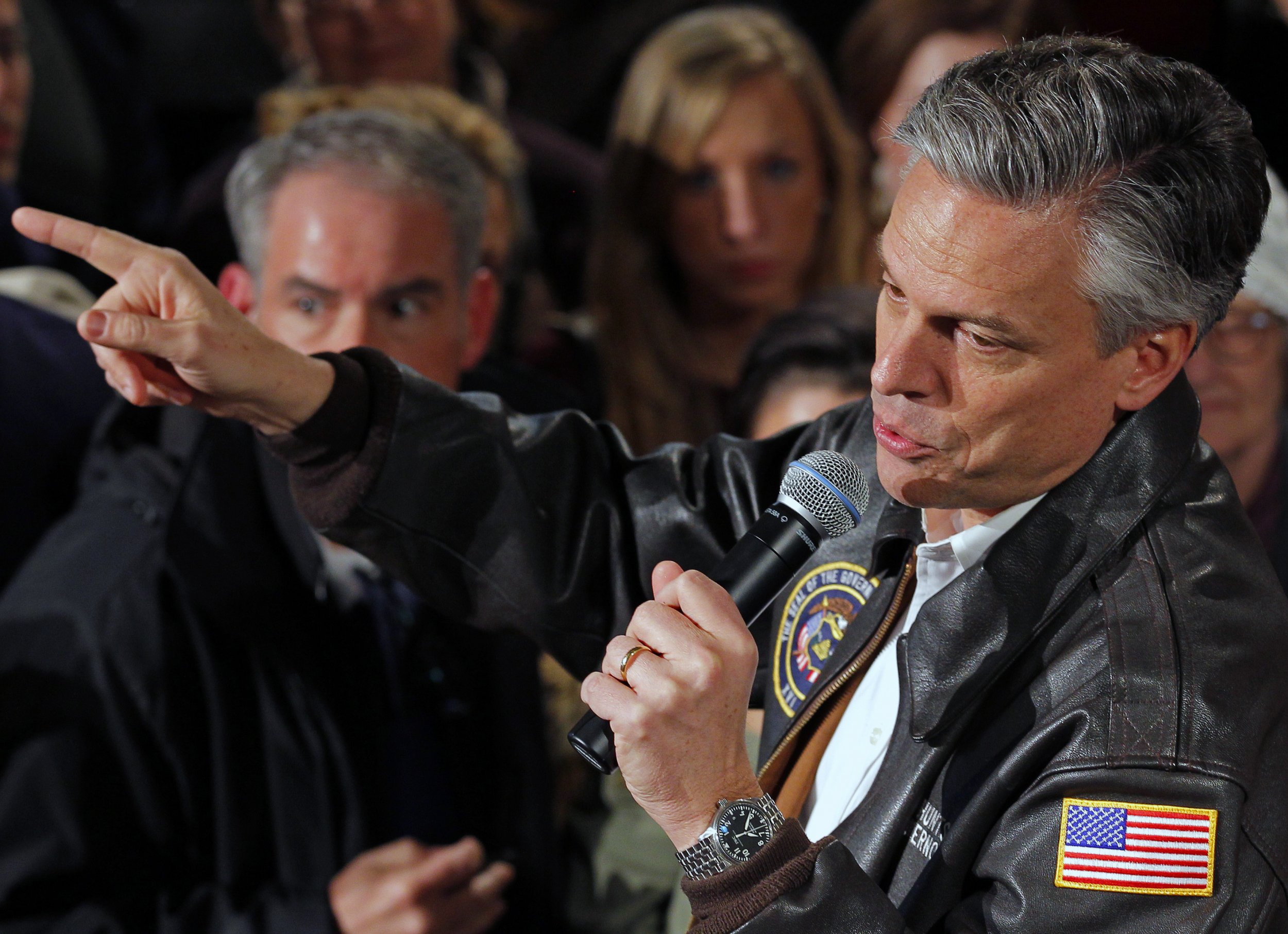 From Beijing to Moscow via Salt Lake City, Jon Huntsman Jr. is tipped to become President Donald Trump's ambassador to Russia. The former Utah governor is regarded as a genial and capable diplomat by experts and former colleagues, though a question mark hangs above the matter of just what the policy chain of command above him will look like, specifically on Russia.
Here is what we know about Trump's choice to be envoy to Russia and the task he would face in Moscow if confirmed.
Skillful Operator in China
A Republican Party member, Huntsman served as President Barack Obama's ambassador to China between 2009 and 2011. In addition to exhibiting a degree of separation from partisan domestic debates at the time, he "skillfully" balanced personal convictions with the political restraints of his office in China, says Richard Bush, a former U.S. national intelligence officer for East Asia.
"He did an effective job in China and I think he was able to convey a certain amount of independence on issues that were important to him and to Secretary of State Clinton, such as human rights," he says. When Chinese media photographed Huntsman at an anti-government protest in 2011, Bush recalls, he managed to show solidarity with human rights activists while avoiding an international incident.
"He appeared with his two children and later explained that he did not know about the protest, but was just taking his kids to McDonald's near to where this was going on," he adds. "You would not be able to get away with that in China today and I don't know if he got D.C.'s permission, but either way it was very skillfully done at the time."
Just as the political environment in China would not tolerate such a stunt today, Bush says the same is true of Russia, which has taken an anti-activist turn during President Vladimir Putin's third term. But there are crucial differences between China and Russia in the business and military sectors. Unlike China's manufacturing-based economy, Russia's economy is closely linked to the energy sector, with official oil and gas negotiations being associated with foreign policy. Moreover, Russia's financial crisis amid plummeting oil prices and sanctions is putting stress on Moscow's sometimes testy temperament, while Huntsman arrived in China at a time of economic growth.
After working with Huntsman, though, Bush believes the diplomat has the savvy to appropriately "tailor his response" to the political environment.
"He is a very bright, personable, engaging person," Bush says. "Chinese people found him engaging and charismatic. Just the sort of personality you want to have as an ambassador."
'Not Exactly a Dove' on Russia
Russian reaction to the appointment has been relatively muted, with the Kremlin issuing a generic statement that it would "welcome any new head of the U.S. embassy in Moscow who will display firm commitment to the idea of establishing a dialogue between the two countries."
Whether there is any indication that Huntsman will be that person is unclear, as his record does not indicate that he is pro-Russian, says Alexey Pushkov, a Russian senator and former diplomat. In fact, his role in the Atlantic Council think tank, whose experts have repeatedly taken hard lines in investigations of Moscow's support for separatist forces in Ukraine, is one reason Pushkov concludes that despite Trump's pro-Russian rhetoric, the man he wants to send to Moscow is " not exactly a dove."
His Asia Pacific foreign policy background, as opposed to just dealing with the former Soviet Union and its satellite states, would set him apart from previous appointees, and he is clearly ambitious beyond foreign policy, having served as governor and campaigned for president. John Herbst, a former U.S. ambassador to Ukraine who is now with the Atlantic Council, says the Huntsman pick "shows the president is serious to developing something new and creative with Moscow."
While Trump has faced criticism at home for his personal admiration of Putin, his top national security and foreign policy officials have received better reviews. CIA Director Mike Pompeo, Defense Secretary James Mattis and National Security Adviser H.R. McMaster have all gone on record in condemning Russian actions in Syria, Ukraine or both.
Even Secretary of State Rex Tillerson—who entered office with the poisoned chalice of a commendation from the Kremlin and the Russian Order of Friendship hanging like a proverbial albatross from his neck—has mostly stayed out of Trump's Russia imbroglio. He has spoken in favor of maintaining the Russia sanctions and toed standard U.S. policy lines on NATO and Ukraine, even while displaying confidence in his understanding of Russia as "a danger but...not unpredictable." Huntsman could gel well with these other appointees, Herbst says.
"Aside from his overall competence, he is a politician and person of stature, which is an indication of the importance the president attaches to this role." he says. "I cannot imagine him going anywhere and not doing a good job. There is no public record of Huntsman's views on Russia but he has the benefit of the Atlantic Council program behind him."
Turmoil in the U.S.
In Russia, the U.S. ambassador is frequently subject to much media exposure and, due to the state-dominated nature of the media sector, often the target of ridicule. This, coupled with the increasingly assertive way in which the Kremlin has handled both foreign and domestic policy, makes the demand for public diplomacy on the embassy's end quite high.
This will be especially true in the coming year as politicians in the U.S. continue to allege Russian interference in the U.S. election; as more information about contacts between Trump's team and Kremlin officials becomes public; and while Russia prepares to hold another presidential election and to host another large sporting tournament—the 2018 World Cup.
Before even arriving in Moscow, Huntsman would have to come to grips with the White House's policy on Russia and Trump's commitment to "getting along" with Moscow. It is unclear whether this means Trump intends to offer any concessions, but he has said he would consider accepting Russia's annexation of Crimea, dropping the Russian sanctions and putting conditions on support for NATO. Although Mattis and Tillerson have indicated that the sanctions will remain, they do not intend to recognize Crimea as Russian territory and have issued much stronger messages of support for NATO. It is not yet clear whether the White House will attempt to overrule these appointees, or how Huntsman will stand on these issues.
While Steve Sestanovich, a former U.S. ambassador-at-large to the Soviet Union, concedes Huntsman does not have a record that shows him to be particularly sympathetic with the Kremlin, this does not make him a hawk.
"If Trump actually wanted to pursue a rapprochement with Russia, he'd have to make sure that his choice for ambassador was not seen in Washington as a Putin patsy," he says. "Huntsman is a great choice in that respect."
Because of that, Huntsman's arrival would not automatically be received with jeers from Moscow, even if he still hasn't publicly voiced his positions on the many Russian policy commitments,.
"Other countries want an American ambassador who's either a highly regarded professional or close to the president." Sestanovich says. "Jon Huntsman is about as close as you can get to being both."
However, he notes that there is "no reason to think Huntsman favors a weak policy toward Russia.
"Given all the trouble Trump has had related to Russia, he absolutely needs an ambassador who's seen as tough and skeptical," Sestanovich says.
Huntsman has shown as much during his 2012 campaign for the Republican presidential nomination, when he criticized Obama's policy as "undercutting those in Russia who see a democratic future for their country."
His campaign site featured a statement warning that the U.S. should not "pretend the Kremlin is more of a partner than it is, more of a democracy than it is, more respectful of human rights than it is, and less threatening to its neighbors than it is."
Trump himself has been much more cagey on the threat he considers Russia to pose to the rest of Europe. Whether this appointment is a capitulation on that position remains to be seen.
Lilia Shevtsova, Russian policy expert at Chatham House and a graduate of Moscow's state diplomatic institution MGIMO, notes that Huntsman has shown he is prepared to take a political stance and speak his mind, as opposed to simply serving as a spokesman.
"Those [in Russia] who hoped that the new U.S. ambassador will be an 'accommodation' type should be frustrated and disappointed," she says. "However, Huntsman's line will depend on when and how the White House sorts out its foreign policy strategy. So far, we can see only the demonstration that it is absent."