How You Can Help the Homeless During the Coronavirus Pandemic
As America battles against the coronavirus 2019 disease (COVID-19), organizations are concerned about how the pandemic will affect homeless people in the country.
"Homeless service providers are facing a long list of needs during the COVID-19 outbreak, but it's particularly challenging to know how to best help at this moment," said Nan Roman, president and CEO of the National Alliance to End Homelessness. She goes onto explain that there is a wide spectrum of what people who are homeless need ranging from cleaning products to medical support.
What is the current state of homelessness in the U.S?
Around half a million Americans are homeless on any given night, according to the State of Homelessness in America 2019 report. Of these people, approximately 35 percent—just under 200,000—do not have shelter and sleep on the streets, also known as rough sleeping, in places, which the government describes as not intended for human habitation. These places include sidewalks, parks, cars or abandoned buildings. People who do not rough sleep, which is thought to be over 350,000, live in sheltered buildings such as emergency shelters and transitional housing programs.
The National Alliance to End Homelessness has broken these statistics down further into subpopulations. These include people who are under the age of 25 years of age (account for seven percent of the homeless population), chronically homeless (18 percent), veterans (seven percent) and people with disabilities—the rest of the population are individuals that do not fall into these subcategories or families. Of the homeless population, 70 percent of them are men with White Americans accounting for 49 percent.
The organization has also found that the majority of homeless people live in States such as California, New York, Florida and Texas. However, increases have been seen across the country, with 12 States and Washington, D.C. experiencing growths that range from Iowa (one percent) to South Dakota (100 percent).
Organizations such as the Centers for Disease Control and Prevention (CDC) and the HUD Exchange have released guidance on how to help those who are homeless and/or rough sleeping. Whether you want to help as an individual or as part of your community there is advice for everyone.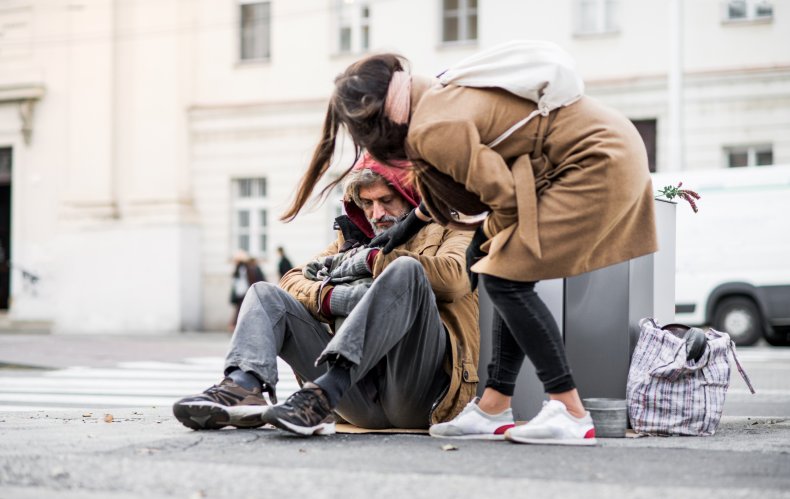 How can communities help homeless people during the COVID-19 pandemic?
According to the CDC, communities can help the homeless by putting preventative measures in place and having an emergency plan. Taking these steps can help communities best prepare for an outbreak and assist shelters:
Identify a list of key contacts at local and state health departments.

Identify a list of healthcare facilities and alternative care sites where clients with respiratory illness can seek housing and receive appropriate care.
Include contingency plans for increased absenteeism caused by employee illness or by illness in employees' family members that require employees to stay home—these plans might include extending hours, cross-training current employees, or hiring temporary employees.
Promote the practice of everyday preventive actions—this can be through using health messages and materials developed by credible public health sources.
Provide COVID-19 prevention supplies at organizations such as soap, alcohol-based hand sanitizers that contain at least 60 percent alcohol, tissues, trash baskets, and disposable facemasks.
Create a communication plan for distributing timely and accurate information during an outbreak—this could include automated text messaging or mailing lists.
Identify and address potential language, cultural, and disability barriers associated with communicating COVID-19 information.
Help counter stigma and discrimination in the community—speak out against negative behaviors and engage with stigmatized groups.
People experiencing homelessness might be at increased risk of adverse mental health outcomes, particularly during outbreaks of infectious diseases so we have something in place to help them.
How can I help homeless people during the coronavirus outbreak?
Like working as a community, individuals can provide assistance to homeless people via donations.
"We're seeing a great need for cleaning supplies, gloves, masks, hand sanitizer, water bottles, and similar items," Nan Roman told Newsweek. "People should consult the web and social media pages of the providers in their area to see if they have a wish list."
According to the HUD Exchange, shelters are advised to keep the following items in the event of a disaster:
Personal Protective Equipment (PPE)—Gloves, surgical masks and goggles.
Cleaning Supplies Large and small garbage bags and other waste disposal supplies.
Thermometers and thermometer covers.
Medications used to bring fevers down such as acetaminophen.
Bags including re-sealable zip-top plastic bags.
Disinfectants such as bleach, Lysol or other household disinfectants.
Linens such as towels, blankets, sheets, hospital gowns, and robes.
Dividers which can be sheets, curtains, twine and nails to rig up barriers for isolation of sick (plastic shower curtains could also be used for this purpose).
Extra fluids and foods including juices, Gatorade or Gatorade instant mix (powder), Pedialyte, instant soups, Jell-O and teas.
For anyone with medical experience, Roman also emphasizes that volunteers are needed in shelters: "There's an important need for medical support right now," she explains. "Shelters might need people with relevant medical knowledge to advise and consult them during this time, so we encourage people to reach out if they have the expertise to lend."
For those who don't, there is still more they can do. "Many communities need to expand their shelter space so that they can appropriately engage their clients in social distancing—if you belong to a house of worship or a club with available public space, encourage the leadership to use it to help the community expand shelter or day center capacity. As libraries and other public spaces close down, this will be an increasingly important need," Roman says.