Howard Dean Equates Fox News With Russian Television, Calls Network 'Propaganda' Organization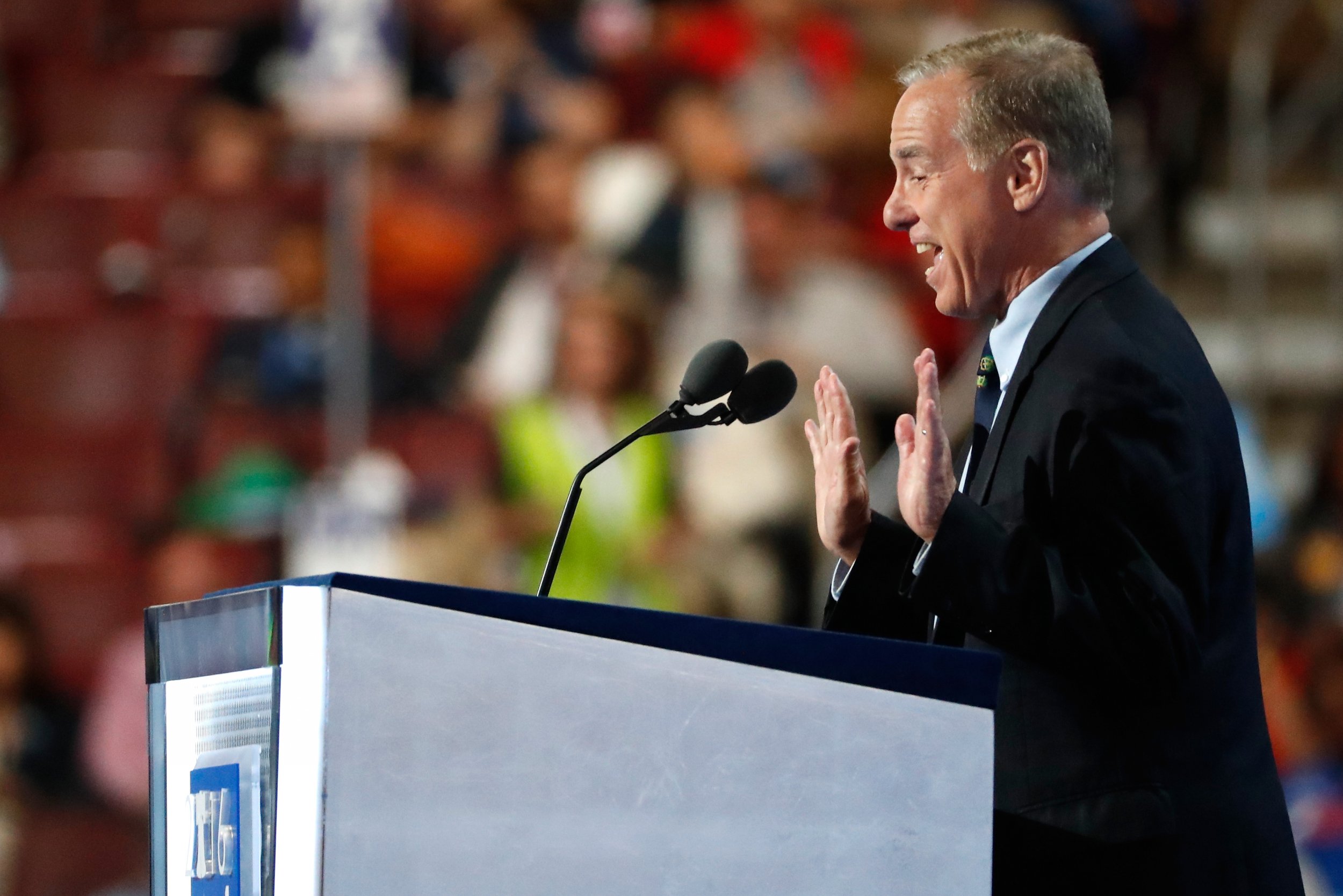 Howard Dean didn't mince words when blasting Fox News during a Saturday morning appearance on CNN. The former Vermont governor and one-time presidential candidate lampooned the conservative network, calling it a "propaganda organization" for President Donald Trump's administration.
He made the comments while defending the Democratic National Committee's decision to abstain from partnering with Fox News for 2020 presidential debates out of concerns the network is too closely aligned with Trump. Dean served as the former DNC chair from 2005 to 2009.
"...Fox is a propaganda organization; it's not a news channel," Dean said, reiterating his previous complaints. "I don't think we are obligated to have our debates on stations that are really not news channels. And that's what (DNC Chair Tom Perez) decided to do, and I think that makes sense."
He went further in his rebuke of the news channel, saying it had transformed for the worse over the last two decades. Dean, who used to make regular appearances on Fox during his 2004 bid for the White House, compared the channel to state-funded RT Russian Television.
"I think the network has changed dramatically," Dean said, when asked whether the network had shifted its priorities. "I used to go on Fox on Chris [Wallace's] Sunday show. He's tough but very fair — and there are a few decent journalists on Fox. Although, there are a lot fewer than there used to be."
The DNC has said it will hold twelve presidential debates during the 2020 election. The move to exclude Fox News came after The New Yorker published an in-depth report outlining how the media network and Trump share a symbiotic relationship rife with coordination. In one of its more blockbuster revelations, the article detailed how Fox editors may have attempted to stifle reports that President Donald Trump had an extramarital affair with adult film star Stormy Daniels, whose legal name is Stephanie Clifford. The former Fox News editor responsible for killing that story has since denied that characterization.
Dean invoked that report in his Saturday appearance: "If you have a relationship with the most corrupt president in the history of the United States, you are feeding him the news, he is calling your hosts all the time —this is not a true news outlet," he said.
In a statement earlier this week, Perez cemented the DNC's decision to bar Fox from hosting its debates.
"I believe that a key pathway to victory is to continue to expand our electorate and reach all voters," the DNC chair said in a statement. "That is why I have made it a priority to talk to a broad array of potential media partners, including Fox News. Recent reporting in the New Yorker on the inappropriate relationship between President Trump, his administration and Fox News has led me to conclude that the network is not in a position to host a fair and neutral debate for our candidates. Therefore, Fox News will not serve as a media partner for the 2020 Democratic primary debates."
Meanwhile, Fox News urged the DNC to reconsider.
"We hope the DNC will reconsider its decision to bar Chris Wallace, Bret Baier and Martha MacCallum, all of whom embody the ultimate journalistic integrity and professionalism, from moderating a Democratic presidential debate," Fox News Senior Vice President Bill Sammon said in a statement. "They're the best debate team in the business and they offer candidates an important opportunity to make their case to the largest TV news audience in America, which includes many persuadable voters."
It's hardly the first time claims of bias have rocked debate planning. In the runup to the 2016 election, the Republican National Committee pulled out of a planned debate on NBC and cited concerns over impartiality.