Starbucks Billionaire Howard Schultz Mocked for Saying He Doesn't 'See Color Now' When Questioned on Race Relations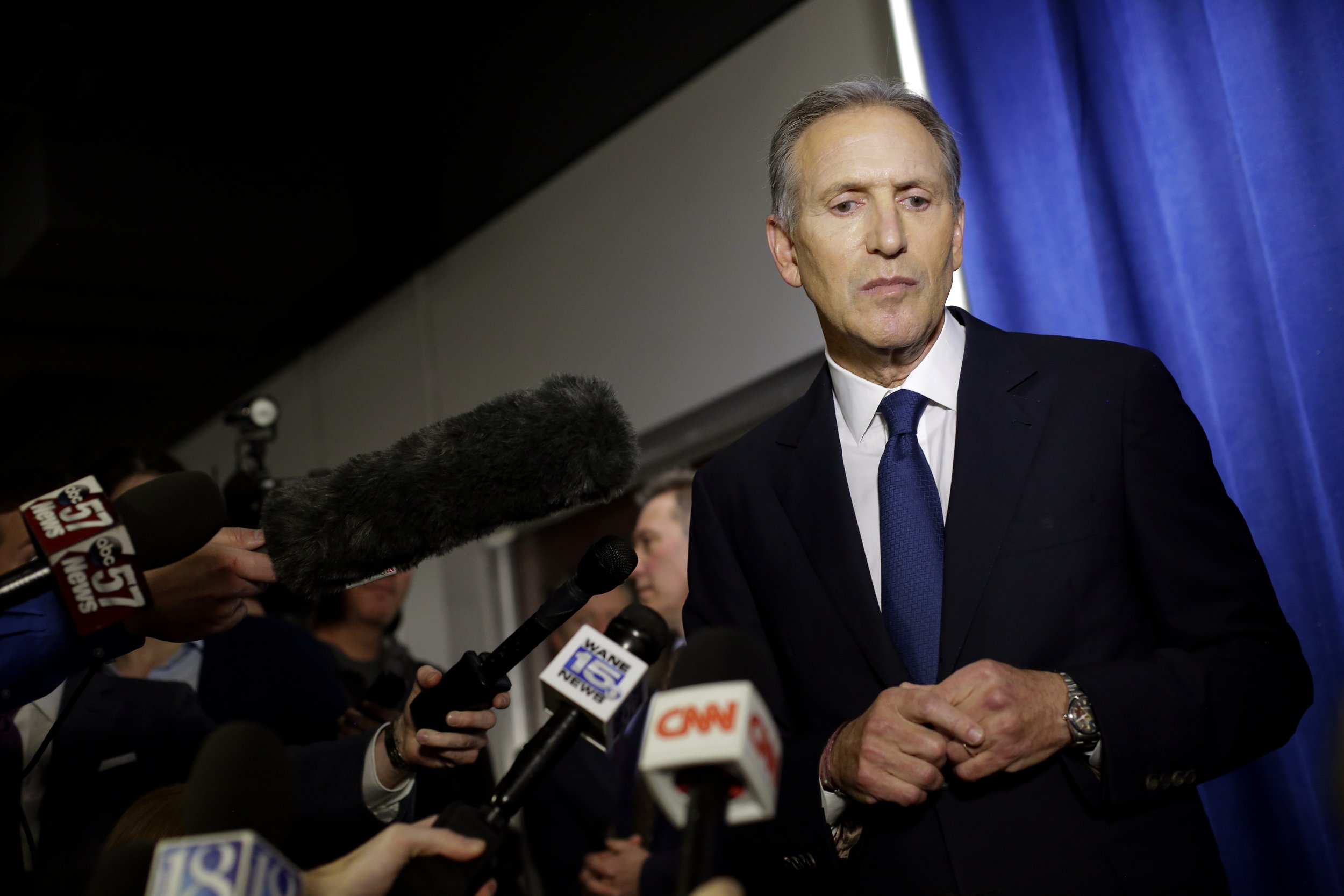 Remarks by billionaire and possible 2020 presidential candidate Howard Schultz went viral Tuesday after he claimed he did not see the color of people's skin.
The former Starbucks chief executive made the comments during a CNN town hall event in Houston, while responding to a question about racial profiling at Starbucks stores.
In April 2018, Starbucks became embroiled in a race relations scandal when two black men—Donte Robinson and Rashon Nelson—were arrested at one of its Philadelphia stores.
They had arrived at Starbucks for a business meeting, and when Nelson asked the manager for restroom access he was told the facilities were for paying customers only. Soon after sitting at a table and telling the manager they were waiting for another guest for their meeting, the police were called. The men were arrested and charged with trespassing and creating a disturbance, charges which were later dropped.
Starbucks shut down thousands of its stores after the incident to train its staff in anti-racial bias practices.
Asked about the incident on Tuesday, Schultz replied: "As somebody who grew up in a very diverse background as a young boy in the projects, I didn't see color as a young boy, and I honestly don't see color now."
Noble as the sentiment sounds, social media users quickly drew comparisons with comments made by comedian Stephen Colbert and clueless fictional office boss Michael Scott.
The idea of not even seeing race is one of Colbert's running gags, regularly delivered by his parody right-wing commentator character. "I just want to say that I am not a racist. I don't even see race, not even my own," Colbert said, in character. "People tell me I'm white, and I believe them, because I just spent the last six minutes explaining how I'm not a racist. And that is about the whitest thing you can do."
Schultz's remark will only provide more ammunition for his critics, who have warned that the billionaire's potential independent presidential candidacy could split the Democratic vote and help President Donald Trump win a second term in the White House.
Continuing his race relations pitch, Schultz said Tuesday: "Injustice in America of any kind—especially racial injustice, which continues—is not something that we should be proud of and we need to resolve."
The billionaire said the Starbucks scandal was "something that we learned a great deal from. We realized that we had a problem. And it's a problem that I think exists widely in this country, and it's something that I would characterize as unconscious bias that many of us have based on our own life experiences.
"We have to be able to have uncomfortable conversations. We have to talk to people who are different than ourselves," Schultz said. "We have to embrace the diversity of the nation."