Howard Schultz Dismisses Concerns That Running as an Independent Will Pull Votes From Democrats in 2020 Election
The rumors of a presidential run for former Starbucks CEO Howard Schultz have lingered for weeks, and on Sunday's 60 Minutes Schultz confirmed that he was "seriously thinking" about launching a campaign.
However, Schultz, a longtime Democrat, said that he would launch his bid for the White House as an Independent.
"I am seriously thinking of running for president," Schultz said. "I will run as a centrist independent, outside of the two-party system we're living at a most-fragile time not only the fact that this president is not qualified to be the president, but the fact that both parties are consistently not doing what's necessary on behalf of the American people and are engaged, every single day, in revenge politics.
CBS, the network that airs 60 Minutes, released a clip of Howard's plan to run outside of the two-party system, launching a series of complaints and criticism from Democrats that fear Schultz running on an Independent ticket would split votes from Democratic voters and lead to President Donald Trump being re-elected.
Journalist Scott Pelley asked Schultz about those concerns, with the potential candidate dismissing them.
"I wanna see the American people win. I wanna see America win. I don't care if you're a Democrat, Independent, Libertarian, Republican. Bring me your ideas. And I will be an independent person, who will embrace those ideas. Because I am not, in any way, in bed with a party," Schultz said.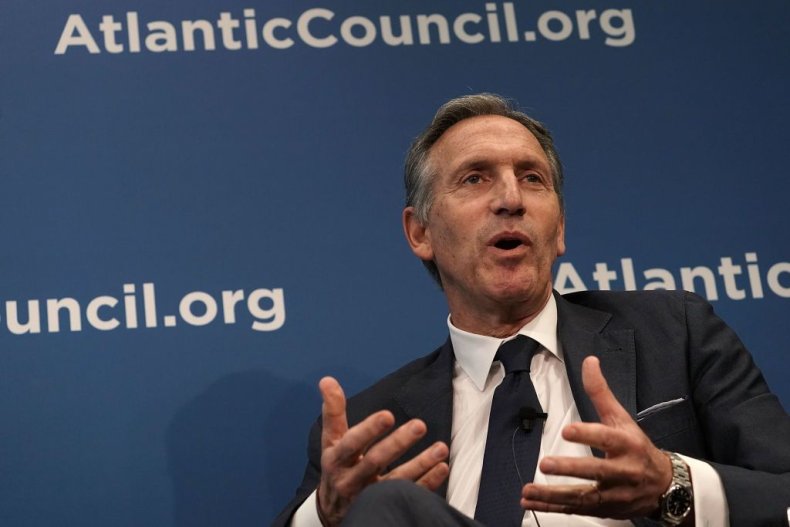 Questioned about his decision to run as an independent, Schultz said he felt that both the Democratic and Republican parties have let Americans down, and that the trillions in debt that America is saddled with is just one example of the failure of both political groups.
"I've been a lifelong Democrat. I look at both parties—we see extremes on both sides well, we are sitting, today, with approximately $21.5 trillion of debt, which is a reckless example, not only of Republicans, but of Democrats, as well, as a reckless failure of their constitutional responsibility," Schultz said.
Schultz was questioned by Pelley on several popular issues facing 2020 candidates, including immigration, health care and Trump's 2018 tax cut.
On immigration, Schultz proposed that the government find a "fair and equitable way" for millions of undocumented immigrants to become U.S. citizens.
"The country first and foremost is based on humanity, fairness, goodness, we have been for 200-plus years a country of immigrants. And for the 11 million people here unauthorized, there should be a fair and equitable way for them to get in line, pay the taxes, pay a fee, and become citizens of the United States," Schultz said.
Regarding health care, Schultz disagreed with the proposal of some Democrats of free health care for everyone.
"Every American deserves the right to have access to quality health care. But what the Democrats are proposing is something that is as false as the wall. And that is free health care for all, which the country cannot afford," Schultz said.
Schultz also criticized Trump's tax cut, saying that he would have offered a more modest cut to businesses and instead offered the largest cut to people that need it most.
Among those people are the 40 percent of Americans that Schultz said do not have $400 in their bank account and are "a crisis away from bankruptcy."
When questioned about what a global CEO of a coffee chain knows about being commander in chief, Schultz said he long ago recognized that he doesn't have to be the smartest person in the room, but instead to surround himself with people who are "more experienced" than himself.
"I have a long history of recognizing, I'm not the smartest person in the room, that in order to make great decisions about complex problems, I have to recruit and attract people who are smarter than me and more experienced, more skilled, and we've got to create an understanding that we need a creative debate in the room to make these kind of decisions," Schultz said.