Howard Stern Blasts Johnny Depp Amid Amber Heard Trial: 'He's Wrong'
Howard Stern has levelled criticism at Johnny Depp amid his court battle with ex-wife Amber Heard, branding the actor a "huge narcissist."
Depp, 58, has filed a $50 million lawsuit against Heard, 36, alleging that she defamed him in an op-ed published by The Washington Post in 2018, in which said she was a victim of domestic abuse.
While Heard did not name Depp in the article, his lawyers have argued that it was obvious she was referring to the actor. Heard has countersued for $100 million for nuisance, with her attorneys arguing that the op-ed was a matter of public interest.
With court proceedings having dominated the news cycle for the majority of the month, radio personality Stern has accused the Pirates of the Caribbean star of wanting the trial to be televised to satiate his purported desire for attention.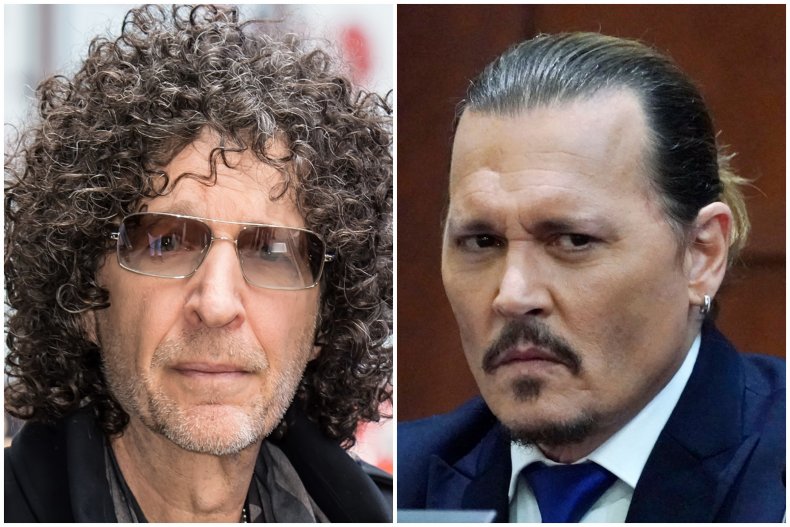 Judge Penney Azcarate approved cameras to livestream the trial—a move which Depp's team did not challenge, according to British newspaper The Independent.
"The reason he wanted that, he wanted it televised, is that's what narcissists do," Stern said of Depp on the latest episode of SiriusXM's The Howard Stern Show. "They think they can talk their way out of anything.
"I think Johnny Depp is a huge narcissist and what I mean by that is—he figured, 'I'll put this on TV and because I'm so persuasive and because I'm so smart, I'm such a wonderful guy.'"
As he analyzed video clips, Stern went on to accuse Depp of "overacting" during his testimony and cross examination, which came to an end on Monday.
"If he isn't acting—I mean, he's so overacting, because he's writing his own material as he goes along. You know, I got to tell you, he's wrong. He shouldn't be putting this on TV in any shape," Stern said, before suggesting that Depp thought, "I will charm the pants off of America at the trial."
"No, you won't! This will not go well," Stern added. "It's not going well for you, it's not going well for her. It's not going well for anybody. You sound like two battling children.
"It's just coming off really badly. Johnny Depp testified in court for two days last week. Two days. Think about that, lots of room to embarrass yourself. Two full f****** days!"
Newsweek has contacted a representative of Depp for comment.
Depp and Heard's court battle comes less than two years after Depp lost a 2020 libel case against British tabloid The Sun, which had labeled the actor a "wife-beater" in an article, in reference to Heard's allegations of domestic abuse.
Heard accused Depp of domestic abuse during their divorce proceedings in 2016. The Rum Diary co-stars, who wed in 2015, had their union officially dissolved in January 2017, months after Heard filed for divorce.
While Depp had repeatedly denied ever having been violent to Heard during the three-week trial in London, the overseeing judge found that the U.K. publication's claims that the actor was abusive to Heard were "substantially true."
Consequences came quickly for Depp, who was "asked to resign" from Fantastic Beasts 3, in which he was set to reprise his role as Gellert Grindelwald. He was subsequently replaced by Mads Mikkelsen.