Howard Stern Thinks Rihanna 'Lip Synced'—Her Fans Are Furious
Howard Stern is facing the wrath of Rihanna's passionate fanbase online after he suggested she may have "lip-synced" during the 2023 Super Bowl halftime show.
The former shock jock-turned-respected radio host spoke out about Rihanna's performance, claiming he didn't know why "she bothered showing up." Once her fans heard about this, the "Navy" unleashed their verbal fury towards Stern across social media.
One of the biggest critics of Stern was Nicki Minaj's ex-boyfriend, rapper Safaree Samuels. He and many others piled on Stern online, calling him "old and irrelevant."
Speaking on Monday's The Howard Stern Show on Sirius XM, the America's Got Talent judge reviewed Rihanna's halftime show at Super Bowl LVII.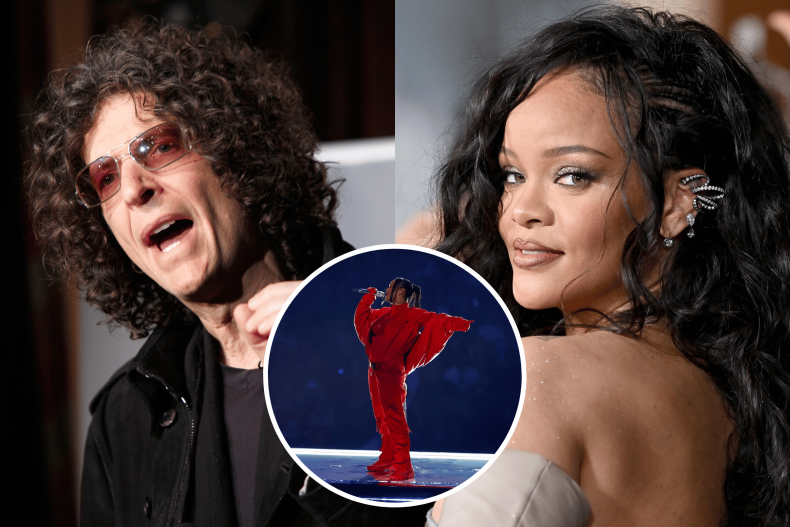 "You know, I don't even know why she bothered showing up," Stern said. "But [...] I could be wrong, but [...] in my opinion, 85 percent of that performance was lip sync," Stern said. "The big giveaway might be when she puts the microphone down by her knees and her lips aren't moving and the other voices are going," Stern told co-host Robin Quivers who said, shows like this need to be analyzed.
Stern continued with his lip-syncing theory, and crassly referenced Rihanna's pregnancy.
"I had a theory, Rihanna was not lip-syncing, but she put the microphone near her vagina so the new baby could sing." Stern added, "The baby was singing backup."
Once Rihanna's fanbase got wind, they unleashed their fury on Stern, with Safaree leading the charge.
"No Rihanna slander will be tolerated by these white outlets[...]. Howard Stern this isn't 1995 no 1 gives a f*** about ya opinion. Go get a nose job wit ya fake a** wanna be afro then go suck yuh mummma," Safaree wrote on Twitter on Wednesday. Countless people commented on the post praising Safaree for his staunch defense of Rihanna.
While most were complimentary of Safaree, celebrity interviewer Dante Greco asked if his tweet contained an antisemitic reference.
Celebrity blogger KenBarbie also offered up their take, suggesting Stern's assessment was part of a wider problem. "Everyone is entitled to their opinion... but it's just something about these mediocre white men such as Donald Trump and now Stern coming for Rihanna that just doesn't sit well in my spirit," they wrote, referencing the former president's scathing assessment of Rihanna too.
"Howard Stern [...] is one deep breath away from the grave and he still parted his thin, chapped lips to discuss Rihanna??!!!" wrote WizMonifaa, piling on Stern.
Rihanna's halftime show has been widely discussed since the performance. She used the platform to announce her second pregnancy with A$AP Rocky's baby at the show.