Howard Webb: World Cup Final Referee On Dealing With Superstar Footballers And Laughing Off Abuse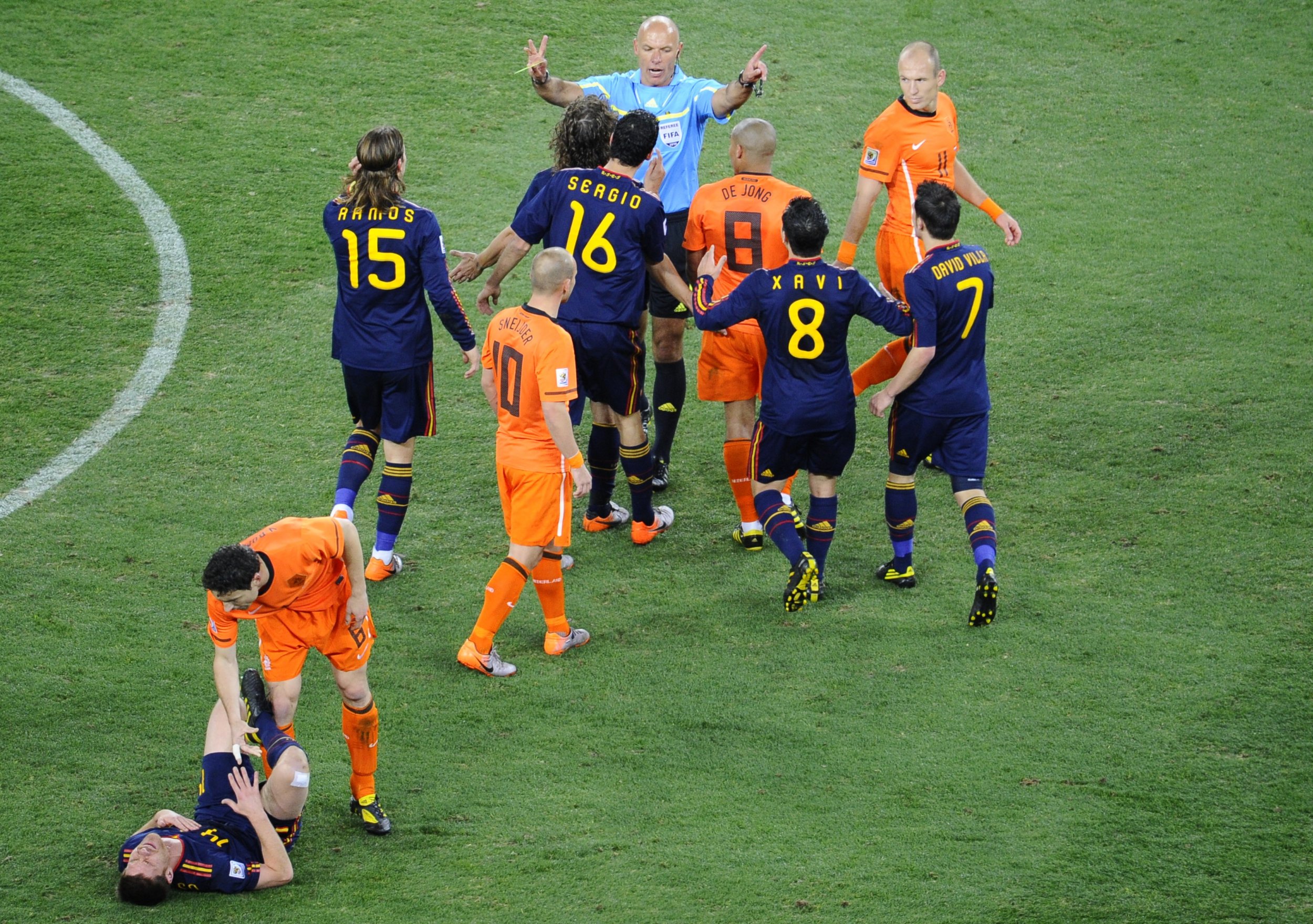 "In my mind, all referees were bald old men—like me now." Howard Webb chuckles, thinking back to the boy who stumbled upon refereeing when hopes of becoming a professional footballer fizzled.
No one dreams of becoming a referee—Webb himself admits that would be "strange." The man in the middle—the title of his autobiography—is a figure of bile from the stands, vitriol from managers, ritual dissection from pundits. No one ever admits to liking the arbiter.
And yet, who has the best seat in the house for football's greatest games? Who gets closest to Cristiano Ronaldo's tears in a major European final, to a coach's touchline dance, or an era-defining goal? Webb is a hulking man, even post retirement, but there is an almost childlike sincerity to the way he describes his career trajectory.
What began at night school in Rotherham in the late 1980s reached its apogee on July 11, 2010, at the World Cup final between the Netherlands and Spain. Webb was the referee as an Andres Iniesta goal in extra time captured professional football's greatest prize.
That game provided a kind of academic study of the referee's fate. Webb had ascended to the height of his profession; in the moments, weeks and years following the game, he would be the figure held principally responsible for the "Battle of Johannesburg," a football game that descended into something close to anarchy. Webb doled out 13 yellow cards and one red, to Dutch defender John Heitinga. But the failure to dismiss Nigel De Jong for a kung-fu challenge on Xabi Alonso—the image has since become one of modern sport's more iconic—has dogged him since. Johan Cruyff, while tearing into the Dutch for their ugly style, found time for his own barb at Webb for not sending off more of his countrymen.
Roll back. "I wanted to be a player, tried hard to be a professional," Webb says. "I was miles away, that dawned on me at 15 or 16."
His father was a referee, somewhat by accident, too—a Sunday league player who volunteered to be a dartboard for moans and groans when, frequently, no official turned up to take the games.
Webb figured there might be a gap in the market for a baby face referee. "I thought maybe it would be nice to have a younger person do it. It might make me stand out."
The initial ease with which Webb entered the profession in 1989 must have made the prospect of working in football a tantalizing one. He and a schoolfriend sat in a Yorkshire classroom in 1989, learning football's laws by rote. Six weeks of lessons, followed by a test that he aced, and Webb was qualified, of a technical fashion, to referee.
"I look back to that night when I passed the exam," he says. "We didn't know it back then, but somebody there was going to go on to referee a World Cup final. I still find it amazing that sequence of events happened."
Eyes off the ball
Watch a football crowd when a goal kick is taken, and it's a sea of 100,000 eyes, swinging as one towards the drop of the ball.
Pause to observe the referee, and you should note something curious—a man apparently unconcerned with where the football lands. They call it "holding your gaze," and it was one of many things Webb couldn't learn from the classroom.
"At first, I didn't have a clue where to run, how to blow my whistle, how to signal. I'd read about the laws but that isn't a practical guide, you learn by trial and error.
"A ball will be passed and you have to hold your gaze a bit on where it has come from in case somebody gets clattered. When a goalkeeper kicks it long, what's the point of looking at the ball in the air? Have a look at where the players are, where the danger is."
Positioning, however important, is only one of the skills the referee has to master at any one moment. Miss a decision or two in a game and, unless he is unfortunate, they will become lost in the brouhaha.
More damaging is to lose control of the 22 hot-blooded young men charging around the field. "You need to have the confidence to control people, step in, manage people," Webb says. "To look people in the eye, using your voice and your body language.
"It's about being able to recognize what has happened, knowing the laws of the game and what action you can take, and then having the confidence to make a decision and take action."
If that sounds familiar, it might be because Webb was a policeman before he became a full-time referee, dropping his hours on the beat in South Yorkshire when he gained a contract with the Premier League.
Perhaps, after standing up to criminals, bad behavior in the Premier League seemed milquetoast by comparison. It is easy to recall criticism of Webb, harder to remember him backing down in the face of aggravation and intimidation.
"I remember a situation back in 2000," Webb says. "Manchester United played Middlesbrough back at Old Trafford and a guy called Andy d'Urso refereed the game. You would be too young to remember it. He was almost chased around the pitch by Jaap Stam, Gary Neville, David Beckham, Roy Keane." [ Webb's memory may have failed him on this occasion. Pictures from the day—and D'Urso's Wikipedia page—show Nicky Butt, but no Gary Neville, squaring up to the referee.]
He's wrong—I do recall it, 17 years after the event, though only through the pictures that have, like De Jong's assault on Alonso, since become infamous—an indelible reminder of how quickly a referee can abdicate control.
D'Urso had given a penalty, at Old Trafford, for Middlesbrough against United—in the Sir Alex Ferguson years, at least, always a brave decision—in his first season in the Premier League. His mistake, as he admitted in an interview with The Independent in 2004, was to backpedal. There is Keane, the Manchester United captain, frozen in time, screaming in D'Urso's face. "It looks like they are going to have him for dinner," Webb says. "I don't think you would see that nowadays. People know there is a line, and this year particularly players and coaches have had it rammed down their throats that they have to behave."
Perhaps there was a sense, among the United players, that D'Urso was an ingenue—the newest kid in the classroom, bulliable. As the kid sticks around, and grows, so the bullying washes off. "People responded differently to me the longer I was around," Webb says. "Life got easier. I'd come off games thinking I had done okay, because the players had accepted my decisions. Then I'd watch the game back on TV and think, I've had a bit of a shocker. They would have reacted to me differently ten years earlier."
'You don't know what you're doing'
Football presented by Sky Sports and BT Sport—for whom Webb now works as a refereeing analyst, picking apart his former colleagues' decisions—has a corporate image that can still contrast with the coarseness inside its stadia. Anyone who has been part of a crowd of a reasonable size will have heard the vitriolic—and foul—abuse aimed at officials.
"Imagine going into work and behaving like that," Webb says wryly. "Football has this amazing ability to turn mature, intelligent, articulate people into loons. People care about their club, and they see it with such tunnel vision.
"But you block the abuse out, you have to, and the further up the ladder you go, the less you hear individual comments. I once had 60,000 chant, 'You don't know what you're doing' at the Emirates. You hear that, but the number of times I have heard fans giving me real stick, real abuse and when I've watched the decision back it turns out to have been 100 percent right."
Even so, being an object of ire, week after week, must wear in the end? Sticks and stones can break a referee's skin—one of Webb's contemporaries, Mike Dean, was struck and bloodied by a coin in 2009, during the bitter south Wales derby between Cardiff City and Swansea—but names can surely wound, too.
"I have had some really low Sundays where I have made a massive mistake on the Saturday and it has been a match-changer," Webb says. The reaction of the players tells you that maybe it wasn't as clear a foul as you thought. And you're thinking to yourself, 'Don't score, don't score, don't score…' Whenever I thought that, they always curled one into the top corner. You'll wake up the next day, Sunday morning, and you'll think it looks like a nice day. And then you remember that corner. 'Oh s***.'"
Turning critic
Webb retired as a referee in the summer of 2014, after 25 years in the job, including 12 in the Premier League.
There was a year as technical director of Professional Game Match Officials Limited (PGMOL), the body that oversees training throughout the English Football League, before, in the summer of 2015, he took on a new brief, breaking down the decisions of men he still considers friends.
"I found it difficult to agree to do it in the first place, because I know that referees who go into the media are seen within the refereeing community as being turncoats, almost traitors," Webb admits. "There's a perception that you're going to go out there and slag your colleagues off.
"These are friends of mine, pretty much all of them stay in touch with me on a regular basis. I try to improve their lot if I can."
Webb does perform a reasoned analysis, avoiding the bias that could be considered inevitable given the closeness of the referees' brotherhood.
"There is a bit of a backs to the wall, bunker mentality, because of the nature of the job—you have got to deal with quite a lot of criticism.
"But you don't make it to the Premier League as a shrinking violet, because you have gone through all of those steps, years and years of making it through the local levels. You have been assessed lots of times, dealt with difficult responses from individuals, you have been promoted again and again and bounced back again and again.
"Everybody in the stadium has got an opinion—but only one person has to share it with all of them."
The man in the middle—abused, privileged, hardened by abuse—but human, after all.
The Man In The Middle: The Autobiography of the World Cup Final Referee is out now, published by Simon and Schuster.