Is H.R. McMaster Next? White House Denies National Security Advisor To Be Ousted
President Donald Trump is not ready to oust his National Security Adviser Gen. H.R. McMaster the White House said Thursday, even though Trump has been telling people around him that he intends to do so soon.
On Thursday evening the Washington Post cited five people with knowledge of the president's plans who said it may take time to line up a successor and allow the three-star Army general to save face by getting a new job.
Four sources with knowledge of the deliberations also told the Associated Press the timing of McMaster's ouster has also not been set.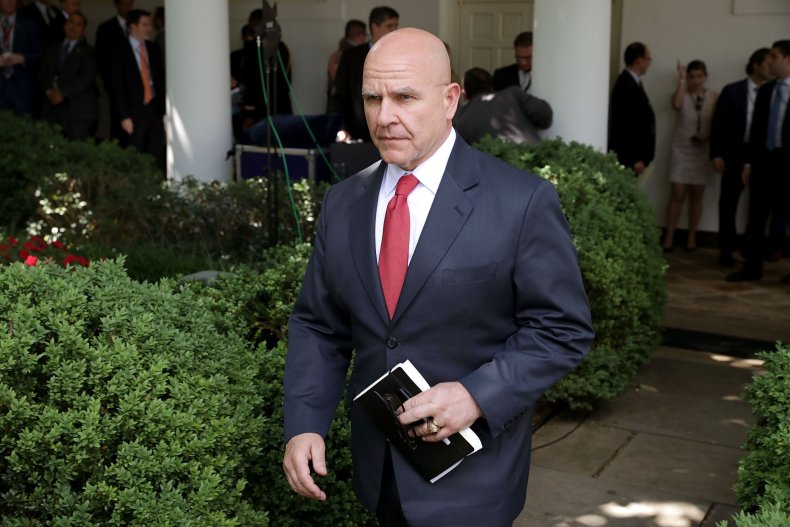 White House Press Secretary Sarah Huckabee Sanders quickly moved to quash the reports. "Just spoke to @POTUS and Gen. H.R. McMaster—contrary to reports they have a good working relationship and there are no changes at the NSC," Sanders tweeted.
Rumors of McMaster's ouster followed the president's abrupt dismissal of Secretary of State Rex Tillerson via a tweet Tuesday. In the same tweet, Trump announced he is replacing Tillerson with CIA Director Mike Pompeo.
Reports also say that Trump is considering replacing Secretary of Veterans Affairs David Shulkin, with some indicating he is seriously looking at veteran and Fox & Friends host Pete Hegseth.
The president has indicated that the shakeup in his administration may not be over.
The tumult at the White House follows the recent resignation of White House Communications Director Hope Hicks late last month and resignation last week of Trump's top economic adviser Gary Cohn, who heads the National Economic Council. Top White House aide Rob Porter was also forced to resign in early February over allegations he abused his two ex-wives.
Read more: Five reasons why Trump fired Rex Tillerson
Turnover in the Trump administration is quicker and seemingly more haphazard than any other administration in recent memory.
"This is the most toxic working environment on the planet. Usually tough times bring people together. But right now this atmosphere is ripping people apart," a White House official told Axios on Wednesday. "There's no leadership, no trust, no direction and this point there's very little hope. Would you want to go to work every day not knowing whether your future career was going to be destroyed without explanation?"
Reports have also said that Trump is unhappy with his Chief of Staff John Kelly and Attorney General Jeff Sessions.
Multiple sources told Fox News on Wednesday that Kelly, McMaster, and Shulkin's jobs are all under threat.
According to The Post, Kelly has been telling White House staff that Trump has made a decision that it's time for McMaster to go.
"There will always be change. I think you want to see change," Trump told reporters early Thursday, calling a story about the potential shake up—without specifying which one—"very false."