H.R. McMaster Warns 'The Kremlin's Confidence is Growing'—and U.S. Has Failed to Impose Sufficient Costs
The U.S. and its allies have "failed to impose sufficient costs" against Russia for its recent aggressions around the world. Those were the words of National Security Adviser H.R. McMaster Tuesday, in his last public speech before stepping down April 9.
President Donald Trump's top security official said the lack of consequences has emboldened Russian President Vladimir Putin.
McMaster laid the blame for costly attacks in cyberspace and the use of "a military-grade nerve agent in an attempted murder" in the UK last month at Putin's feet. He spoke during an address at an Atlantic Council dinner in Washington D.C.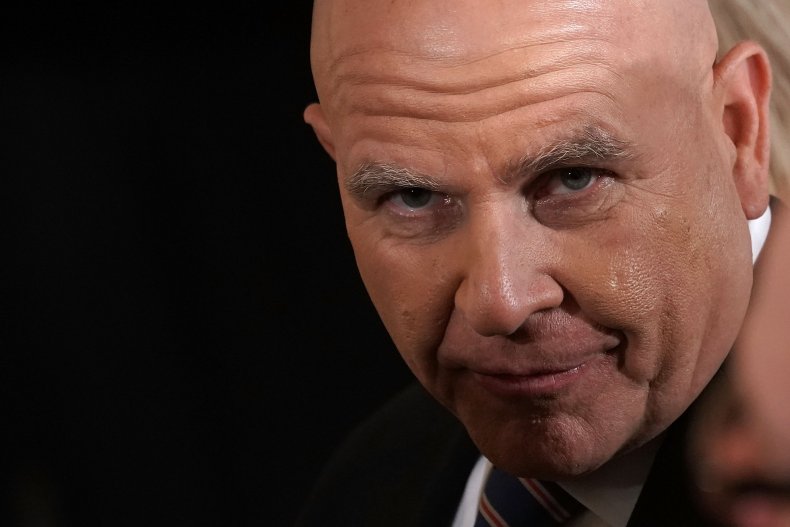 "The Kremlin's confidence is growing as its agents conduct their sustained campaigns to undermine our confidence in ourselves and in one another," McMaster said, referencing Moscow's cyber intrusions targeting the U.S. energy sector and the billions of dollars in damages caused by last year's NotPetya cyber attack.
The Kremlin's tactics, he said, include "infiltrating social media, spreading propaganda, weaponizing information, and using other forms of subversion and espionage." A 2017 report by key American intelligence agencies found the Kremlin mounted a sophisticated misinformation campaign against the U.S. during the 2016 election.
"Russia employs sophisticated strategies deliberately designed to achieve objectives while falling below the target state's threshold for a military response," McMaster said. "For too long some nations have looked the other way in the face of these threats."
Read more: Trump still doubts Russia's election interference—that's giving a "green light" to Putin, says ex-CIA analyst
McMaster's tough words against Russia stand in contrast to Trump's softer remarks about Putin earlier in the day. "Getting along with Russia is a good thing, not a bad thing," Trump told reporters. He responding to questions about an invitation he extended to Putin to come to the White House on March 20 during a call in which he congratulated the Russian leader on his election victory.
On March 26 the U.S. joined other countries around the world and expelled 60 Russian diplomats, shutting Moscow's Seattle consulate in response to the March 4 poisoning of a former Russian double agent and his daughter with a nerve-agent in Salisbury, UK. Reports later confirmed that Russia can replace all 60 of those expelled on a case-by-case basis.
Top Trump administration intelligence officials have repeatedly warned that the U.S. is not doing enough to push back on Russian aggression. During testimony before the Senate Intelligence Committee February 13, the heads of the CIA, FBI and NSA, as well as the Director of National Intelligence, confirmed there is no inter-agency strategy to combat Russian election interference despite the upcoming midterm elections. Officials said Russian interference in the U.S. political system is underway right now.
"I believe that President Putin has clearly come to the conclusion there's little price to pay here, and that therefore [he] can continue this activity," said National Security Agency Director Admiral Mike Rogers during a separate Senate hearing days later.
Trump has remained skeptical of Russian interference in the election and called special counsel Robert Mueller's investigation of the matter a political "witch hunt."
On Tuesday McMaster said that "Mr. Putin may believe that he is winning in this new form of warfare," but he argued that Trump has been pushing back by speaking out against authoritarian regimes and cited sanctions the U.S. has imposed on Russian individuals and institutions as proof of concrete action.
Nevertheless, he said the U.S. needs "to impose a high cost in response to cyber aggression," invest in its cyber infrastructure, do more to counter misinformation and work more closely with its allies on these issues.
He also pointed to a threat within the U.S. in that "some journalists, academics, public officials, and saddest of all young people have developed and promulgated idealized, warped views of tyrannical regimes."
McMaster will be replaced by John Bolton, who served as U.S. Ambassador to the United Nations in the administration of President George W. Bush.