Hu and Obama's Secret State Dinner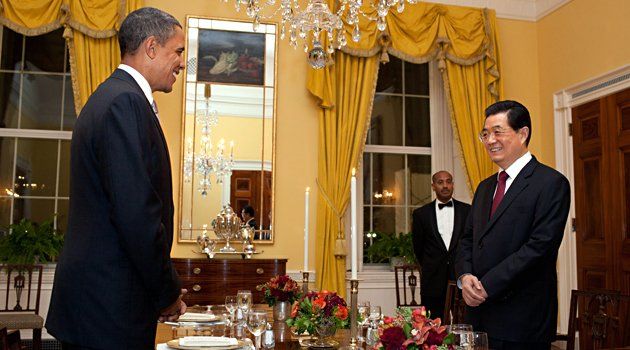 You would think, at first, that the White House is organizing some sort of top-secret plan to jumpstart the economy. Or that administration officials are preparing a surprise invasion overseas.
But no, it's neither. The secrets that White House staffers are keeping today are the details of tonight's state dinner in honor of Chinese President Hu Jintao. Everything from the guest list to the menu is being kept in a proverbial Washington lock box until 4 p.m., when first lady Michelle Obama is scheduled to unveil the particulars.
Why the top-secret nature? One White House official says it's to maximize the impact of the dinner's imagery, both in the U.S. and China. A bunch of people sitting in a room having dinner isn't usually big news. But the symbolism of combining Chinese and American cultures, with tuxedos and evening gowns, plus a few celebrities in the mix, makes for must-see TV. Or so hopes the White House.
Inside the mansion, it's a hurried affair. "It's really the biggest event that the White House hosts," says Gary Walters, former White House chief usher from 1986 to 2007. During parts of the Reagan, Bush 41, and Clinton administrations, state dinners were occasionally held every few weeks. "The day of is always very busy, we always took our marking orders from the social secretary."
Nowadays, that would be Julianna Smoot, who manages the entire event with the first lady's office. Smoot, together with the National Security Council, crafts the guest list (although West Wing officials have been known to toss on a few notable names: actor Jackie Chan and cellist Yo-Yo Ma, who are both confirmed to attend this evening). According to officials, the rest of tonight's guests include "prominent Chinese-Americans, cultural figures, business leaders, people who are of note in the history of U.S.-China relations, and people who have spoken out on issues relating to human rights and the rule of law."
The White House floral office is also in high flutter, decorating the mansion with color schemes appropriate for both countries, which can be harder than it sounds. "Certain countries have certain colors that have certain meanings, so it's very precise," says Walters. Boston-based party company Be Our Guest Inc. is providing the equipment and linens beyond the White House's current supply.
But the real action happens in the White House kitchen, where it's reasonable to think head chef Cris Comerford hasn't slept for a week. Consistent with a "when in Rome" mentality, China's delegation requested a traditional American experience at tonight's affair, meaning no Chinese delicacies on the menu, but rather something uniquely American. According to this official, organic vegetables—a market that has flourished in America but has yet to catch up in China—will be on the menu.
And then there's security. The Secret Service doesn't talk specifics, and wouldn't respond to any questions about preparations, although as one spokesman told me last month, "changes have been made" since dinner celebrating India in 2009 that was crashed by an attention-seeking Washington couple.
If you want any details from there, however, you may have better luck trying to find U.S. strategic plans in Afghanistan.
Update: Just an hour before guests arrived, the White House released a full guest list. Among the luminaries are fashion designer Vera Wang, businesswoman Wendi Murdoch, cellist Yo-Yo Ma, former diplomat Henry Kissinger, architect Maya Lin, singer Barbra Streisand, former Presidents Jimmy Carter and Bill Clinton and kung fu master and actor Jackie Chan.
This originally appeared in The Daily Beast.