Huawei is one of the world's largest mobile phone-makers and, if you didn't know, it also produces audio devices. These FreeBuds Studio headphones check most of the boxes when compared with other high-end headphones, so if you're looking for something a little different and don't mind trying a brand besides Bose or Sony, then Huawei has an interesting product for you.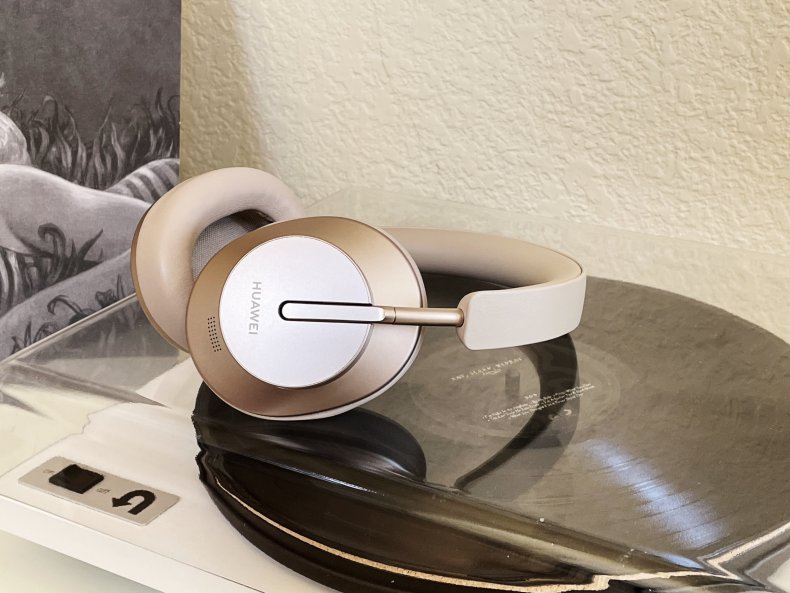 These FreeBuds Studio headphones retail in the U.S. for $329.99. They aren't competing against most other headphones on price. They're aiming for a premium, feature-packed listening experience at a premium price. The ultimate question here is whether these FreeBuds Studio headphones are worth taking a chance on, or if you're better off sticking with Sony or Bose.
Setup and Design
Out of the box, these headphones offer a clean, uncluttered design that has a very classic feel to it. Leather (or leather-like material) flows over the ear cups and headband to give it an expensive look. The other parts of the headphones may look like metal, but they are plastic and help keep their weight from being too heavy for extended use.
I tried the gold color, and I really liked its appearance. The shade isn't shiny or flashy and actually comes off as a little tan in person. It's a nice change of pace from traditionally black headphones. This will be a personal preference, but I think both the gold and black colors look nice. The semi-hardshell case in the box is the perfect combination of minimalism and protection. The headphones won't get banged up, and the case only takes up a tiny bit more space than the headphones alone. It's a great design, and one that Apple should have included with its AirPods Max headphones.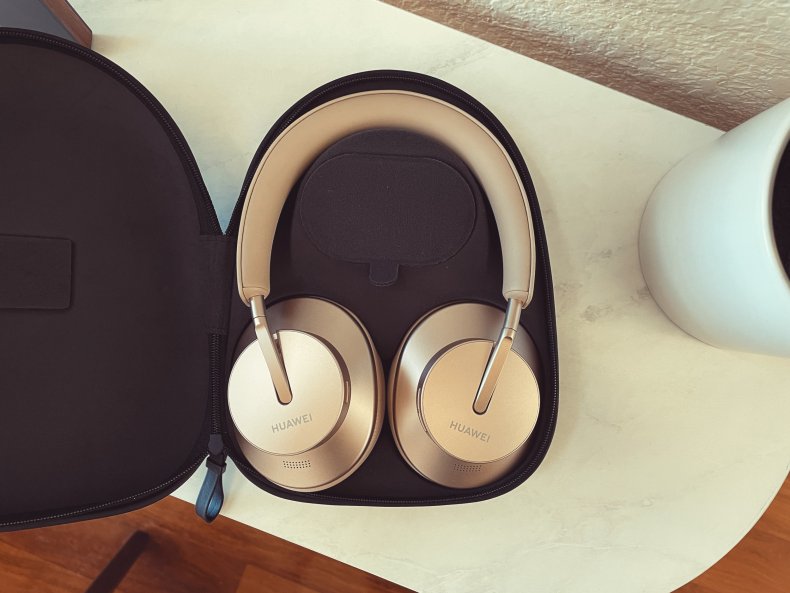 Bluetooth setup of the FreeBuds Studio was easy enough: Turn them on and connect from a mobile device's Bluetooth settings. It wasn't immediately clear from my review unit instructions that there was an iOS app available, but I scanned the QR code that said "Android," and it redirected me to the right app in the App Store.
Most, if not all, of the features are accessible using the buttons and touch controls on the headphones. You don't need the app outside of firmware updates, but the app works well enough and will let you change what the buttons and gestures on the headphones do. It will also let you select between the different levels of ANC such as dynamic (automatic), light, medium or strong strengths.
Features and Specs
Huawei's FreeBuds Studio advertised features and specs:
Weight: 260 grams
Battery size: 410mAh
Battery life: 24 hours playback on one charge (with ANC disabled); five hours playback on 10 minutes of fast charge (with ANC enabled)
Bluetooth 5.2
Dual Bluetooth connectivity (two devices at once)
40 mm dynamic speaker driver
4 Hz to 48 kHz, 4-layer polymer diaphragm
Automatic noise-canceling mode
Performance
At first, I found the FreeBuds Studio to be a little tight and the ANC to be a little strong. After wearing them for the first few days though, the fit loosened and seemed to break in, while I also got used to the dynamic noise-canceling mode. The Huawei quickly became my go-to headphones for the workday to block out distractions. The combination of solid audio quality, a lightweight design and variable active noise-canceling was enough to get me to pick them up day after day.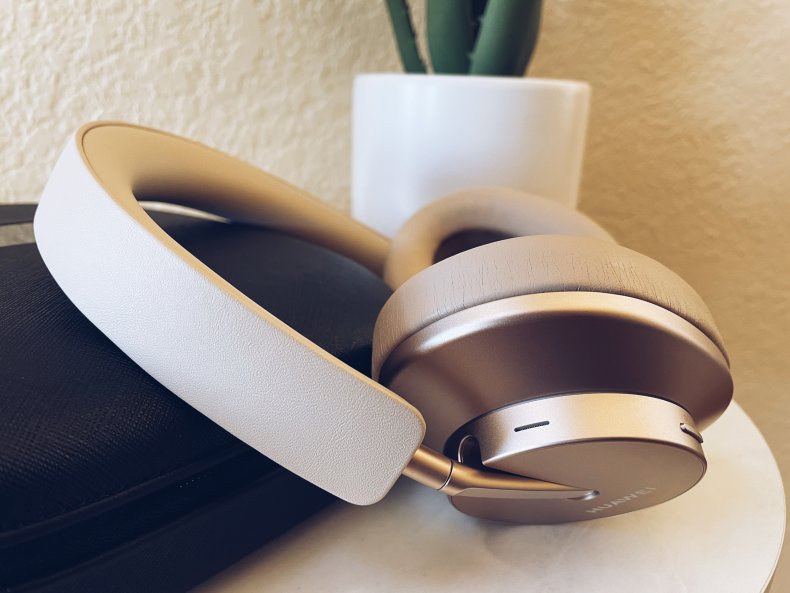 The headphones are packed with features. At every turn, there's an aspect that is just a little nicer and more refined and that makes them delightful to use. There are six microphones embedded in the headphones to help with the ANC, ambient mode and call quality, for example. I assume it's that high number of microphones that makes each of those aspects work really well.
On the sound front, audio quality is good but just less exciting than you might hope for. Listening to music is clean and crisp, but it doesn't really have the depth or width you might be expecting from a $300-plus pair of headphones. Lorde's "Royals" didn't provide the same reverbing thump that it did in other headphones. That song has a low rumbling bass throughout that just wasn't as present in the FreeBuds in the same way. For indie music critics, Joan's "Magnetic" also didn't hit as hard during its chorus bass drop.
Overall, there seemed to be a narrower soundstage, as well. Halsey's "Finally // Beautiful Stranger" is a track that has lush vocals, a steady acoustic guitar and a wonderful accompanying low end, but the song doesn't quite sparkle listening through the FreeBuds Studio.
Let me be very clear about the sound quality, in case any of the descriptions above left you unsure. These headphones sound good. The audio quality is that of premium headphones, but within that smaller group of devices, the sound is neutral and just a little boring. Some people will like a completely flat EQ that's easy on the bass, but I think most consumers will probably want a little more personality from their expensive headphones.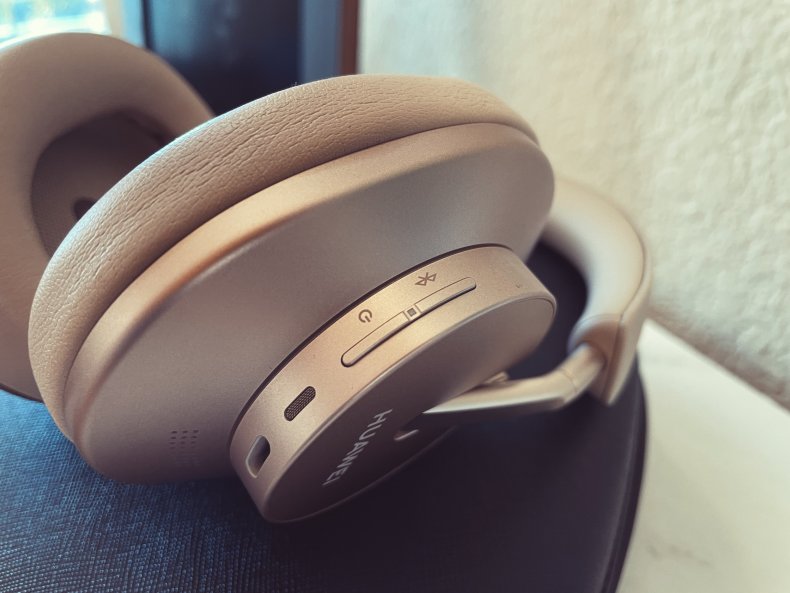 These FreeBuds Studio are specifically advertised as having a "Hi-Fi level audio chip and professional acoustic components." To stream Hi-Res audio, you do have to be using a device that can handle the enhanced sound and you have to be streaming high-quality audio from a capable music service like Tidal. There are enough caveats here that most people won't experience those features. I tried to listen to music the way most people will experience it—streaming from a phone, laptop and iPad, listening from Spotify, Apple Music and YouTube. In this context, the sound is really good—just not amazing.
For comparison, Sony's 1000MX4 over-the-ear headphones provide a little more bass and low-end depth but are muddier in the midrange than the FreeBuds Studio. I like the fullness of the 1000MX4, but the FreeBuds Studio probably has a better sound on the whole.
Unfortunately, there aren't advanced EQ controls available in the iOS app to adjust the sound. What you hear is what you get. It would be really nice to be able to adjust the EQ, but it's not a deal breaker.
Should You Buy Huawei FreeBuds Studio Headphones?
Huawei's FreeBuds Studio provides a compelling package, especially for people who want to avoid Sony or Bose for whatever reason. These FreeBuds feel and sound premium—enough to justify their more than $300 price.
These headphones offer strong ANC that can be adjusted with enough degree to be very useful in a lot of contexts. They would make for some great travel headphones with their included features, lightweight design and extended wearing comfort. These should be a consideration for people looking at premium headphones.
Newsweek may earn a commission from links on this page, but we only recommend products we back. We participate in various affiliate marketing programs, which means we may get paid commissions on editorially chosen products purchased through our links to retailer sites.