Huawei GT 2e Smartwatch Review: One Fitness Tracker That Won't Run Out of Juice
The Huawei GT 2e is a sleek fitness tracker that offers a smartwatch-lite experience at a wallet-friendly price. But does it deserve a place on your wrist?
The new device from the Chinese technology giant, available now, retails for around $190 (€180, £160) and offers an updated, sportier, aesthetic that will likely appeal to anyone who found its recent predecessor, the GT 2, a tad too formal.
It is laser-focused on health and fitness tracking and stands out from the crowd thanks to a stunning two-week battery life. But does it do enough to justify its existence in the increasingly busy wearable market? Newsweek tried one on to find out.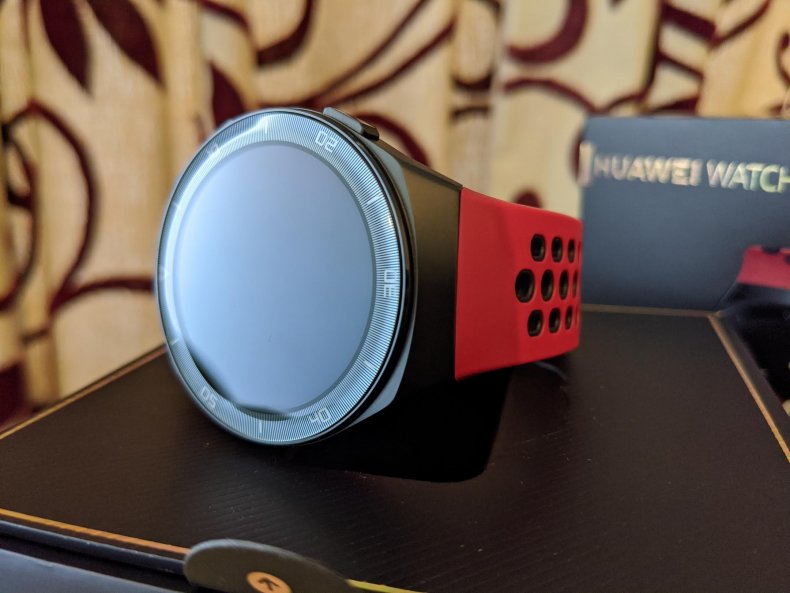 Unlike its slightly older sibling, which hit the market in October last year, the GT 2e has a deep red rubberized strap (officially "lava") with extra gaps, providing more breathability as you struggle through those home workouts, and giving it a casual feel.
It also comes in variations of black, white and green. On the front, Huawei has taken a minimalist approach—with small lines along its edges and subtle numbering.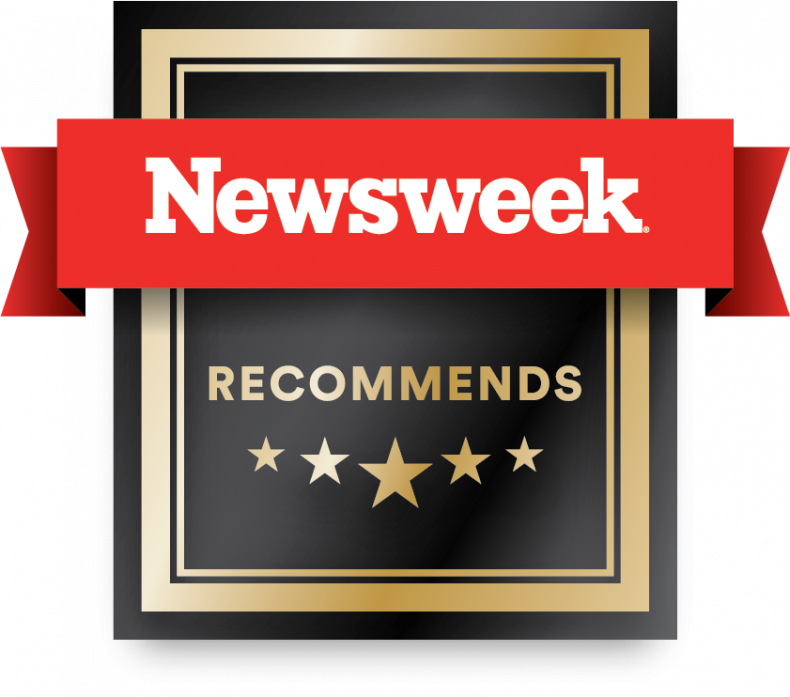 The main face, a dark stainless steel, doesn't protrude too much at a 10.8mm thickness and its rectangular side buttons are closer to the body than the GT 2, which had larger, clickier, circles. It's a pleasing unisex design that won't offend anyone.
There are also no complaints about the 1.39 inch AMOLED touchscreen display, which proved plenty bright and sharp throughout testing, when it was linked up with a Google Pixel 4XL phone via the compulsory Huawei Health mobile application.
The simplistic approach carries over the box, which contains little more than the device, an obligatory quick start guide that no-one will read and a proprietary charging base, which is ultra-portable and uses a USB Type-C to connect for power.
The watch pairs quickly, and from there it's obvious that its health features are the main draw, taking front and center on the menus and via its two side buttons.
With a quick single tap of the top right button, the watch shows the main menu—with workouts at the top. They let you take full advantage of the in-built GPS to track your heart rate and calories burned as you walk, run, row, hike, swim or cycle. It's neat that Huawei has included a variety of tailored activities not always seen on fitness trackers, such as aerobics, yoga, fencing, strength training, ballet and belly dancing.
After a week of exercise, the tracker's status reports open up, showing recovery times, training intensities and oxygen consumption so you can trace progress over time.
There are, of course, also the traditional health watch features: step counts, heart rate monitoring, weather, compass, stopwatch, timer, flashlight and alarm.
Interestingly, the GT 2e watch provides a variety of options aimed at mental and deeper physical health, including breathing exercises, your stress levels and even SpO2, which is an estimate of how much oxygen is in the blood at any given time.
If you stay still for too long, it will vibrate and gently nudge you "get up and move." And when you eventually go to bed, it will study your body as you sleep.
All of the data is then fed back into Huawei's own Health application (available on both Android and iOS), a centralized collection of stats that also lets you edit features of the watch, such as choosing from a variety of faces and adding music.
Starting a run using the mobile software automatically sparks the watch to life. It will record your distance, pace routes and heart rates, while marking them clearly out on a map. Personally, I found the app to be intuitive and pleasingly functional.
One major plus over the growing number of wearable rivals is battery life—a feature Huawei has been praised for in its range of smartphones.
When charged, the 455 mAh battery in the GT2e can last up to two weeks, great when compared to some other (more expensive) products that require top-ups after a day or two. The levels will drop if some of the power-intensive features, like the always-on display, are used constantly—but that longevity is a major selling point.
So the GT2e works very well as a fitness tracking device, but how does it perform as a smartwatch? It's in that respect that the limitations start to creep in, although whether they are considered as such will generally depend on your expectations.
For now, there are a lack of third party apps and menu customization options, meaning software like Spotify or contactless payment services are off-limits. There is no speaker, so music will have to be listened to via a set of wireless headphones.
The GT 2e does not have cellular connectivity, meaning it wont make phone calls, and notifications that pop up on the screen can't be replied to via the device.
For the most part, notifications are easy to read, well-spaced on the face and can easily be accessed by swiping up from the main screen—but it's all rather static.
Availability in the U.S., like most of Huawei's products, also remains a sticking point due to the company's sour relationship with the government. It can be purchased in the U.K via the official website, where it retails in all colors for £159.99.
The situation for Huawei could be complicated by the fact you can buy an Apple Watch Series 3 for about $200 these days, which offers a fully-formed smartwatch experience and some top-notch health tracking, for not many more dollars. Apple fans who are already in the iOS ecosystem will undoubtedly gravitate in that direction.
So, should you buy it? The GT 2e watch is definitely not for everyone, and the answer ultimately depends on what you desire from a smartwatch in 2020.
If it's the ability to access a suite of third-party applications, chat with a voice assistant, respond to notifications, make payments or phone friends, the GT 2e isn't for you.
If, however, you simply need a comfortable and attractive health wearable that is quick to set up and boasts a noteable two-week battery life—it's easier to recommend.
Huawei's new GT 2e smartwatch is a fitness-focused smartwatch with a great battery life and attractive sporty design. The mid-range price point is a major plus, even if the device suffers slightly from a lack of third party application support and customization options. Fitness fanatics, however are likely to embrace its wealth of health tracking capabilities. It's a worthy addition to the GT range.
A GT 2e unit was provided to Newsweek for the purposes of this review.