Huawei MateView GT Review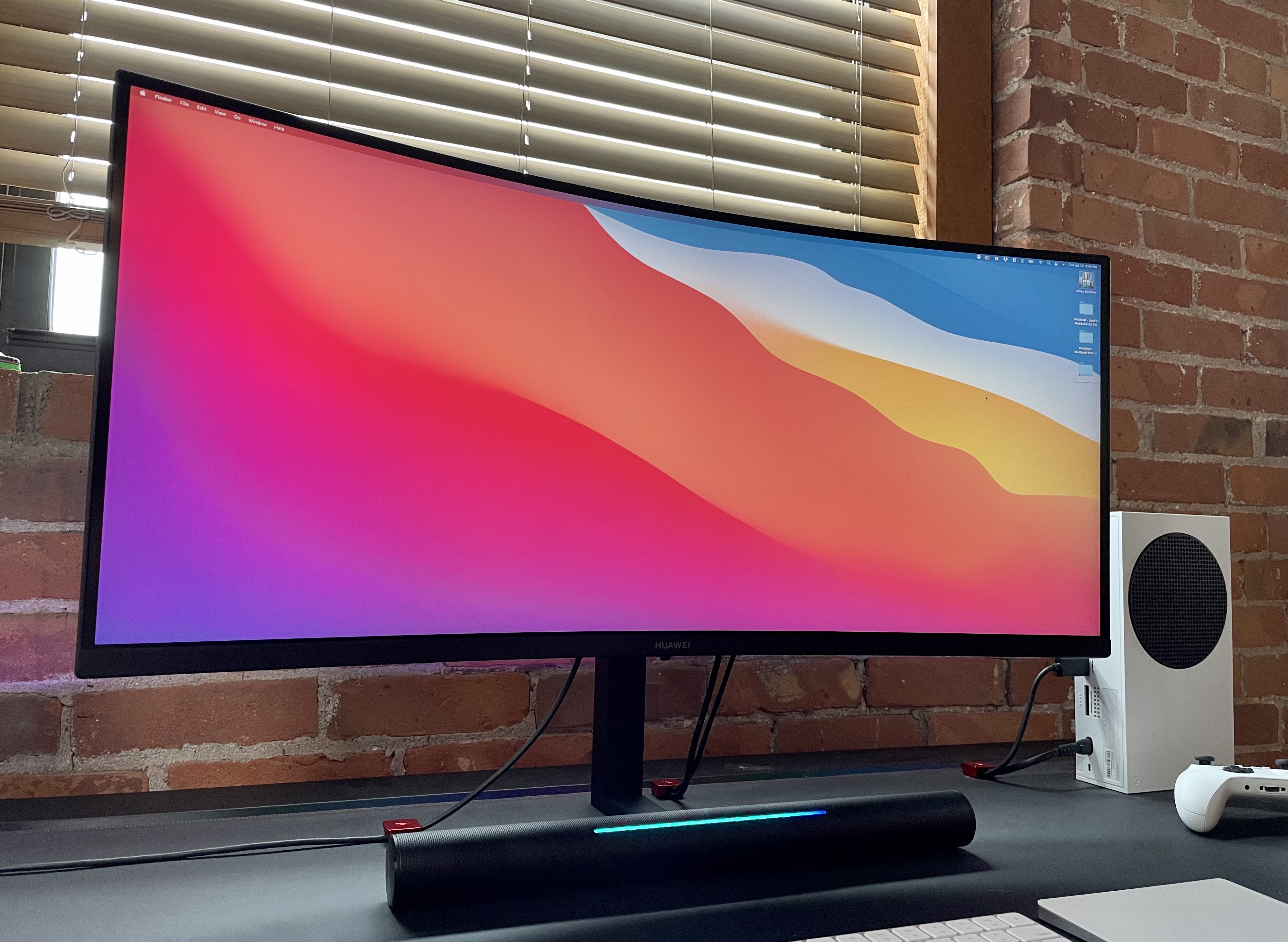 The Huawei MateView GT is a 34-inch widescreen monitor with a 165 Hz refresh rate, a built-in soundbar speaker and an adjustable LED light bar on the front to accent your setup.
Huawei is best known for phones and tablets, but the company is now branching out to monitors, including this gaming monitor, which I've been testing for several weeks with a MacBook Air for work, the Xbox Series S and an Acer Nitro 5 gaming laptop.
The Huawei MateView GT specs are good, and the price is right at 548 euros (approximately $645) in Germany and China. This is a tempting option for gamers, but there are a few catches.
Design, Features and Specs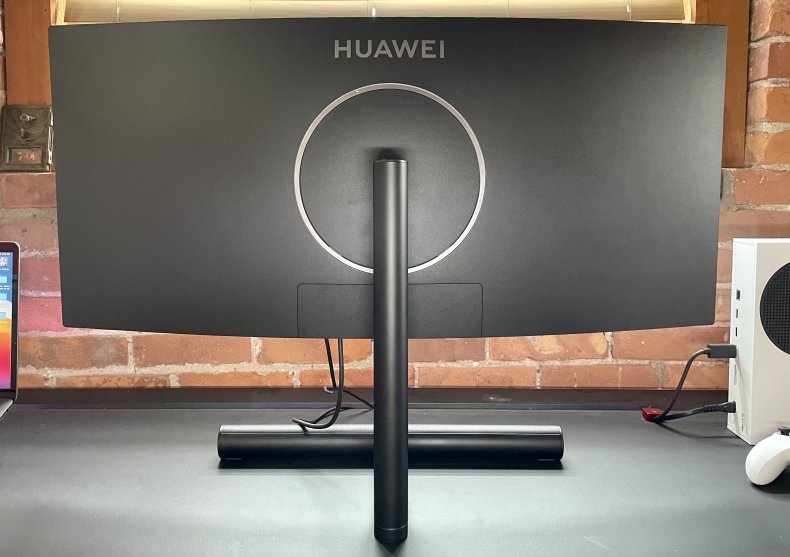 On the plus side, the 34-inch display features a 21:9 aspect ratio that makes many games more immersive. The 3440 x 1440 equals out to 109 pixels-per-inch (PPI), which is great for gaming without the need for a super beefy GPU. The 1500R curve is more immersive than the 1800R curve on many monitors.
The VA panel supports 10-bit color. It delivers a 4ms response time, which is fast enough for home use, but it's not going to be a choice for eSports players. There is no N-Vidia G-Sync support, but you can activate AMD FreeSync.
The Huawei MateView GT features a soundbar at the base of the stand with two 5W speakers that are much better than I have typically found on a monitor. It's a great solution for watching a movie, playing a casual game or listening to music. The bass is quite deep and helps me keep a very simplified desk setup. There is also a built-in microphone in the monitor. I still grab headphones for heavier gaming sessions or longer video calls.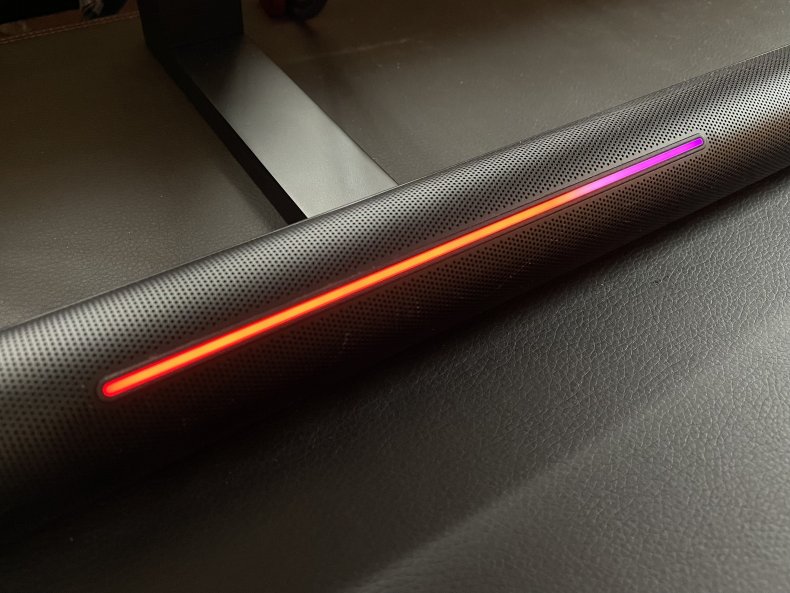 There is a touch-sensitive RGB light strip on the soundbar that you can tap to change the volume. The monitor menu options allow you to change the RGB effects between Static, Breathing, Colorful, Single Waves, Ripple Waves, Colorful Flow, Colorful Ripples and Flowing Waves. There are five levels for each effect.
If you love RGB in your setup, then this is a nice feature. A young gamer who helped test this monitor loved the feature. The effects are similar to those found on many gaming keyboards and mouse pads. It is easy to turn off if you don't like the RGB effects.
The stand is a beautiful black metal that looks great and is sturdy. There is a frosted ring on the back that looks nice. I initially thought it was another RGB source, but it is not. You can adjust the monitor height and tilt, but there is no side-to-side adjustment.
For connectivity, the monitor includes one DisplayPort, two HDMI 2.0 ports, a USB-C power port, a USB-C connection that can charge at 10W and a microphone and/or headphone 3.5 mm combo jack. The included power cord is not a U.S. plug, so if you plan to use the monitor in the States, you should plan to buy a USB-C power source or a plug adapter.
Display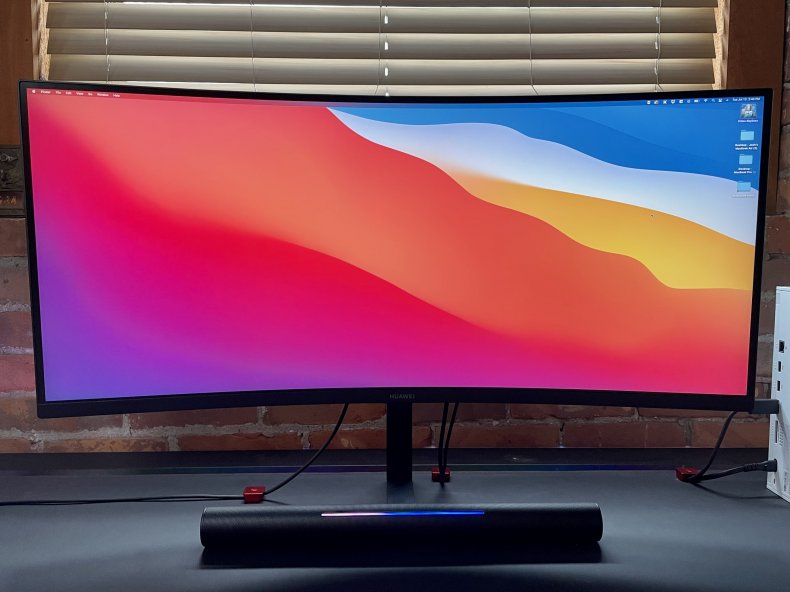 The Huawei MateView GT uses a VA panel with great brightness, excellent contrast and impressive black levels. The colors pop and look amazing while gaming and watching movies.
Colors look accurate, and while testing games like Forza Horizon 4, Gears of War and Minecraft, I found the monitor did a great job of producing rich colors during game play. There is a high dynamic range (HDR) option that boosts the brightness, but it's not a major upgrade since turning on HDR doesn't appear to change the contrast or dimming options. The Xbox Series S does not support ultrawide resolutions.
The 165 Hz refresh rate is great for mainstream gaming titles. Without G-Sync, there is a little tearing on the screen, but it doesn't happen often, and I only noticed it while looking closely. A younger gamer who helped me test out the display noticed some tearing while playing his favorite games, but it wasn't enough to detract from the overall performance significantly. Holding the five-way joystick in for 10 seconds activates FreeSync, which improved the experience.
With a 4ms response time and 165 Hz refresh rate the MateView GT can handle most games, but we do see a lower, 1ms response time on many competing displays. This means that you will see a little more blurring on the Huawei MateView GT, but it still performs very well. There is an overdrive mode that helps reduce blurring.
If you are using the monitor for work, you can also enable a low blue light mode that helps reduce the blue light, which can reduce eye fatigue.
Is the Huawei MateView GT Worth Buying?
If you are looking for a solid gaming monitor, the Huawei MateView GT is a great option. The display quality is good, the refresh rate is great for many gamers, and the design is beautiful with the RGB light effects. The included soundbar and built-in microphone elevate the overall value.
Learn more at Huawei.
Correction: The Huawei MateView GT supports AMD FreeSync. Updated with additional testing.
Newsweek may earn a commission from links on this page, but we only recommend products we back. We participate in various affiliate marketing programs, which means we may get paid commissions on editorially chosen products purchased through our links to retailer sites.