Huawei: How Arrest of China's Tech 'Princess' Could Blow up Trump's Trade Truce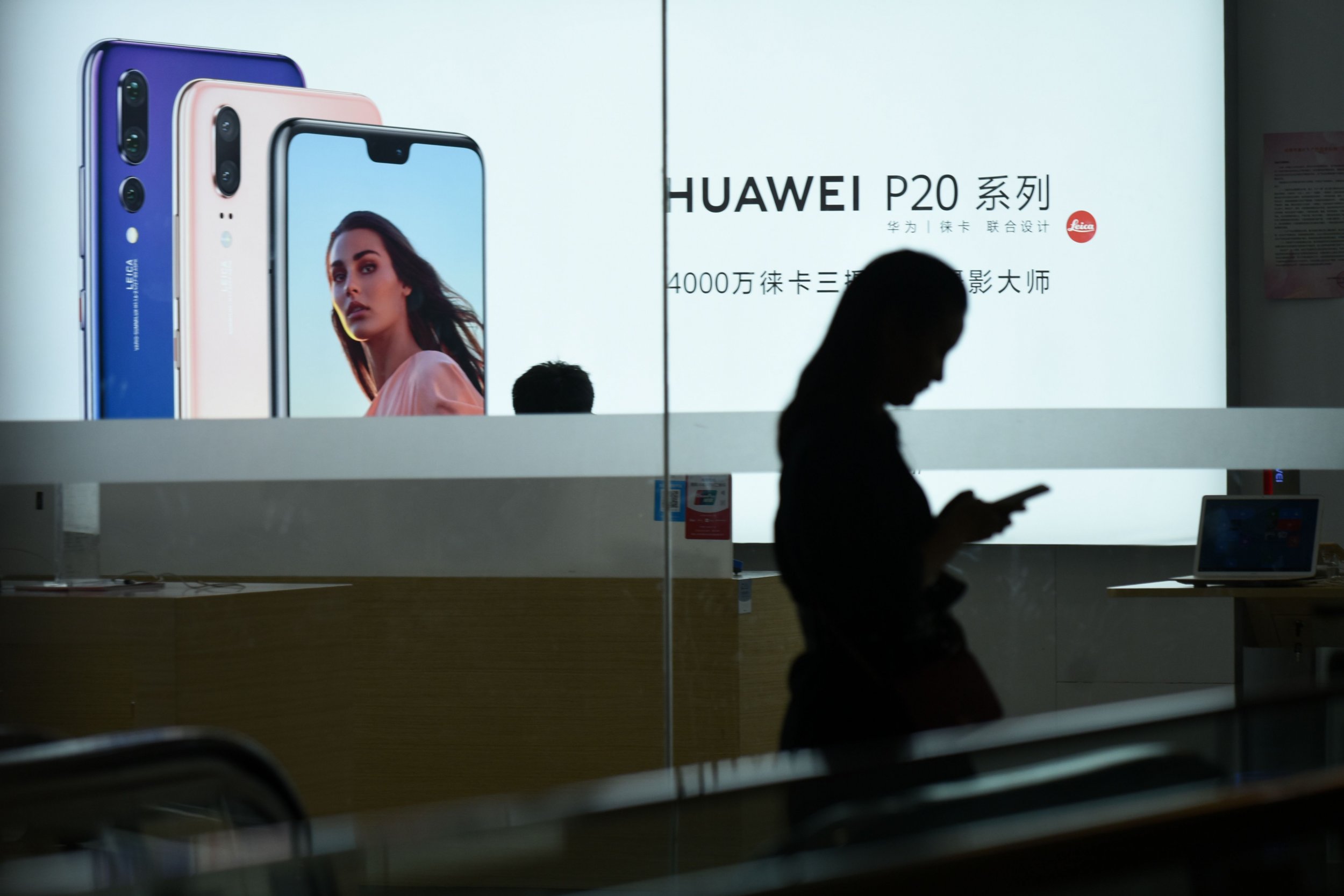 When the news broke on the evening of December 5, it was so startling that a senior State Department official in Donald Trump's administration said he had to read it three times "to make sure I was understanding it correctly." The initial headline: the Chief Financial Officer of Huawei, arguably the leading technology company in China, had been arrested in Vancouver changing planes after a flight from China. She had been arrested at the behest of the United States, and would await an extradition hearing in Canada.
This wasn't any ordinary CFO either. Meng Wanzhou, the woman in question, is also the deputy chairman of the Shenzhen based company and, more importantly, the daughter of—and presumed successor to—company chairman and founder Ren Zhengfei, one of the more mysterious and controversial businessmen in the People's Republic. Huawei used to be described as the "Cisco" of China, providing the technological guts of internet and telecommunication systems at home and around the world. It has also, more recently, become the second largest seller of cell phones in the world.
But Huawei is no ordinary technology company. Core facets of its business—from who actually owns it (and thus, who its management ultimately answers to) to whether it stole key technology from foreign competitors (like Cisco) to fuel its rise, and whether it serves as a key cog in the PRC's efforts to spy on foreign countries and companies—have dogged it for years. Today, the company is at the center of the technological conflict between the United States and China for dominance in next generation telecommunication systems as well as artificial intelligence; that, in turn, lies at the heart of the Cold War now developing between the world's two largest economies, which may define the 21st century's geopolitics.
Meng Wanzhou, Ren Zhengfei's oldest daughter, was arrested in connection with a longstanding investigation, run out of the U.S. attorney's office in the eastern district of New York, into companies and individuals that allegedly violate U.S. law by selling sanctioned equipment to Iran. That is to say, it had nothing on the surface to do with the core of U.S. suspicions about Huawei: that it is a technological Trojan horse for Beijing, ripping off foreign technology and implanting listening devices on the telecom systems it installs the world over.
That didn't mitigate the initial shock felt in financial markets across the globe, because the timing of the announcement from Canada was startling: it came just three days after Donald Trump had had dinner with Chinese counterpart Xi Jinping at the G20 summit in Buenos Aires, after which the U.S. side claimed a 90 day truce had been declared in the escalating trade war between Washington and Beijing. The U.S. stock market plunged nearly 800 points on Wednesday, because it appeared the Trump administration couldn't keep its stories straight about what was and wasn't agreed to in Buenos Aires. First thing Thursday morning, traders panicked following the news of the arrest, sending the market down another 700 points (before recovering late in day.) Not only did there appeared to be no truce, the trade war seemed to be escalating in a remarkable fashion—with the arrest of one of the most prominent executives at one of China's most controversial companies.
As the day wore on, important details emerged, which answered some (but not all) obvious questions. The arrest had come on December 1, the same day that Trump and Xi were to have dinner. This, theoretically, meant that the U.S. hadn't sandbagged the Chinese after the fact. Trump might have informed Xi of the arrest and explained why it had occurred. On Thursday an NPR reporter tweeted that National Security Adviser John Bolton told him that the Justice Department had informed him in advance that the arrest was coming, as should be a matter of course in such a high-profile case. Left unsaid was whether Bolton informed Trump in advance of the Xi dinner, and whether the President informed his Chinese counterpart.
That's still unclear, though public statements from the Chinese government, even in the wake of Meng's arrest, have suggested that Beijing is still on board for talks over the next 90 days aimed at resolving some of the more contentious issues between the two sides, including US allegations of intellectual property theft and forced technology transfer. "We're full of confidence about reaching an agreement in the next 90 days," Commerce Ministry spokesman, Gao Feng, said at a regular media briefing on Thursday in Beijing. Not all voices were as restrained. Meng's arrest, declared the state-owned Global Times, a typically bellicose state-owned news outlet in Beijing, was nothing less than a "declaration of war" against China. And some pro-Beijing academics and business consultants in the West likened it to "extraterritorial rendition."
In fact there have been other, high-profile Iran sanctions-busting cases brought by the U.S. against foreign nationals, including earlier this year against a Turkish citizen ultimately convicted of laundering money on behalf of Tehran—a case that infuriated Turkish President Recep Tayyip Erdogan. The details of the case against Meng and Huawei are not yet known, beyond the fact that British bank HSBC flagged a series of allegedly suspicious transactions between the company and Iran to U.S. investigators. Since at least 2016, the U.S. has been investigating whether Huawei shipped products originally from the U.S. to Iran—actions which, if true, would violate existing sanctions.
Even though any case against Meng—should she be extradited—appears far removed from Washington's central concerns about Huawei, her arrest will only poison the company's image in the West further. No other company in China is more controversial and either more duplicitous, or more misunderstood, than Huawei.
Founded in Shenzhen by Ren in 1987, the company says it is privately owned by its employees. It has steadfastly denied that it has formal links to either the Chinese government and/or the People's Liberation Army (Ren is a former PLA officer.) It has always denied further that it engages in espionage on behalf of Beijing, or has engaged in technology theft in the U.S. and elsewhere. Cisco famously sued Huawei for IP theft in 2003 and 2004, winning a court injunction at the time preventing it from selling an operating system allegedly based on source code from the U.S. company.
Ren, the founder and Chairman of Huawei, has rarely discussed publicly the suspicions about his company. Even when the company made a pronounced push to sell its handsets in the U.S. several years ago and hired an American, ostensibly press-friendly PR executive, Ren would only rarely give interviews to western reporters. (As a correspondent, bureau chief and editor in China, I like many other journalists, tried for nearly a decade to get Ren to sit for an interview. He never would.) To hear Huawei tell it, all the rumors were generated by Cisco and other competitors, because they feared the up and coming rival in China.
That sort of talk prompts extreme eye rolling in the U.S. intelligence community—now more than ever. "It's completehorse[bleep]" a retired official from the National Security Agency once told me. And the skepticism has only increased of late. Late last month, the government of New Zealand announced that it would not buy telecom equipment from Huawei—a bitter blow because the Chinese company had had hoped to peel away Auckland from U.S.-led resistance. Then, just a few days later, British Telecom not only said it would not consider Huawei technology for its 5G next generation telecom system, but it would begin removing the company's equipment from existing 4G networks.
Washington's full court press against Huawei, in other words, is working. A key question going forward now is whether the U.S. can persuade Beijing—or if it actually wants to—that Meng's case has nothing to do with the anti-Chinese, techno-nationalistic policies now emerging in the West. Most analysts believe the Chinese will not be persuaded, no matter the facts. "If you think they're going to look the other way if we throw this princess into the dock, you're dreaming," says a State Department official. Which means some sort of retaliation may be inevitable. And the possibility that the immediate trade truce may evolve into a long term settlement has probably become much less likely.