Huawei X Gentle Monster Eyewear II Review: Why Your Next Glasses Should Be Smart
About a year ago, Huawei promised us the future. They delivered on that promise with the release of the Huawei X Gentle Monster Eyewear II glasses. Have you heard of them? If not, no worries: I'm going to share all the details on how you can benefit from this technology. Recently, I was able to try out a pair for myself. Let's discuss why these glasses are so special and why you should get a pair. You should expect them to be more expensive than your average investment in a pair of glasses, but then again these smart glasses are not your average glasses.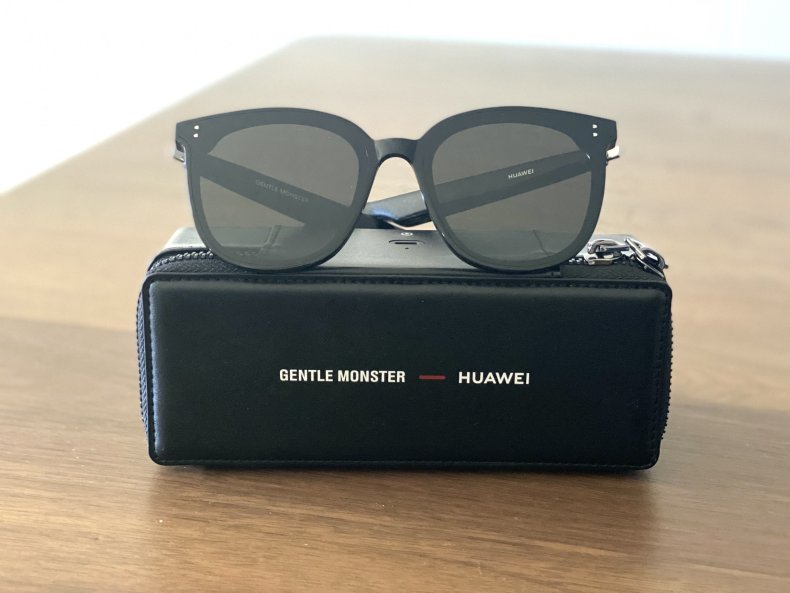 I discovered smart glasses when I was researching new technology several months ago. I was thrilled to be able to review a pair for myself. Once I got my hands on them, I knew my normal sunglasses would never feel the same. The Huawei X Gentle Monster Eyewear II made my daily activities easier and more fun at the same time, but it took me some time to figure out all their functions. After I learned about all the cool things these glasses can do, I knew it would be a shame not to utilize the features they offer.
I tested them out in a number of everyday situations. I found them to be ideal for replacing my wireless headphones and sunglasses when I went for a walk in the neighborhood. I simply needed to put on the glasses paired with my phone and I was good to go. Later, I took several calls while on my afternoon commute, and the sound quality was great.
The Gentle Monster Eyewear II look pretty much like normal glasses, but are they really the same? The answer is, of course, no. These glasses incorporate stereo speakers, the ability to interact with calls and play music, all by double-pressing the right temple of the frames.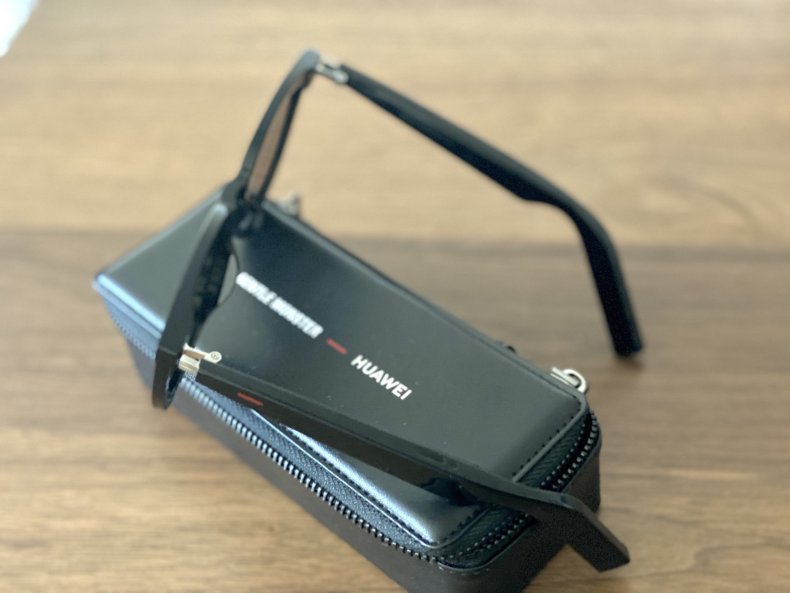 They're truly a feat of electronic miniaturization. The receivers, charging module, dual microphone, speakers and battery are all integrated into the temple of the glasses. There are two microphones that will transmit your voice to the caller on the other end and small stereo speakers placed just above your ears to hear what they are saying for phone calls.
They come in four different models: two sunglasses (Smart Lang and Smart Myma) and two prescription glasses (Smart Havana and Smart Kubo). They offer more choices for people who want protection against the sun and those who solely rely on glasses for better vision. The frames of all models are ergonomically designed for comfort and the titanium-alloy hinges make them slightly flexible.
Why Did I Like Huawei X Gentle Monster Eyewear II?
I never expected that fashion would intersect with technology in this way, or at least I didn't think it would happen in a way that made it this accessible to the public. The style and technology offered in these glasses is something most of us have only seen in movies.
Huawei Eyewear II are designed in partnership with Gentle Monster, a brand renowned for its distinct style, which is expressed in these frames. Even if you were just looking for bold eyewear, these would be a great buy, but you get so much more.
Huawei glasses are an excellent choice for those who have active lifestyles, who enjoy fashion, like staying up to date with trending technology or frequently travel. These are great to wear if you are going for a walk or just sitting at home, too.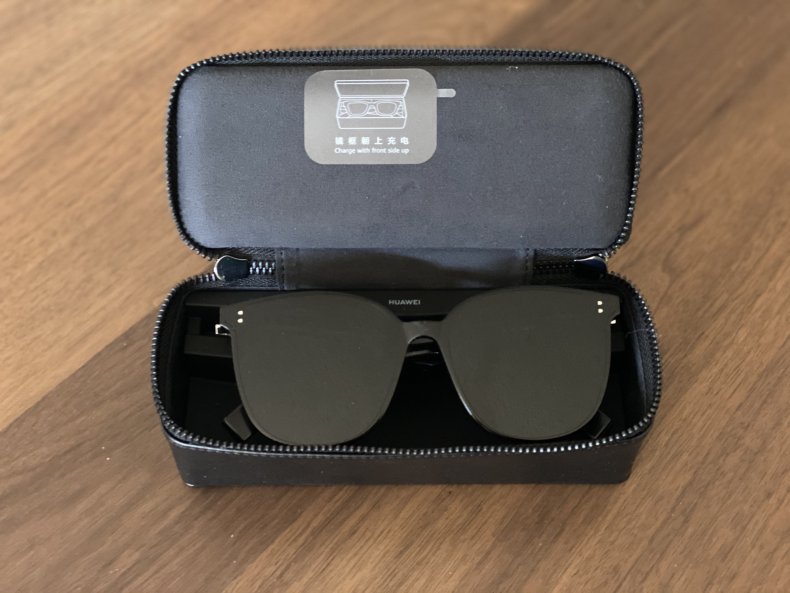 Huawei glasses are next-level technology; they allow you to stand out in a very positive way. From Bluetooth connectivity to wireless recording, they have a multitude of functions that can help you in your daily life.
The frames of the glasses are ergonomically arched, making them very comfortable. I continuously wore them for a few hours, and they didn't feel much different from a typical pair of sunglasses. The hinges are made of titanium, which makes them very strong and durable.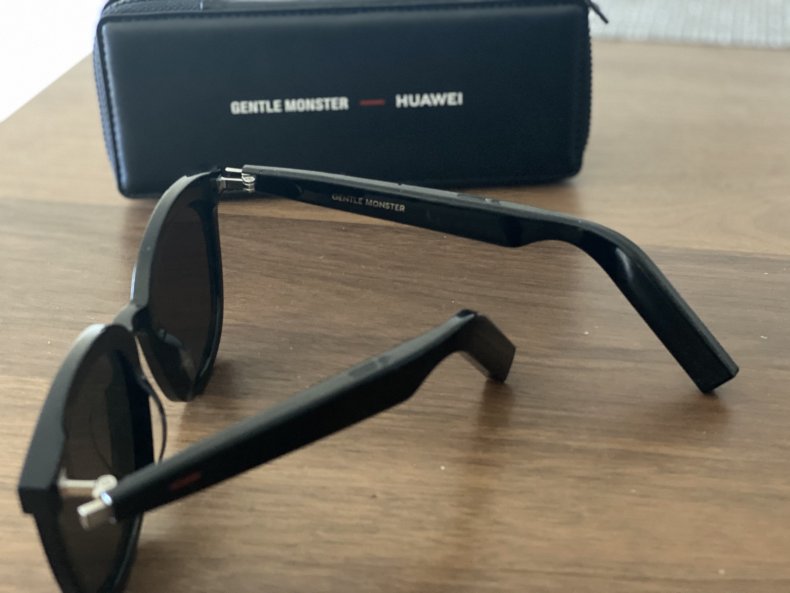 Although the temples have built-in speakers and touch sensors, they still manage to have a very slim design.
The Huawei X Gentle Monster Eyewear II features are impressive:
Allow you to record high-quality audio on the go
Soundproof speakers: Others can't hear your conversations and music
Elegant design
Battery life: up to 5 hours of continuous music playback and 40 hours standby time
Bluetooth connectivity: can be paired with any smartphone
Easy to answer and end calls
Considering the great experience I had with the Huawei X Gentle Monster Eyewear II, I feel confident recommending them to make your life easier. They have an extremely nice design; they fit very well while wearing, and they perfectly replaced wireless headphones in many of my daily activities. They're a good investment if you like advanced technology mixed with a sense of fashion.
Buy at Huawei.
Newsweek may earn a commission from links on this page, but we only recommend products we back. We participate in various affiliate marketing programs, which means we may get paid commissions on editorially chosen products purchased through our links to retailer sites.