'Hubie Halloween': Why the Netflix Movie Pays Tribute to Cameron Boyce
Hubie Halloween is streaming now on Netflix, and after 100 minutes of big, broad comedy the Adam Sandler film shifts gear to pay tribute to the actor Cameron Boyce, the 20-year-old Descendants star who died in July 2019 following an epileptic fit.
Rather than just pay tribute to the young actor with a standard title card, the end of Hubie Halloween featured a mini-eulogy, reading: "Gone way too soon and one of the kindest, coolest, funniest, and most talented kids we knew. You live on forever in our hearts and are truly missed every day."
Though Cameron Boyce does not appear in Hubie Halloween, he did star alongside Sandler in a number of movies. He had previously played Sandler's son Keithie in both Grown-Ups and Grown-Ups 2. Sandler also made an uncredited appearance in an episode of Boyce's Disney Channel sitcom Jessie in 2013.
In fact, Boyce was meant to play a young deli worker bully in Hubie Halloween, a role that ended up being portrayed by Karan Brar, who also starred alongside Boyce in Jessie. That Boyce was set to star in Sandler's new Netflix film was revealed by Sandler in a Yahoo! interview, in which the Uncut Gems actor said: "He was supposed to come to do the movie maybe two days after [he died]. He was getting on a plane to come shoot our movie.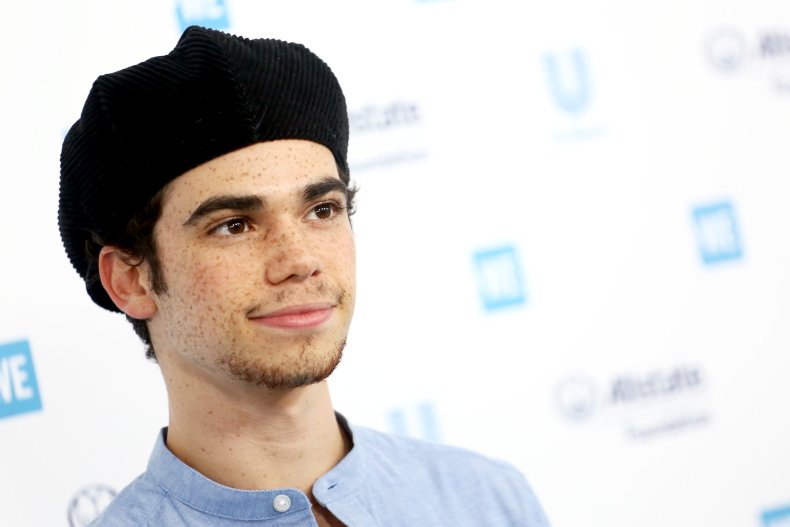 "That was devastating news for his family and for all of us. He was just a nice kid. When he was in Grown-Ups as a kid, he was just carefree, happy, funny, all the other kids loved him. All the comedians would walk away like, 'Man, that kid said a funny line earlier.' He was just sharp."
The actor later added: "My kids loved him. He was always great to my family. Cameron came to my daughter's bat mitzvah three months before he passed away.
"Every one of my daughter's friends was coming up to him, and he took the time and talked to everybody, and signed autographs and took pictures with them. He was just a great kid, and everybody misses him."
On what would have been Boyce's 21st birthday, Sandler posted a tribute to the Disney actor on Instagram reading: "Happy birthday to Cameron. Would have been 21 years old. Such a great kid. We all miss him a lot. Especially his incredible family."
He also posted a link to KNOW SUDEP NOW, an initiative created by the Cameron Boyce Foundation and the Epilepsy Foundation to bring awareness to the condition that led to Boyce's death.
Though Boyce was not able to appear in Hubie Halloween, his final on-screen appearance is still to be released. Musical drama Paradise City, a spin-off of the 2017 movie American Satan, has been filmed, though it does not have a release date or network yet.
Hubie Halloween is streaming now on Netflix.