Adam Sandler's 'Hubie Halloween'— Cameo Gets Local News Anchor Fired
A woman is out of a job after making a small appearance in the Netflix original film b y Adam Sandler, Hubie Halloween.
Newscaster Alaina Pinto revealed she was fired by Boston's 7News WHDH, writing on Twitter on Thursday that she violated her contract with her appearance in the Netflix film.
"Hi Friends! I have some news to share... Earlier this week I was let go from 7 News. I am posting this because I want to be open and honest with all of you. Last year, I participated in a cameo in the recently released Netflix movie by Adam Sandler, Hubie Halloween," Pinto wrote. "In doing so, I mistakenly violated my contract with the station and I understand why management unfortunately chose to terminate me. I am deeply disappointed and saddened, and I hoped this would not be how things evolved."
Pinto added: "Thanks to all my wonderful 7 News viewers and my supportive and great colleagues at the station. Reporting the news to you every morning was an honor and a privilege. I promise to stay in touch and keep you updated on the next chapter - the future is bright!"
Pinto's role in the movie was so minor that she didn't receive an IMDB credit for the appearance.
Set in Salem, Massachusetts, Pinto briefly appears in Hubie Halloween as a local news anchor for the morning show, Wake Up Boston. Dressed up in a Harley Quinn costume for the morning news Halloween special, she is among several of the newscasters that greet Boston on the morning of Halloween.
In fact, the comedy is loaded with special guest appearances including Ben Stiller, Dan Patrick and Colin Quinn. Sandler's own family members pop up sporadically throughout the film as well. His wife Jackie Sandler even appears in the Wake Up Boston segment as a news reporter alongside Pinto while his daughters Sunny and Sadie Sandler star as Cooky and Danielle, the daughters of Hubie's love interest Violet Valentine (Julie Bowen).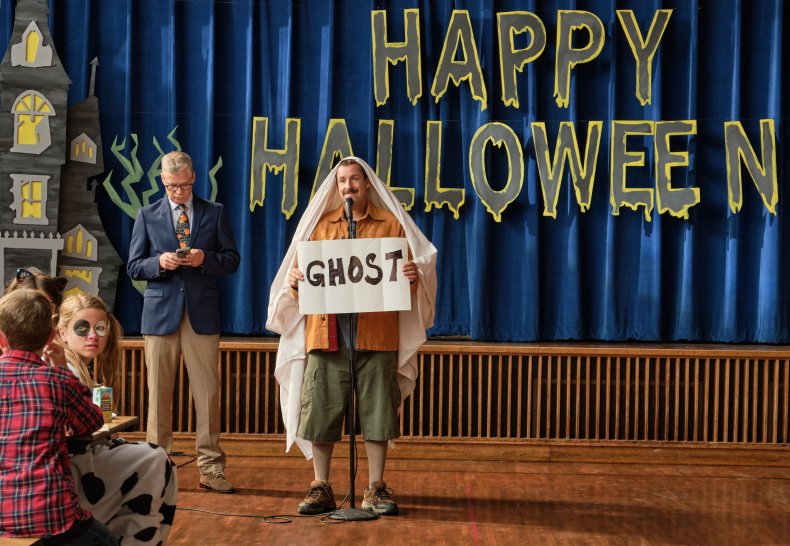 Pinto received an outpouring of support from fans as well as former co-workers following the news of her firing.
"I love you. A bright light always. Nothing changes that," Pinto's former 7News colleague Amaka Ubaka tweeted.
Meanwhile, some Beantown locals thought Pinto's firing was a rather harsh response to her very small role in the film.
"I am sorry to hear this. It seems extreme, but I guess contracts can be that way sometimes. Everything happens for a reason and I have no doubt your future is bright and just waiting for you! You make your hometown incredibly proud," another person tweeted.
Newsweek has reached out to 7News WHDH and Netflix for comment.