Sarah Huckabee Sanders Tweets Emojis Everywhere, What Does It Mean?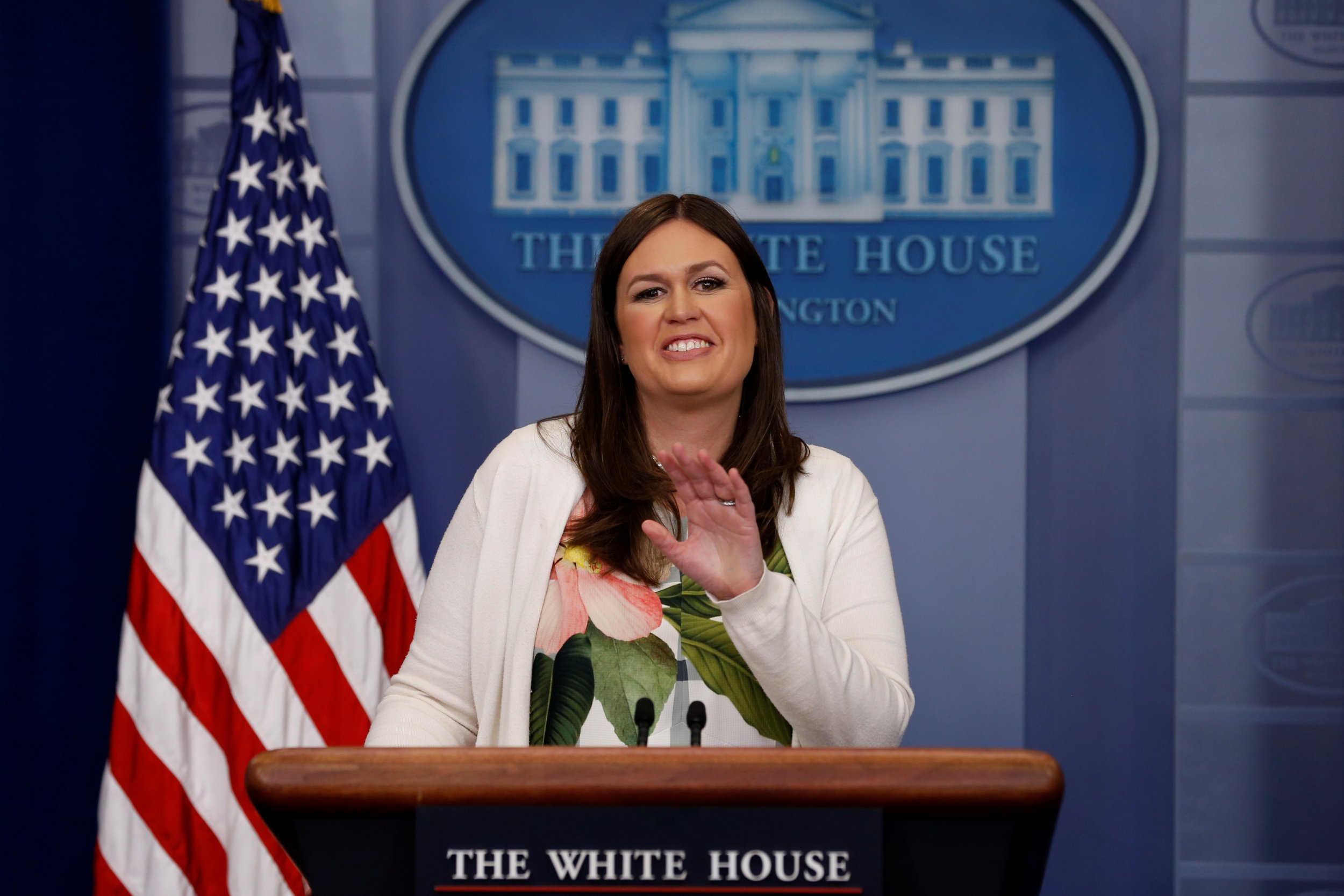 UPDATED | What does it all mean? Does it have anything to do with "covfefe?" Will we ever know?
A wild, emoji-laden and confusing tweet was fired off from the official account of White House deputy Press Secretary Sarah Huckabee Sanders early Saturday morning and it's already set Twitter abuzz.
Complete with anchors, traffic lights, fountains and world maps, the tweet comes a little more than a week after President Donald Trump was lambasted on social media for sending out the phrase "covfefe," sparking Internet frenzy about its meaning.
We could delve into morse code patterns, maybe ones that signal distress, but Sanders is the mother of three children with her husband Bryan Sanders, two girls and a boy, and a logical explanation could simply be that one of them got a hold of their mother's phone and fired away the emojis.
About two hours after it was posted Sanders discovered the tweet and responded, explaining it was one of her kids by saying: "This is what happens when your 3 year old steals your phone. Thanks Huck! #neverleaveyourphoneunlocked"
Nevertheless, Twitter was quick to react to decipher the tweet, including attempts to link it to one of the president's more salacious alleged scandals.
The snafu follows Trump's now legendary tweet from May 31 when he wrote, "Despite the constant negative press covfefe." From there the internet took over and theories abounded as to what the president actually meant.
Trump eventually took it down about six hours later and sent out a follow-up tweet seemingly trying to spin the flub. He wrote: "Who can figure out the true meaning of 'covfefe' ??? Enjoy!"
It's been a difficult, stressful week around the White House and perhaps even for Sanders. She was the first to speak to the press following former FBI director James Comey's testimony before the Senate Intelligence Committee Thursday, during which Comey essentially called the president a liar.
Sanders vehemently and staunchly backed her boss, claiming outright that Trump is not a liar and calling the reporter's question "insulting." The daughter of former Republican presidential candidate and Arkansas Gov. Mike Huckabee, Sanders has stepped in for Press Secretary Sean Spicer much more recently, following some of Spicer's bigger letdowns.
This article was updated with more information about Sarah Huckabee Sanders' defense of President Donald Trump as well as her response to the original tweet Saturday morning.