HUD Hopeful Ben Carson: 'I Understand Housing Insecurity'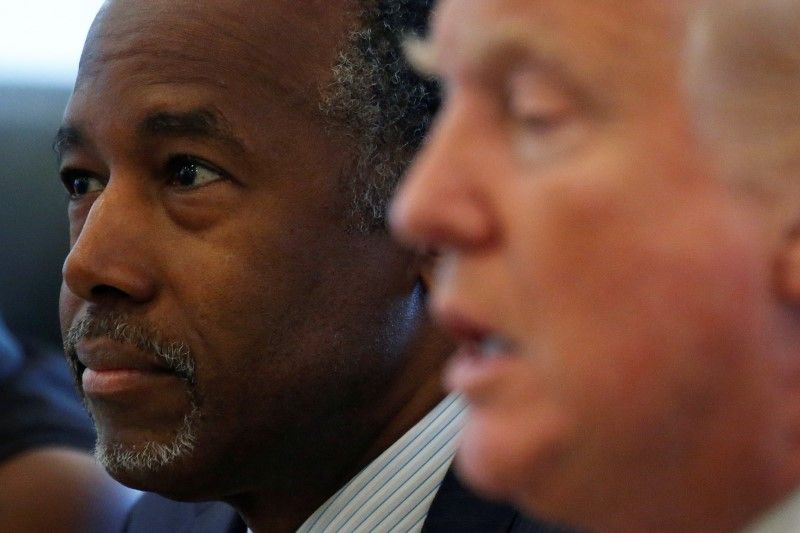 Ben Carson on Thursday told lawmakers he is fit to lead the U.S. Department of Housing and Urban Development, an agency that offers housing to the poor, even though he has sometimes criticized its work.
"I understand housing insecurity," Carson, a retired neurosurgeon who sought the Republican 2016 presidential nomination, said in prepared remarks for the Senate Banking, Housing and Urban Affairs Committee.
Carson endorsed some policies that subsidize rent and homeownership and said a childhood of poverty and struggle made him appreciate a stable home life.
"Simply put, it's difficult for a child to learn at school if he or she doesn't have an adequate place to live," he said.
Carson, nominated for the HUD job by Republican President-elect Donald Trump, has said some of the agency's policies encourage racial tensions.
A federal program that promotes the development of rental housing in neighborhoods where most people own their homes is a mistake, Carson, an African-American, has argued.
"These government-engineered attempts to legislate racial equality create consequences that often make matters worse," Carson wrote in a 2015 opinion article in the Washington Times newspaper.
If confirmed as HUD secretary as widely expected, Carson would oversee an agency with a roughly $40 billion budget that not only helps the poor but underwrites mortgage loans for middle-class families.
HUD's Federal Housing Administration stands behind roughly one in five home loans and $1.1 trillion in debt.
Carson has never led a government agency, a concern for Democrats on the Senate committee, which was to question him on Thursday.
In mid-November, an aide to Carson told The Hill newspaper that Carson had removed himself from consideration for a Cabinet post because "Dr. Carson feels he has no government experience, he's never run a government agency."
U.S. Senator Sherrod Brown of Ohio, the top Democrat on the committee, has said, "President-elect Trump made big promises to rebuild American infrastructure and revitalize our cities but this appointment raises real questions about how serious he is about actually getting anything done."
HUD does not have the political profile of many other Cabinet-level agencies, such as the Defense or Justice departments. But with its sizable budget and power in the housing market, it has been a political lightning rod.
Many Republicans have argued that taxpayers may once again have to fund a housing market bailout because HUD stands behind too many risky mortgages.
However, HUD housing guarantees can save homeowners money day to day and thus such programs have lawmaker backing.
Outgoing HUD Secretary Julian Castro this week slashed HUD fees for mortgage default insurance, which he said would save the average HUD-backed homeowner $500 a year.
Carson could reverse that move if he is confirmed.
Trump attacked Carson when the two were vying for the Republican nomination last year but Carson later became one of his most prominent African-American supporters in the general election campaign.