Ben Carson and His Wife Picked Out the $31,000 Dining Room Set, Internal Emails Show: Report
Internal emails show Housing and Urban Development Secretary Ben Carson and his wife picked out a $31,000 dining room set for his government office, according to a new report that directly contradicts prior statements a department spokesperson gave.
One email with the subject line "Secretary's dining room set needed," obtained by the left-leaning watchdog group American Oversight through a Freedom of Information Act request, shows department staffer Aida Rodriguez writing to Carson's chief of staff Sheila Greenwood and Allison Mills, the secretary's executive assistant.
"I believe Allison has print outs of the furniture the Secretary and Mrs. Carson picked out," Rodriguez wrote in the August 29 2017 email.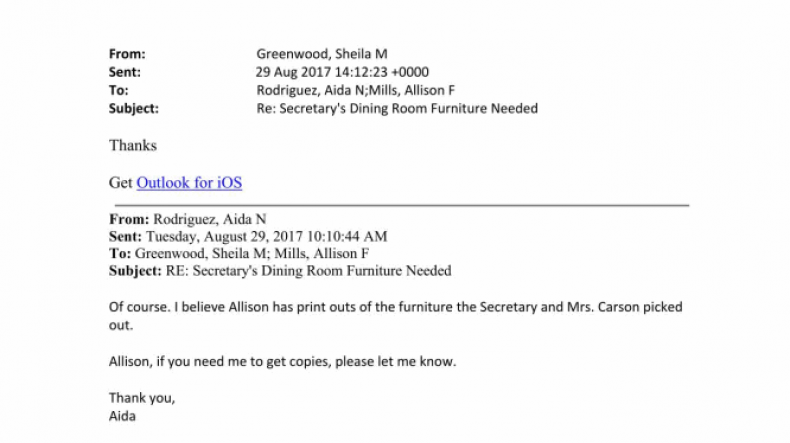 That directly contradicts statements department spokesman Raffi Williams previously issued denying Candy Carson knew about the pricey purchase.
"Mrs. Carson and the secretary had no awareness that the table was being purchased," he told CNN in February.
On Tuesday, Williams offered CNN a new explanation about Carson's involvement in the purchases. "When presented with options by professional staff, Mrs. Carson participated in the selection of specific styles," he said.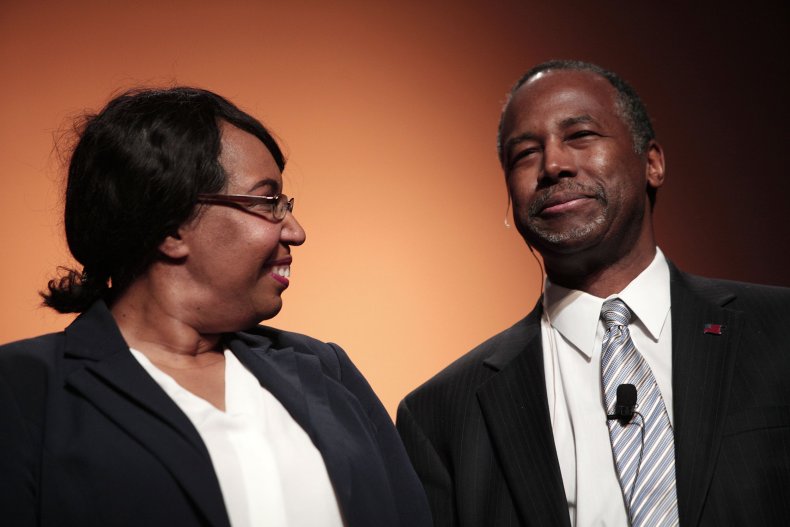 But the newly revealed emails show that Carson had been involved in redecorating the secretary's office early on in the process. Jacie Coressel, the director of scheduling for Ben Carson's office, directly emailed Candy Carson on August 8, 2017 alerting her that a designer would "be in town next week on the 15th-17th."
"Are you available on any of those dates and would you like to come in and have input on the redecorating?" Coressel asked. "We must have the order for the new furniture in before the 21st in order to use the money allocated for this fiscal year." Rodriguez and Mills were also copied on that message.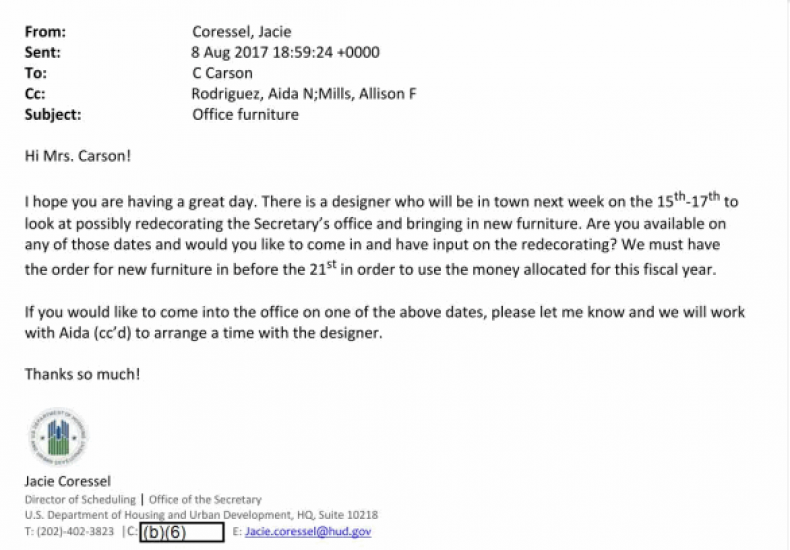 The furniture was originally quoted at $24,666, according to an email from Rodriguez to Mills. The bill ended up nearly $7,000 over that figure, according to CNN.
On March 1, Carson issued CNN a statement regarding the tax-payer funded purchases. Carson said he was "surprised" by the cost and was canceling the order.
"I briefly looked at catalogs for dining furniture and was shocked by the cost of the furniture," Carson said. "My wife also looked at catalogs and wanted to be sure that the color of the chair fabric of any set that was chosen matched the rest of the decour [sic]."
"I was as surprised as anyone to find out that a $31,000 dining set had been ordered," he continued. "I have requested that the order be canceled. We will find another solution for the furniture replacement."