Hue Jackson has revealed he opted not participate in Colin Kaepernick's workout last week as he felt he would have gone against the NFL's wishes.
The league had chosen the former Cleveland Browns head coach to run the event, which had been organized for Saturday at the Atlanta Falcons' training facility.
The former San Francisco 49ers quarterback, however, moved the workout to a high school stadium approximately 50 miles away at the last minute.
While Kaepernick and his representatives maintained the decision had been taken to ensure media could attend, Jackson opted to not participate.
"To me I think if I went over to the high school and did that, I think I would have been doing that for him more so than for the league," he said during an interview with Kristine Leahy on FS1.
Jackson admitted he was surprised by Kaepernick's decision to move his workout—which the NFL had announced on Tuesday last week—and declined to attend, boarding a flight home instead.
"I felt a responsibility and obligation to the National Football League because they're the ones who asked me to do it," he added. "I made a decision [that] the best thing for me to do was get on a plane and go home."
Speaking to reporters after the workout, Kaepernick said he had been denied a shot at returning to the league for the last three years after leaving the 49ers to become a free agent at the end of the 2016 season.
The 32-year-old urged the NFL to "stop running" and insisted he was ready to play anywhere in the league.
"I've been ready for three years. I've been denied for three years," he told reporters after his workout. "So we are waiting for the 32 owners, 32 teams and [league commissioner] Roger Goodell to stop running. Stop running from the truth, stop running from the people. We are ready to play. We are ready to go anywhere."
In a strongly-worded statement issued after the workout, the NFL said it was "disappointed" by Kaepernick's decision to switch the location of the workout.
The league said 25 of the 32 franchises were present at the Falcons' training facility and that it had made "considerable efforts" to cooperate with Kaepernick's wishes.
Labeled in some quarters as a PR stunt as soon as it was announced, the workout attracted even more criticism in the aftermath.
"He doesn't want to play, he wants to be a martyr," said ESPN analyst Stephen A. Smith said in a video he posted on Twitter on Sunday. "You don't wanna work, you just want to make noise and you want to control the narrative."
Speaking on ESPN's Get Up a day later, Smith doubled down and suggested he wouldn't blame NFL teams for not offering Kaepernick a route back in the league after Saturday's events.
"If no NFL team ever called Colin Kaepernick again I don't blame them," Smith said.
"That's not to say I don't want him in the NFL, I think that he was blackballed, I think that it was unfair what has been done to him. Obviously he should be in the National Football League based on his talent, but that's separate in part from what transpired on Saturday."
Former Houston Oilers, Philadelphia Eagles and Miami Dolphins defensive end Mike Golic also criticized Kaepernick's decision.
"If your goal was to play football, in my opinion, you cost yourself by not performing in front of 25 teams," Golic said on his Golic and Wingo show on ESPN.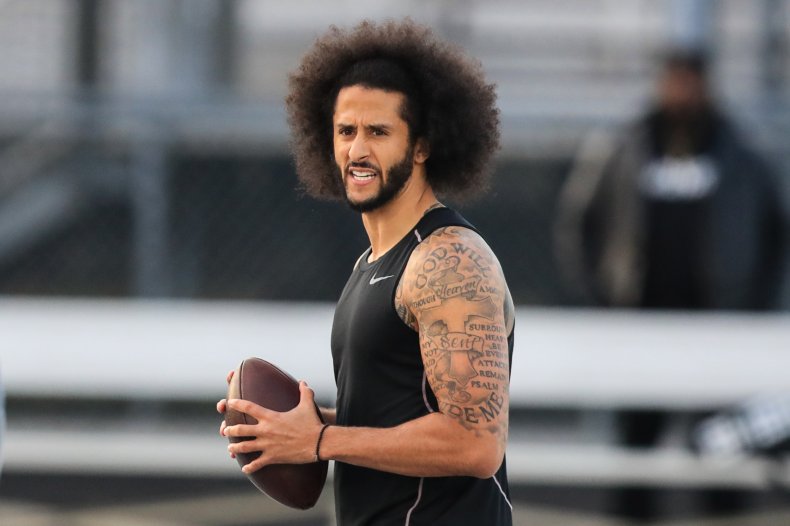 Kaepernick rose to prominence in 2016 when he began kneeling during the national anthem to protest police brutality and racial discrimination. The gesture split public opinion in the U.S. and made him a global icon, but also contributed to him being ostracized by the league.
After becoming a free agent at the end of the 2016 season, Kaepernick wasn't offered a tryout by any of the 32 teams. He went on to file a lawsuit against the owners, accusing them of colluding with each other to prevent him from returning to the league.
The former Nevada alumni and the NFL reached a settlement in February.
About the writer
Dan Cancian is currently a reporter for Newsweek based in London, England. Prior to joining Newsweek in January 2018, he was a news and business reporter at International Business Times UK. Dan has also written for The Guardian and The Observer.