Police Fire Tear Gas and Stun Grenades in Ferguson After Reporters Arrested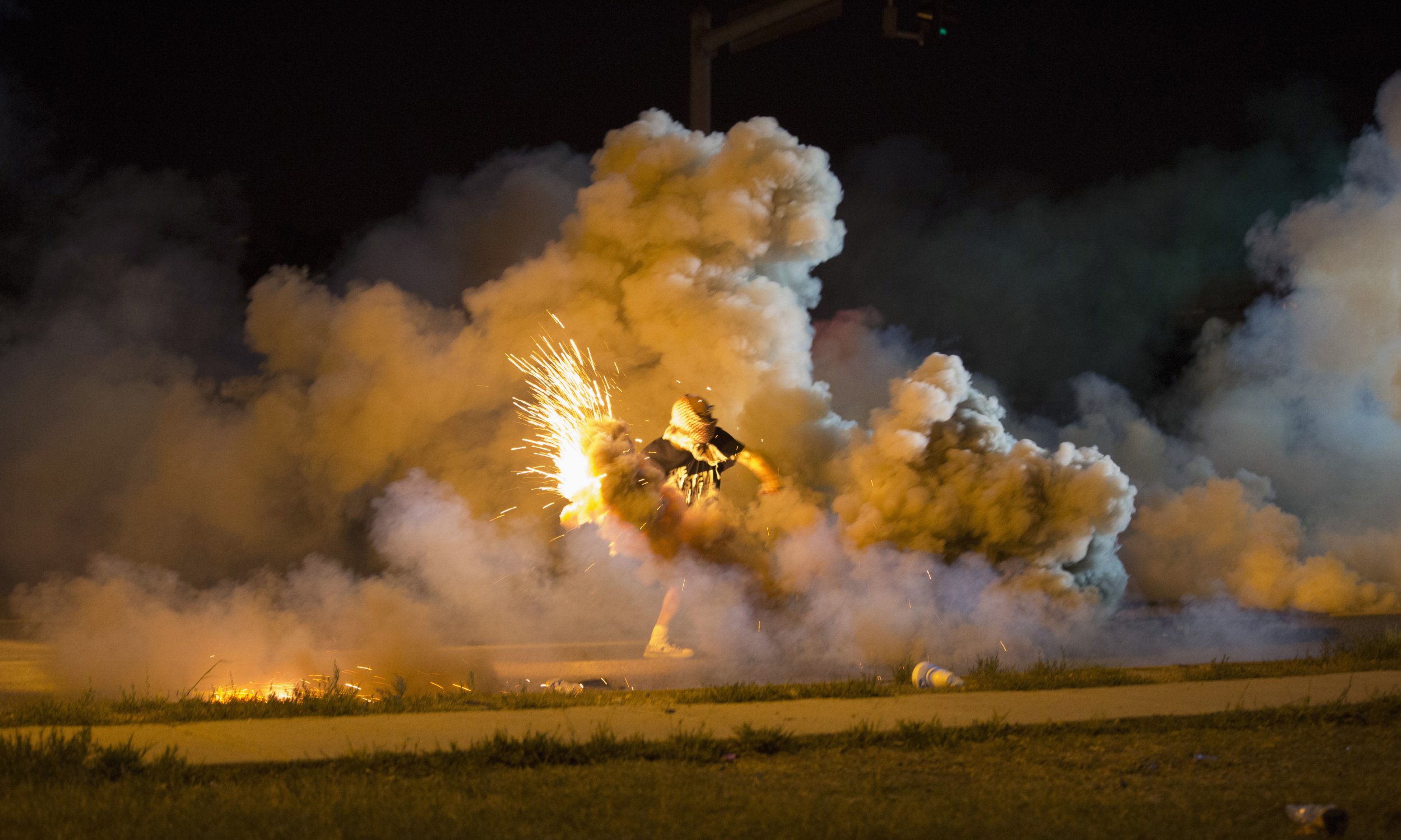 Police in Ferguson, Missouri, fired tear gas into a crowd of around 350 protesters and used stun grenades late Wednesday, on the fourth night of demonstrations over the fatal shooting last weekend of an unarmed black teenager by a police officer. Hours earlier, two reporters were arrested in a spat with local police. The Huffington Post's Ryan Reilly and Wesley Lowery of The Washington Postreported on Twitter that they were arrested by police on Wednesday afternoon. Reilly and Lowery said they had been working in a McDonald's restaurant in Ferguson when police entered and told them to leave. According to Lowery, he and Reilly were arrested for not leaving quickly enough, and for taping police. Both reporters were released without charges, Lowery said. Unrest has pervaded Ferguson since the shooting of Michael Brown on Saturday. Brown, 18, was killed in the mostly black suburb after what police said was a struggle with a gun in a police car. A witness in the case told local media that Brown had raised his arms to police to show that he was unarmed before being killed. Police have been slow to release information about the shooting, and protesters have gathered in the St. Louis suburb every night since in tense standoffs with heavily armed officers. About 40 protesters have been arrested since Saturday. "I've had enough of being pushed around because of the color of my skin, I'm sick of this police brutality and I'm angry cause of what they done to Michael Brown," an 18-year-old protester who would only identify himself as "Terrell" told Reuters Wednesday night. "I'm going to keep coming back here night after night until we get justice," he said.
Police have declined to release the name of the officer involved in the shooting of Michael Brown, citing concerns for his safety, a decision that has been criticized by demonstrators who have asked for more transparency. The officer has been placed on administrative leave. On social media, groups claiming to be associated with the Anonymous hacker activist group have called for nationwide protests and threatened to reveal personal information about Ferguson police officers. Meanwhile, reporters have flocked to the scene, and witnesses continue to upload photos and video to social media documenting the crackdown. "There was absolutely no justification for [Wesley's] arrest," Washington Post Executive Editor Martin Baron said in a statement Wednesday night. "He was illegally instructed to stop taking video of officers. Then he followed officers' instructions to leave a McDonald's — and after contradictory instructions on how to exit, he was slammed against a soda machine and then handcuffed. That behavior was wholly unwarranted and an assault on the freedom of the press to cover the news. The physical risk to Wesley himself is obvious and outrageous." Baron went on to say that the Post is "appalled by the conduct of police officers involved." Reilly posted an account of his arrest on FacebookWednesday night, while Lowery tweeted a video of the incident.