Huge 100-Year-Old Sturgeon Caught in British Columbia, Thrown Back in River
A huge, 100-year-old sturgeon has been caught in British Colombia, Canada—and thrown back into the river.
Yves Bisson made the extremely rare catch on March 6 in the Fraser River, near Chilliwack. Bisson, who owns a fishing guide company, estimated that the sturgeon must be a century old. He said it was roughly 10 feet long and weighed 600 pounds.
There are about 27 species of sturgeon around the world and more than half of them are classified as critically endangered. Sturgeon have existed since the age of the dinosaurs but now face numerous threats from overfishing and habitat loss. They are also harvested for their eggs, which are used for caviar.
The white sturgeon, which inhabits the Fraser River, is the longest-lived and largest freshwater fish in North America. They can live for a century and have been found to reach 20 feet in length.
A video of Bisson's big catch shows him dragging the enormous fish through the shallows.
"We were just able to tag it, so it's probably never been caught," he says.
Bisson then releases the sturgeon back into the river. "Unreal," he says, as it swims away.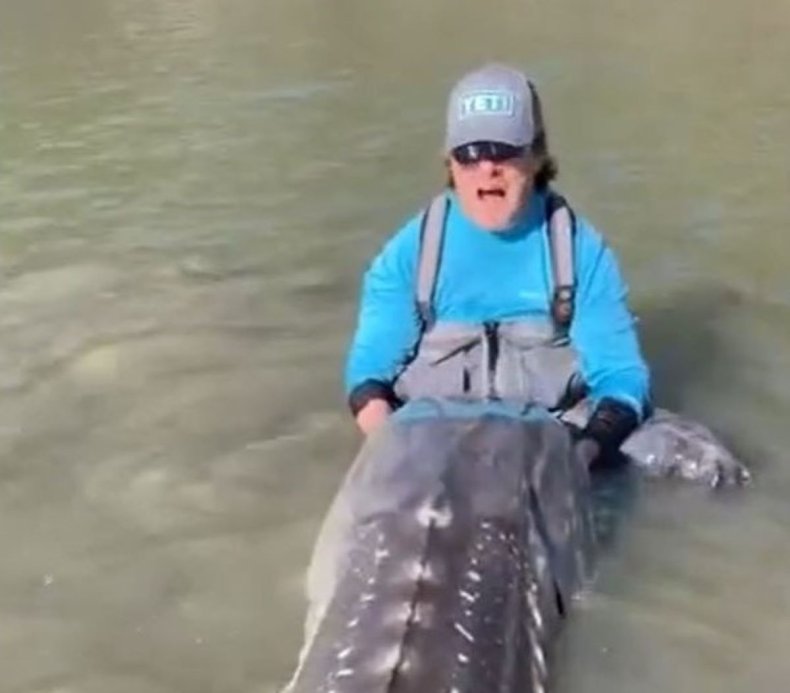 White sturgeon found in the Fraser River are tagged by the Fraser River Sturgeon Conservation Society, as part of a program to track the population and health of the species. According to the society, the population of white sturgeon in the Fraser River is a fraction of what it used to be.
Bisson regularly scans and tags sturgeon as part of the program. After the catch, he told Storyful he was amazed the fish had no tag.
He added that he knew the sighting was rare as soon as he saw the giant sturgeon leap out of the water. "I have landed over 22,000 sturgeon on my fishing charters and this was one I'll never forget," he said.
Under Canada's Species at Risk Act, it is compulsory for anglers to release species if they are caught.
In August, fishermen at catch-and-release company Sturgeon Slayers caught one of the biggest white surgeons on record in the Fraser River. The sturgeon measured over 11 feet in length and had a girth of 55 inches.
In 2019, some fishing operations in the Fraser River were halted as a precaution, over fears that they were becoming disruptive to the already dwindling population. Canada's Department of Fisheries and Oceans has also ordered "corrective measures" in parts of the river, after it found that vital areas of the sturgeon's habitat had been destroyed.