Huge 130lb Mastiff 'Falling in Love' With Tiny Orphaned Kitten
The surprising friendship between a 130lb mastiff and a tiny 0.5lb foster kitten has melted hearts online, gaining over 2 million views in just three days.
Despite their huge size difference, Cane Corso Norm and his kitten companion have struck up an unlikely friendship, as the pair were documented snuggling together.
"My 130lb foster fail mastiff falling in love with my ½ lb foster kitten," wrote their owner, who uploads under the handle @norm_the_househippo.
The video showed Norm gazing fondly at the tiny kitten named Sonic. Later clips showed him approaching Norm as the pair seemed to sniff each other out. Surprisingly, both animals were calm as can be around each other.
Adorably, the foster kitten even pawed at the snout of his mastiff foster sibling at one point. The video can be seen in full here.
"We knew that our Mastiff, Norm is very gentle with children and puppies, but he had never met a kitten that young before. We introduced them and watched them closely to make sure the kitten was safe. The kitten sensed Norm's body heat, and immediately curled up next to him. Norm sniffed him, then rested his head gently over the kitten to keep him warm. He was very careful not to step on the kitten, and he instantly started acting like a mother," Julia told Newsweek.
"My boyfriend works as a veterinary technician at a local humane society, and I work at an animal hospital. When animals come to the shelter in critical condition and need overnight care, my boyfriend and I take them in as 'medical fosters,' meaning they need specialized medical care and cannot be put up for adoption until their condition improves," she explained.
"This kitten was left at the humane society in a box, severely underweight, dehydrated, and anemic from being covered in fleas. We took him home for the weekend, because a kitten in that condition might not survive without close monitoring and medical care. We needed to syringe feed the kitten and give him subcutaneous fluids to hydrate him, but he ended up improving daily in our care."
The pair have proven that sometimes the best friendships are the most unexpected. Meanwhile the owner's other cat doesn't appear as fond, as one video showed it hissing at the new arrival before strolling off.
"This is Norm's baby now. They mustn't get separated," wrote one viewer.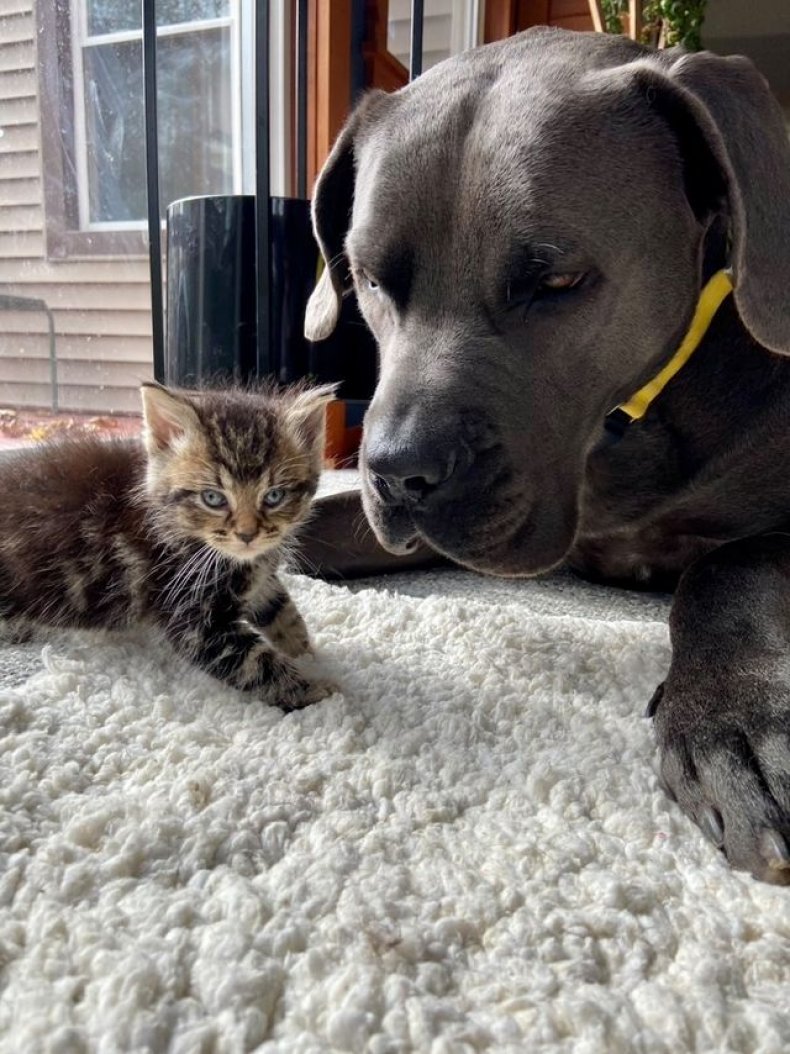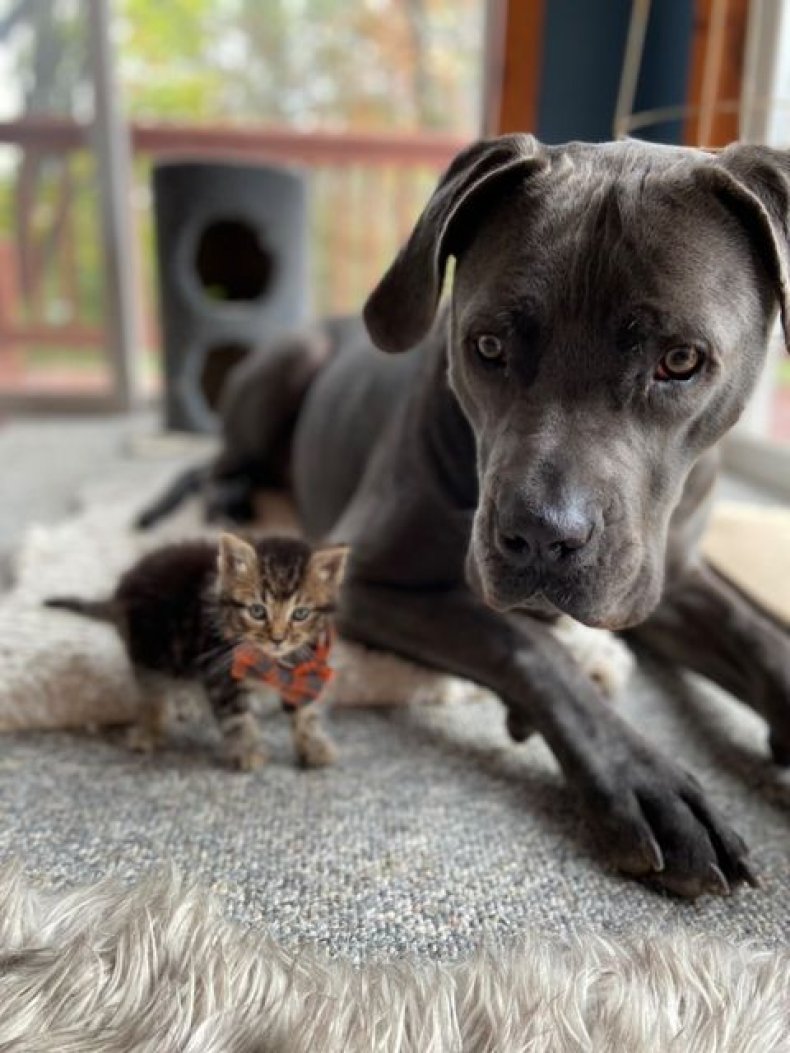 "We initially limited the kitten's interaction with our two adult cats (both rescues), because the kitten was not fully vaccinated and we didn't not want to put our cats at risk for any cat-to-cat transmitted diseases," said Julia.
"After starting vaccines, our oldest cat named Jax was introduced. She was unsure at first and hissed at the kitten, but is now much more comfortable around him. She enjoys watching him and Norm play, but does not have the special connection with the kitten that Norm has. Our other cat named Elisa is not a fan of the kitten and takes a long time to warm up to other animals. She is a people cat."
Despite the fact that TikTok viewers have been left demanding the pair's owner adopt the fostered kitten for good, Julia has decided against it. She said that the kitten is going to a good home with her friend who will adopt him and even has a Norm doppelganger for Sonic to love too.
"I'm trying to spread the message that yes, I ended up adopting Norm, but that was because I had the time and room in my house to give him the best life possible. We currently have one dog and two cats, and adding a third cat would put stress on our adult cats. You can't keep every foster animal and continue to foster," said Julia.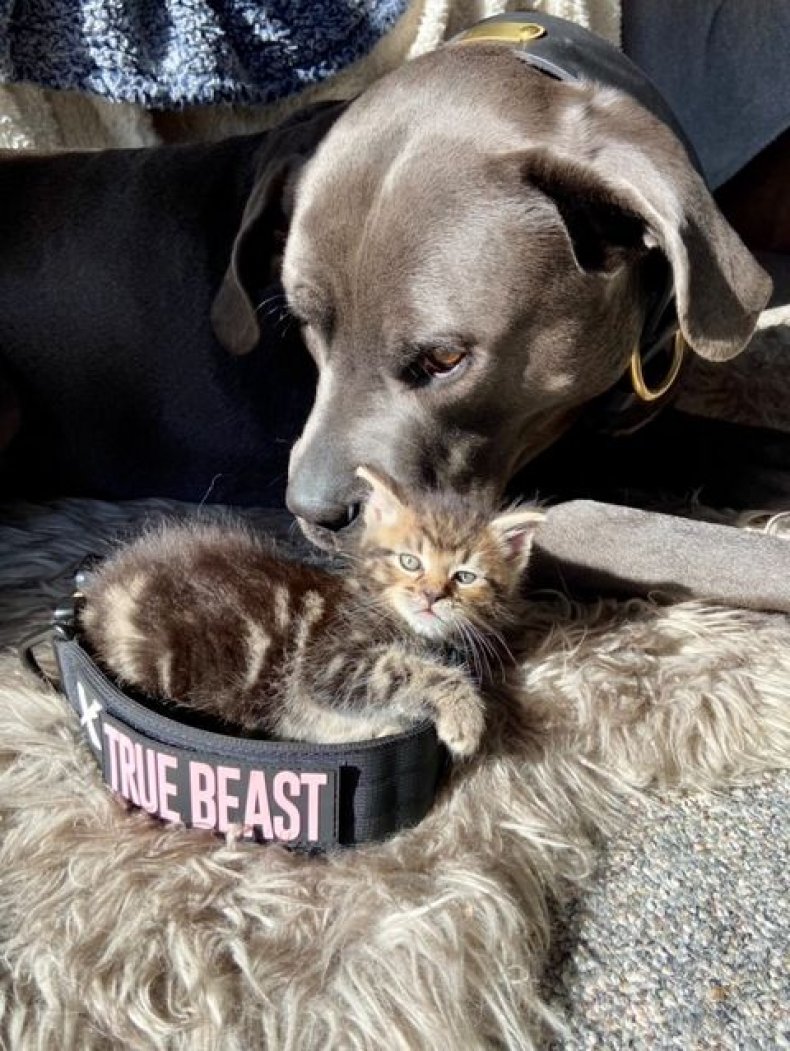 "Sonic is going to be adopted by my good friend who is also a veterinary technician, who I trust completely to care for Sonic. She owns a senior Boxer, who looks similar to Norm. Sonic did a meet and greet with her dog and her son last weekend, and fell in love with both of them. That was when her son named the kitten 'Super Sonic Bumblebee' because he's so fast
"Norm will get to have play dates with Sonic, and watch him grow up, just not under the same roof. Sonic has not left our care yet, but he will be leaving soon. I hope that Norm will get the chance to help many kittens like Sonic in the future grow strong, and find loving homes."
Norm was fostered by Julia originally, but after being nursed back to health, was eventually adopted.
"Despite being homeless, freezing and hungry enough to eat sticks, Norm was trusting, happy and somehow loved life" she wrote in a video. "I promised to make the rest of his life the good part."
"My boyfriend is a vet tech at a shelter and sent me this video one day. Animal control brought in this emancipated puppy. He wasn't healthy enough to be adopted so we decided to foster.
"It was hard to tell his age or breed because he was malnourished and had not grown properly. He was scared but tired...until he played with his first toy," she added.
"He slowly gained enough weight to be neutered safely. I had to keep a thunder shirt on him during walks because people would comment on his weight."
Although the couple originally thought Norm was a mutt, they soon discovered he was actually a purebred mastiff. With the help of another rescue puppy, he soon learned how to trust other dogs and flourished.
"He stole our hearts so we adopted him," she wrote.
UPDATE 11/09/21, 11:43 a.m. ET: This article was updated to include comment from Norm's owner Julia.