The fossilized remains of a huge ichthyosaur, colloquially known as a "sea dragon," have been uncovered in central England.
The skeleton is the largest and most complete of its kind ever found in the United Kingdom, and experts say it's the first ichthyosaur of its species (Temnodontosaurus trigonodon) to be found in the country.
The sea dragon was uncovered in the Rutland Water Nature Reserve—located in England's smallest county—on land owned by a water company during the routine draining of a lagoon island for re-landscaping purposes.
Joe Davis, a conservation team leader at Leicestershire and Rutland Wildlife Trust, which operates the nature reserve alongside Anglia Water, was the individual who discovered the almost complete ichthyosaur skeleton, which measures around 33 feet in length and features a 6.5-foot-long skull.
In a statement, Davis said: "The find has been absolutely fascinating and a real career highlight, it's great to learn so much from the discovery and to think that this amazing creature was once swimming in seas above us, and now once again Rutland Water is a haven for wetland wildlife albeit on a smaller scale!"
Ichthyosaurs are an extinct group of marine reptiles that roamed the world's oceans between about 90 million and 250 million years ago. While their existence coincided with the age of the dinosaurs, they aren't dinosaurs.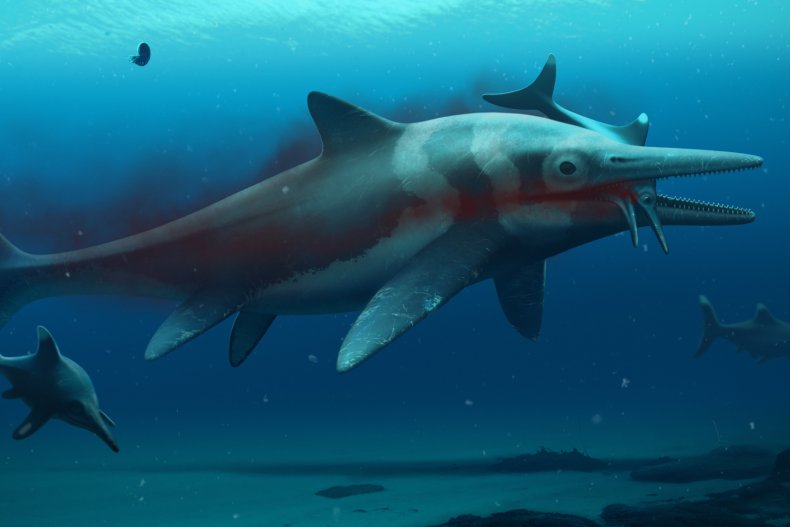 Ichthyosaurs (Ancient Greek for "fish lizard") evolved from an unknown terrestrial ancestor that returned to the sea. They lived their whole lives in the water and gave birth to live young.
Resembling dolphins in their body shape, ichthyosaurs varied in size significantly, ranging from around three feet to 82 feet in length.
More than 100 ichthyosaur species have been discovered to date, although specimens as big as the skeleton found in Rutland, which is approximately 180 million years old, are rare and normally only found in Germany and North America.
"Ichthyosaurs of this size are generally rare worldwide, although larger individuals do exist," Dean Lomax, a visiting scientist affiliated with the University of Manchester, who led the excavations of the Rutland ichthyosaur, told Newsweek.
"The majority of ichthyosaurs that are this size and larger are known from either fragmentary remains or from partial skeletons, whereas this new skeleton is practically complete."
Lomax has studied thousands of ichthyosaurs over the course of his career and even named five species himself.
The paleontologist said Temnodontosaurus trigonodon was a "top-of-the-food-chain, apex predator" that is primarily known from Germany, where some specimens have been found with other ichthyosaur remains inside their gut.
In a statement, Lomax said: "It was an honour to lead the excavation. Britain is the birthplace of ichthyosaurs—their fossils have been unearthed here for over 200 years, with the first scientific dating back to Mary Anning and her discoveries along the Jurassic Coast."
"Despite the many ichthyosaur fossils found in Britain, it is remarkable to think that the Rutland ichthyosaur is the largest skeleton ever found in the U.K. It is a truly unprecedented discovery and one of the greatest finds in British paleontological history."
Update 01/12/22, 12:32 p.m. ET: This article was updated to include additional comments from Dean Lomax.