A massive coronavirus outbreak at New York's Cornell University has prompted the school to shut down its main campus in Ithaca, move all final exams online and cancel the graduation ceremony for December graduates.
On Tuesday, Cornell President Martha Pollack announced the university would move to "Alert Level Red" because of a "significant number of Monday's positive student samples."
The college's COVID-19 dashboard shows there are 469 active student cases. Of those cases, 94 percent were confirmed this week. Monday's 227 new positive cases and Tuesday's 214 new positive cases have raised Cornell's weekly positivity rate to just over 3 percent.
Under the new alert level, all final exams will move online as of noon, December 14, and all in-person university activities have been canceled, including the December 18 ceremony for winter graduates.
Cornell will also close libraries, fitness centers and gyms but will keep offices and labs open. Undergraduate students are not supposed to participate in any work-study or lab work at this time.
"While I want to provide reassurance that, to date, we have not seen severe illness in any of our infected students, we do have a role to play in reducing the spread of the disease in the broader community," Pollack said in a statement. "The fact that we have not experienced severe illness among our student population may lead some to ask why we are imposing such serious steps."
As of Tuesday, 97 percent of Cornell's on-campus population is fully vaccinated.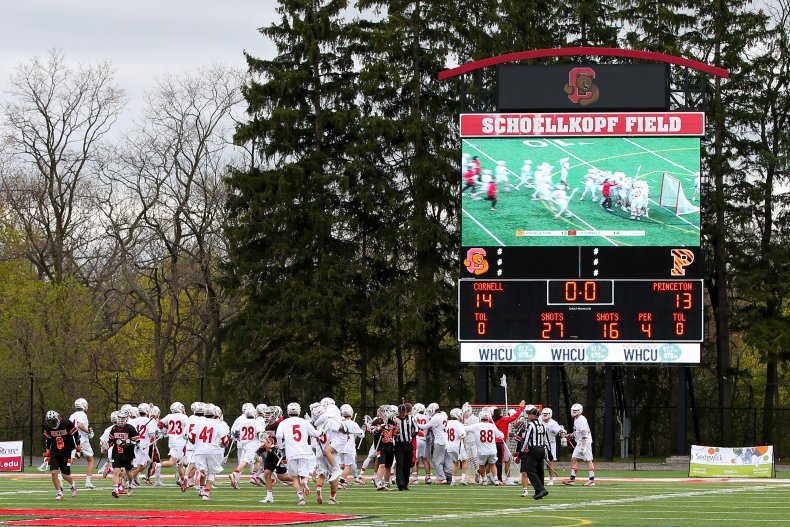 "It is obviously extremely dispiriting to have to take these steps," Pollack said Tuesday. "However, since the start of the pandemic, our commitment has been to follow the science and do all we can to protect the health of our faculty, staff, and students."
She continued, "We have faced many challenges together over the last many months. I am confident that we can once again rise to meet this current challenge so we can all take a well-deserved break."
The announcement comes after the school detected its first case of the new Omicron variant over the weekend.
School officials say that while it is unclear if the latest spike is being driven by the variant, PCR testing had identified the Omicron's hallmark in a "substantial" number of virus samples.
"While we must await confirmatory sequencing information to be sure that the source is Omicron, we are proceeding as if it is," Pollack said.
The college had already canceled in-person student gatherings as of Saturday, but it had hoped to keep in-person exams and the December graduation ceremony as scheduled.
Cornell officials said the majority of cases have been linked to off-campus social gatherings between students where COVID-19 safety measures, like masking, were not being followed.