Video Shows Woman Starting Mass Brawl at Rams-Chargers Game
An NFL pre-season encounter between local rivals the Los Angeles Rams and the Los Angeles Chargers was overshadowed by the emergence of footage online showing a mass brawl in the stands involving fans.
The Chargers claimed a 13-6 win over the Rams at the SoFi Stadium in Inglewood, California, this past Saturday, with running back Darius Bradwell scoring what proved to be the decisive touchdown.
However, much of the focus in the wake of the result was away from the pitch and over in the stands, where an ugly fight involving several fans marred what was supposed to have been a sedate, low-stakes affair.
In a series of videos uploaded to Twitter, a set of supporters were filmed engaging in a tense stand-off that eventually erupted into violence.
The encounter began as a heated exchange led by one Rams fan dressed in a white 99 jersey who was filmed arguing with a group of Rams supporters decked out in blue.
What begins with raised voices and expletives soon erupts into something worse, however, when the fan in white is struck by an object thrown by a female Rams supporter stood behind the group in blue.
In a separate video, the female Rams fan is shown weighing into the melee to throw a cup containing a drink at the man who reacts angrily to her actions.
The fan in white begins swinging wildly at the group of men in front of him, who respond in kind by attacking him, with even more punches thrown.
In a series of follow-up videos, the supporter in the white 99 jersey is then shown being pulled down over a row of seats while the group of Rams fans decked out in blue continue to rain down punches on his exposed torso.
At one point, the woman who instigated the fight reappears to hit the under-fire fan in white with a plastic Gatorade bottle.
Another video shows that, while this fight is continuing on, another has broken out between a man in a yellow T-shirt and another in a black T-shirt.
The two men are shown slugging it out near to where the Chargers fan is coming under attack, with both men throwing full-blown punches that connect with their opponent.
Several bystanders can be seen throughout much of the footage attempting to break up the fights, while drinks are thrown and snacks end up scattered on the floor in the ensuing chaos.
Much of the online discussion in the aftermath of the incident focused on the woman who appeared to instigate the fight.
"It was nothing but an argument. The dude had turned away from the argument, too, until he got a soda thrown at him," itsrockrobsterG wrote on Twitter.
"She started the fight."
Brooklyn_dun commented: "She put them in danger in that moment. He only swung because he got hit by something while his back was turned. He could have been removed by the security guard before it escalated. Throwing stones and hiding hands."
The140Plus added: "Of course, the person that knew they weren't going to be retaliated against did the most.. This is toxic behavior."
There was a similar outcry from ThePicketFence who wrote: "Why on earth do people think they can behave this way? Since when is throwing a drink on someone remotely acceptable?"
Some, however, saw the funny side, with YouTuber Mark Phillips retweeting a video of her throw while praising her technique.
"Flawless execution!" he joked. "She just earned her spot in the next hood Olympics."
In a statement to Newsweek, a spokesperson for SoFi Stadium condemned the violence and confirmed actions were being taken to punish those involved.
"SoFi Stadium does not tolerate violent behavior or harassment of any form. Some of the individuals involved in Saturday's altercation have been identified, and they will be banned from attending events at SoFi Stadium. We are actively working to identify the remaining individuals involved. We will continue to work with security, law enforcement and league officials to evaluate our protocols to ensure a family friendly environment where fans and guests can safely enjoy themselves."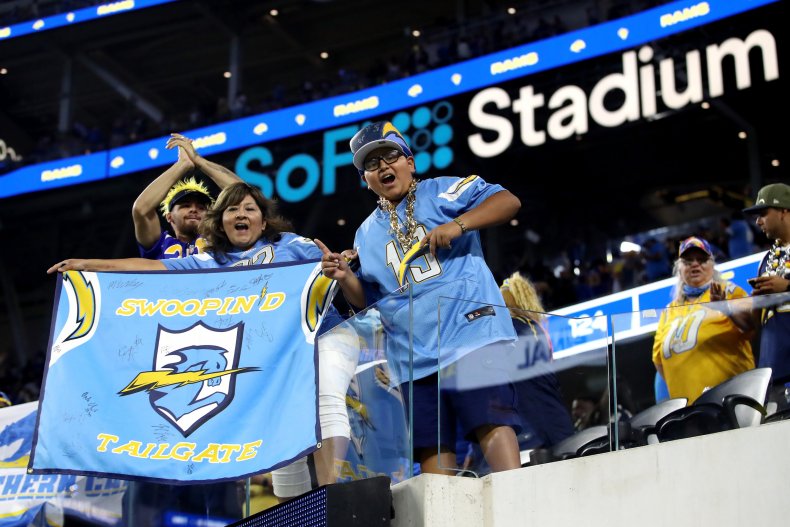 Update 8/17/21, 3:17 a.m. ET: This article was updated to include a statement from SoFi Stadium along with a clarification that one of the fans involved was wearing a Rams jersey rather than a Chargers one.