'Huge Mistake': Republican Senator Opposes Trump Ending Stimulus Talks Until After Election
Republican Senator Susan Collins of Maine broke with President Donald Trump on Tuesday over his decision to delay stimulus relief negotiations until after Election Day.
Trump ended the chances of another stimulus package before November 3 in a series of tweets today.
"I have instructed my representatives to stop negotiating until after the election when, immediately after I win, we will pass a major Stimulus Bill that focuses on hardworking Americans and Small Business," the president wrote.
In a statement, Collins called Trump's decision a "huge mistake" and said she has "already been in touch with the Secretary of the Treasury, one of the chief negotiators, and with several of my Senate colleagues" to discuss the matter.
"When the pandemic began, Republicans and Democrats in Congress worked together successfully to take quick, sweeping action—allocating nearly $3 trillion since March to respond to the crisis and passing the bipartisan Paycheck Protection Program," Collins added. "That's the same approach we need to take now to continue to provide support for the health and safety of all Americans and the safe, responsible opening of our communities."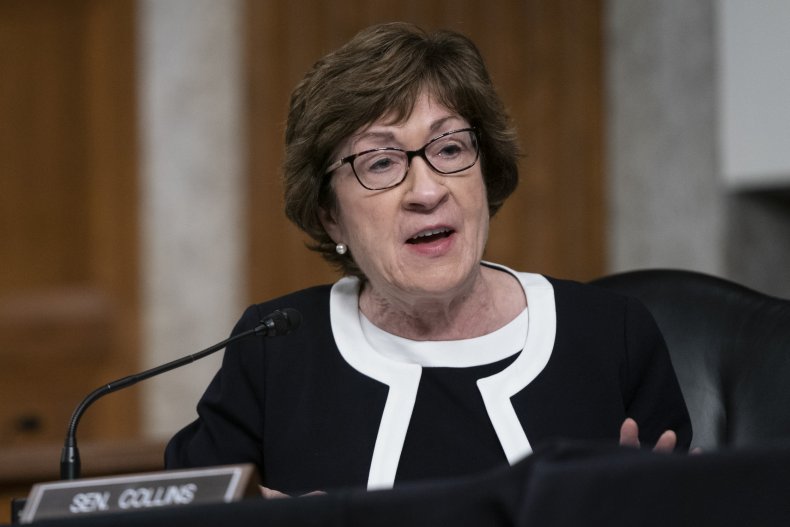 Trump on Tuesday said he has instructed Senate Majority Leader Mitch McConnell to "instead focus full time on approving my outstanding nominee to the United States Supreme Court, Amy Coney Barrett."
McConnell supports the president's move.
"I think his view was that they were not going to produce a result, and we need to concentrate on what's achievable," the Kentucky senator told reporters on Capitol Hill.
The president's decision comes just days after he pressed lawmakers from both sides of the political aisle to pass a new COVID stimulus package after he was admitted to the Walter Reed National Military Medical Center for coronavirus treatment.
"OUR GREAT USA WANTS & NEEDS STIMULUS. WORK TOGETHER AND GET IT DONE. Thank you!" the president tweeted.
Last week, Treasury Secretary Steve Mnuchin offered Democrats $1.6 trillion, but House Speaker Nancy Pelosi declined to concede an additional $600 billion and maintained that more money is needed to adequately assist Americans during the pandemic. House Democrats on Thursday passed their own $2.2 trillion package with a 214-207 vote—a bill that Republicans have already said will fail in the Senate.
Trump on Tuesday criticized Pelosi for holding out and continuing to press for local and state aid.
"Nancy Pelosi is asking for $2.4 Trillion Dollars to bailout poorly run, high crime, Democrat States, money that is in no way related to COVID-19," the president said. "We made a very generous offer of $1.6 Trillion Dollars and, as usual, she is not negotiating in good faith. I am rejecting their request, and looking to the future of our Country."
Newsweek reached out to the House Speaker Nancy Pelosi for comment.