'A Huge Moment': Gun Safety Groups Hopeful About Bipartisan Background Checks Bill
Multiple gun safety groups are urging members of Congress to vote in favor of a revived bipartisan bill that would expand background checks for firearm sales if signed into law.
The bill, H.R. 8, passed through the Democrat-controlled House of Representatives in early 2019 but stalled in the Senate. The proposed legislation's bipartisan group of sponsors reintroduced the bill in the House on Tuesday, and gun safety groups seemed hopeful the bill would have a greater chance of success now that Democrats control the White House and hold majorities in the House and Senate.
"Despite the daily deaths of over 100 Americans from gun violence––and hundreds more wounded––then-Majority Leader Mitch McConnell refused to allow background check legislation to have a vote in the Senate last Congress," Moms Demand Action founder Shannon Watts said in a Tuesday news release. "But that era ended on Election Day, and now, our grassroots army of nearly 6 million supporters will make sure this historic legislation is passed into law."
Watts further emphasized the proposed legislation's importance to gun safety groups during a press call this week. "This is a huge moment for our movement, we are on the precipice of finally addressing a crisis that has killed millions of Americans," Watts said on the call, according to The Hill.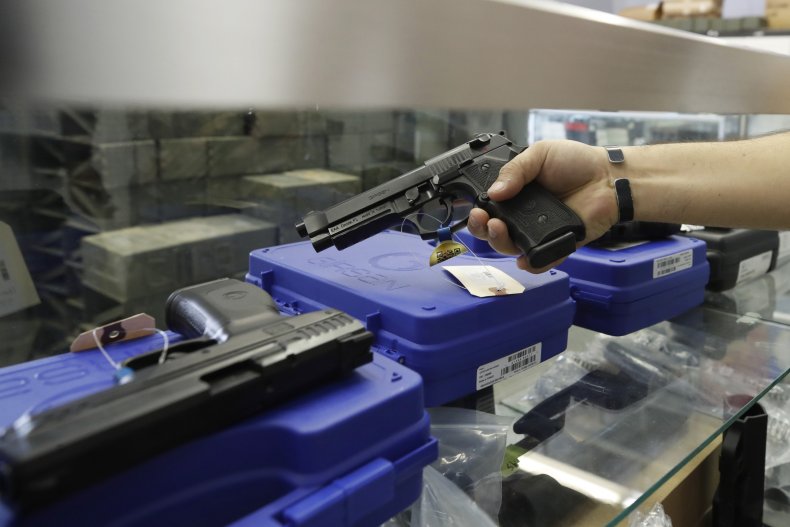 Rep. Mike Thompson, who chairs the House Gun Violence Prevention Task Force, spearheaded the bill's reintroduction with support from fellow House Democrats Jerrold Nadler of New York, Sheila Jackson Lee of Texas, Robin Kelly of Illinois and Lucy McBath of Georgia. The three House Republicans cosponsoring the bill are Fred Upton of Michigan, Christopher Smith of New Jersey and Brian Fitzpatrick of Pennsylvania.
The goal of the bill is to "utilize the current background checks process in the United States to ensure individuals prohibited from gun possession are not able to obtain firearms," according to a bill summary.
"The last two years have been a turning point in our longstanding fight to help prevent gun violence and we take another leap forward in helping to save lives," Thompson said in a news release. "Joined by Democrats and Republicans, we introduce the Bipartisan Background Checks Act of 2021 to help keep guns out of the hands of those who may be a danger to themselves or others."
In the same news release, Republican Smith referred to the bill as "common-sense legislation." If passed, it would "ensure that firearms are purchased, owned and used by responsible, law-abiding citizens by closing the 'private sale loophole' and listing all those prohibited from buying a firearm in the National Instant Criminal Background Check System," he said.
A companion bill was also reintroduced in the Senate this week with support from 45 senators, all of whom caucus with the Democrats. Both pieces of legislation have support from the chambers' Democratic leaders.
"With Senate Democrats in the Majority, we have the opportunity to act on this overwhelmingly popular, lifesaving legislation to protect American communities," Senate Majority Leader Chuck Schumer said in a Tuesday news release.
During his presidential campaign, President Joe Biden ran on a plan to implement universal background checks and "close other loopholes" in the existing system for federal background checks. Senator Chris Murphy of Connecticut referenced the president's past support for expanding background checks in a news release announcing the Senate's companion bill.
"Joe Biden and hundreds of congressional candidates from both parties ran on the issue of background checks. This is the year to get this bill passed into law," Murphy said.
Gun safety groups encouraged voters on social media on Tuesday to contact their congressional representatives directly to build support for the legislation.
"We urge Congress to pass ‪#HR8 & ‪#HR1446 to close deadly loopholes in background checks," the Brady Center to Prevent Gun Violence tweeted.
"The American people overwhelmingly support this life-saving policy," the Coalition to Stop Gun Violence tweeted. "Now is the time for action!"
"Our elected leaders owe us ‪#MoreThanThoughtsAndPrayers to prevent gun violence—they owe us action," Everytown for Gun Safety tweeted.
Though the bipartisan legislation has support from most Democrats in Congress, only eight Republicans voted in favor of the legislation in 2019, with 188 Republicans—including House Minority Leader Kevin McCarthy—voting against it.
Newsweek reached out to McCarthy's office for comment but did not receive a response in time for publication.