Huge Pod of Dolphins Surrounds Kayakers: 'Pretty Crazy'
The stunning moment a huge pod of dolphins surrounded a group of kayakers has been caught on camera.
The kayakers were exploring Trefusis Point in Cornwall, England, on January 30, when the pod began to surround them.
The video, which was taken by Tristian Herbert, showed the dolphins breaching the surface of the water and before diving back down into the depths.
"We were among them for probably 5 minutes, although it felt like much longer. They came very close and actually swam under our kayaks," Herbert told Newsweek.
"In total, we saw dolphins pretty continuously from 9 a.m. to 11:30 a.m. (the video was taken at 9:50 a.m.), starting in Penryn river. Some were swimming up the river, while others headed up Carrick Road. It felt like once we were at Trefusis Point, every direction we looked, there were dolphins. It was pretty crazy."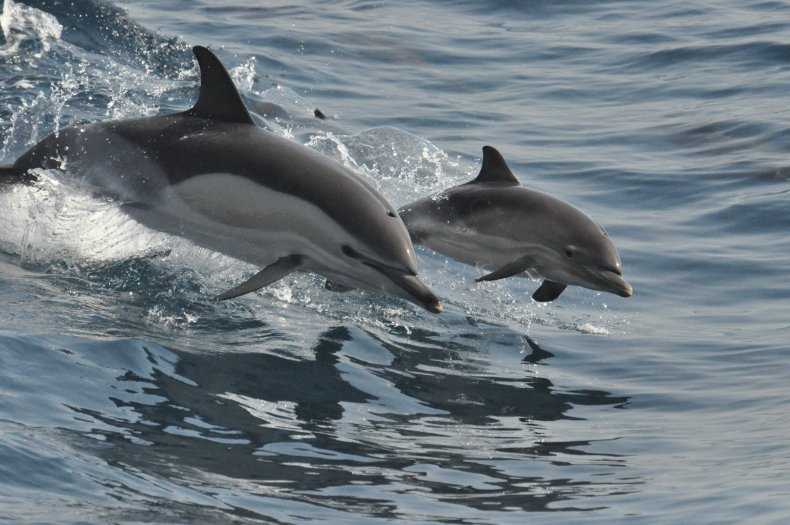 Dolphins are not uncommon off the Cornish coast, with the area being one of the best places to spot them in the U.K.
The groups of friends went out kayaking hoping to spot dolphins after reports of them being in the area.
The exact species of dolphin has not been confirmed, but those that frequent Cornish waters include common, bottlenose, Risso, Striped and Atlantic white-sided dolphins.
The dolphins were attracted to the area by fish, and stayed in the area eating their prey for hours.
There could have been up to 180 in the area at the time, as there were around six pods, each containing around 30 dolphins.
Harvey Gorst, another friend kayaking at the time who took photographs of the experience, told Cornwall Live: "They were really inquisitive and didn't seem scared of us at all. Some of them came up really close to us, close enough for us to be able to touch them but we didn't."
"The dolphins were so gentle and such lovely little creatures. It was like experiencing another culture because they're all so different up close. It was quite emotional for us to see them so close."
Dolphins are generally calm and friendly. They can be curious, meaning experiences like this are not uncommon. Pods may often approach boats out of curiosity and it is rare that they would ever appear hostile to humans.
Local people have also spotted the pod of dolphins swimming in the area.
The best time to see dolphins around Cornwall is during the warmer summer months, but they can be seen all year round. They are particularly common in Padstow and Port Isaac.
Do you have an animal or nature story to share with Newsweek? Do you have a question about dolphins? Let us know via nature@newsweek.com.