Huge 'Prehistoric' Alligator Gar Caught in Oklahoma's Lake Texoma
An Oklahoma fisherman hit the jackpot over the Easter weekend. Zachary Sutterfield from Durant caught a huge "prehistoric fish" during an outing on Lake Texoma, which straddles the border of Oklahoma and Texas at the confluence of the Red and Washita rivers.
According to a Facebook post by the Oklahoma Game Wardens, the fish was an alligator gar that measured nearly 7 feet long and weighed around 170 pounds.
"This weekend angler Zachary Sutterfield of Durant, OK, harvested this 6'9" approximately 170lb Alligator Gar while bowfishing on Lake Texoma," the Facebook post read. "Luckily Nic Sutterfield and Billy Sutterfield were there to help wrangle this big prehistoric fish into the boat!
"Zachary prides himself in being a conservationist. He allowed ODWC [Oklahoma Department of Wildlife Conservation] biologist Richard Snow to come and gather data from the gar for important research. Great fish Zachary!!"
Although the fish was certainly a large specimen, it is by no means the biggest confirmed alligator gar catch in Oklahoma. That title goes to a 254-pound behemoth caught in the Red River portion of Lake Texoma in 2015 by angler Paul Easley.
Easley's fish—which measured 8 feet long with a 44-inch girth—was just 25 pounds shy of a 279-pound alligator gar caught in the Rio Grande, Texas, in 1951 that the International Game Fish Association (IGFA) lists as the "all-tackle" world record.
According to the Oklahoma Department of Wildlife, Easley released the fish back into the water after it was weighed and measured. "Snagged from Lake Texoma, this 8 foot alligator gar is the largest fish ever caught in Oklahoma waters," read a statement from the department that was posted on Facebook at the time. "Not only is this a massive fish, but it is also a very special and unique fish. Alligator gar are long-lived with only periodic spawning opportunities."
Alligator gars are among the largest fish in North America and believed to grow to over 300 pounds and up to 10 feet long. They are found in large rivers, bays and coastal marine waters from the "western Florida panhandle west along the Gulf of Veracruz, Mexico, and north in the Mississippi River drainage as far as the lower reaches of the Ohio and Missouri rivers," according to the IGFA.
So named because of their distinctive alligator-like snout and sharp teeth, the species—the largest in the gar family—is often referred to as a "living fossil" because their bodies have not changed much since the time of their earliest ancestors and, thus, they retain some primitive features, as evidenced by the fossil record.
Alligator gars have disappeared from much of their historic range as a result of habitat destruction and indiscriminate culling. In recent years several states have brought in conservation measures to protect the fish, Adventure Sports Network reported.
Due to their huge size and formidable strength, alligator gar are popular targets for anglers, although, not surprisingly, they are no easy catch, according to the IGFA.
"Its sharp teeth will cut most lines in an instant," according to the IGFA website. "They are edible, but are not highly rated by most people. The roe (eggs) should never be eaten as it is toxic to man, animals and birds (but apparently not to other fish) and will cause severe illness in people."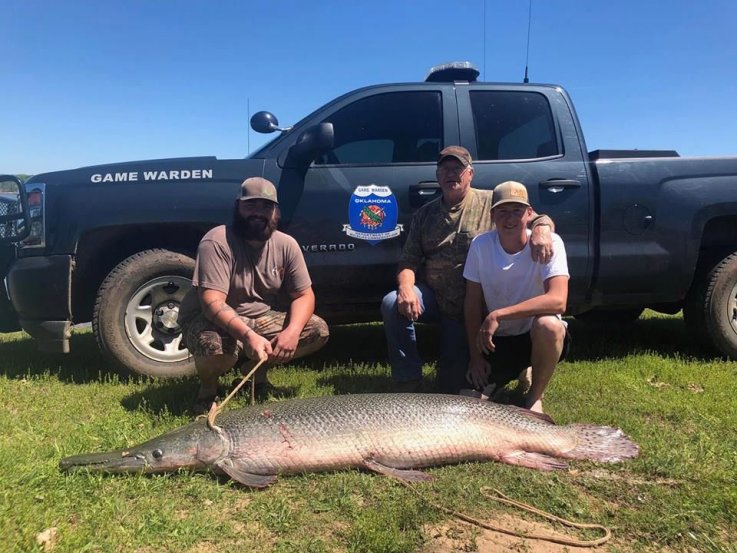 Huge 'Prehistoric' Alligator Gar Caught in Oklahoma's Lake Texoma | Tech & Science