Huge Winter Storm Could Hit East Coast, Parts of Southeast This Week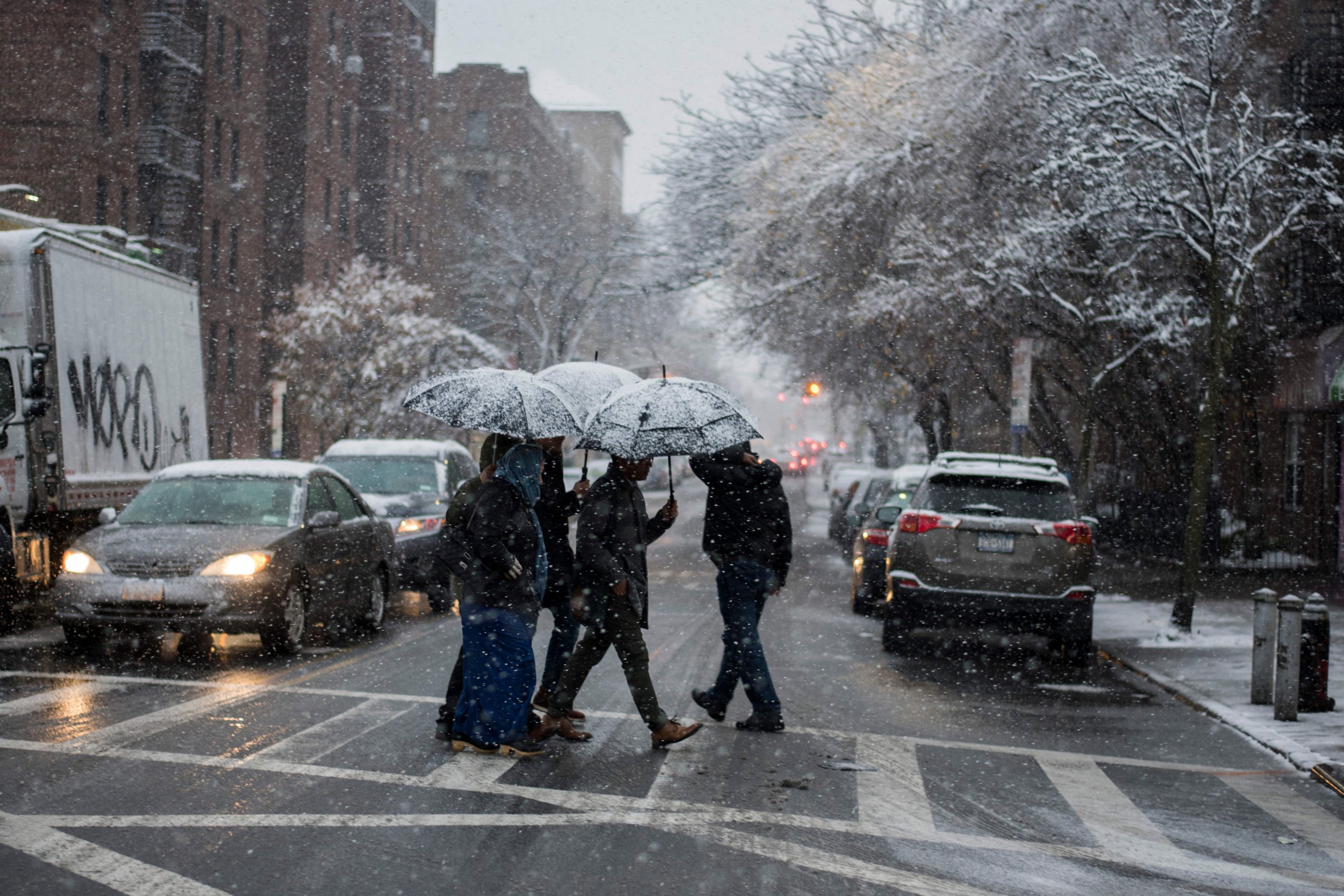 Updated | A monster storm could hit the entire East Coast and even parts of the Southeast on Wednesday and Thursday, with up to a foot of snow expected in some regions.
New England will likely be hit hardest and may see 6 to 12 inches of snow. But the storm could also extend far south, with even northern Florida and parts of Georgia and South Carolina under winter storm watches in preparation for a Wednesday morning kickoff to the storm, according to the Weather Channel.
Winter Storm Grayson, as it was named on Tuesday afternoon, will begin with sleet, ice and snow in the South. As the storm moves north Wednesday and Thursday morning, it will strengthen, with the possibility of "heavy snowfall" upwards of 6 inches, especially along and east of the I-95 corridor, according to the National Weather Service. The service also predicted "high winds and dangerous wind chills."
Winds up to 50 mph could hit the coast from North Carolina up through Atlantic Canada on Thursday. It's unclear how severe the storm will be or how heavy precipitation will be at this point, as it is still developing over the Atlantic Ocean.
Snow and ice aren't the biggest concern here: Wind chills will be killer this week, as the arctic air moves across the Midwest and the East. Minnesota and the Dakotas have already seen wind chills as cold as 60 degrees below zero last weekend, and record wind chills could hit the Northeast later this week.
Heavy ice is also a possibility with this weather system, and it's happening in cities that aren't used to dealing with it. Cities from northern Florida to the coast of North Carolina—including Jacksonville, Florida; Savannah, Georgia; Charleston, South Carolina; and Myrtle Beach, South Carolina—will see from one-tenth to one-quarter of an inch of ice through Wednesday, according to the Weather Channel.
The storm is expected to move to Canada by Friday morning.
This winter is set to be harsher than last year's. According to The Farmer's Almanac, a publication that has predicted seasonal weather since 1792, it will be an exceptionally cold and snowy winter season. Much of the country, especially the East Coast, will see a wet winter, with more snow than usual. The Pacific Northwest and Upper Midwest, however, should see less precipitation than normal.
Note: This article has been updated to include the new name of the storm system and new precipitation forecasts.