Hugh Grant Defends Prince Harry, Saying Tabloid Press 'Effectively Murdered' His Mother And Tore Meghan Markle 'To Pieces'
Hugh Grant has revealed he backs Prince Harry's decision to "step back" from life as a senior member of the royal family, saying the "tabloid press" had mistreated his wife, Meghan, the Duchess of Sussex.
Speaking to Andy Cohen on Sirius XM's Radio Andy while promoting his new film The Gentleman, Grant compared the British media's treatment of Meghan to Princess Diana.
The press had "effectively murdered" Harry's mother and are now "tearing his wife to pieces," the British actor said.
He was referring to Diana's death in August 1997. The vehicle she was in crashed while she was being chased by paparazzi in Paris.
"I'm rather on Harry's side, I have to say. The tabloid press effectively murdered his mother, now they're tearing his wife to pieces," he said. "I think as a man, it's his job to protect his family, so I'm with him."
Grant, who has been been campaigning against press intrusion for years, added that his own relationship with the press is "very poor."
He settled a legal claim against the U.K.'s Mirror Group Newspapers in 2018 after claiming the company had engaged in "industrial scale" phone hacking, according to the Associated Press. He reportedly donated a six-figure payout to anti-hacking campaign group Hacked Off, whose board he sits on.
Hacked Off released their own response to Harry and Meghan's decision to quit their roles as senior roles, saying the couple has been subjected to "sustained abuse" by the media.
"The Duke and in particular the Duchess of Sussex have been subjected to sustained abuse by the UK media," Hacked Off campaigns manager Hannah Mian said in a statement.
"They have a right to basic standards of privacy and for reporting about them to reflect the truth yet elements of the press have callously disregarded these rights in pursuit of sensational headlines."
She added: "Our media is a powerful political force and for the sake of our democracy, it must be held accountable. Journalism should portray reality and inform citizens of the truth."
A representative for Grant and Hacked Off have been contacted for additional comment.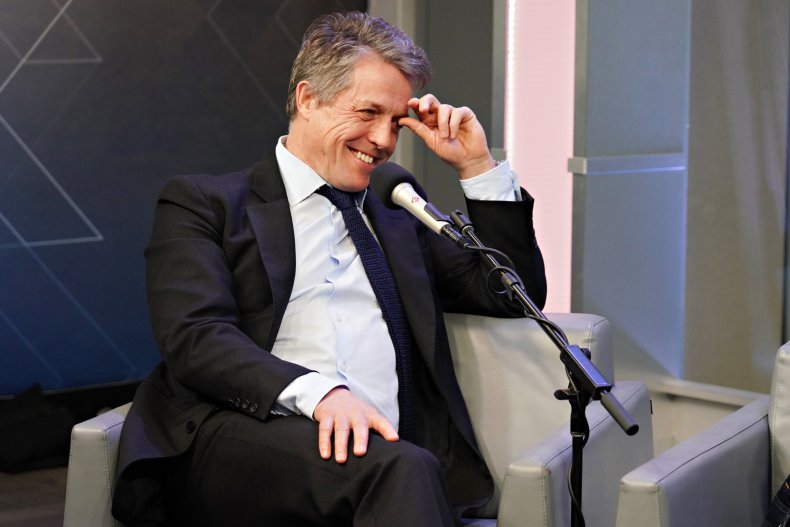 Meghan, meanwhile, is suing Associated Newspapers Limited—the parent company of the Mail on Sunday and Mail Online—for publishing a private letter she sent to her father in August 2018.
She began legal action against the newspaper group last year, with her lawyers describing the letter's publication as part of a "campaign by this media group to publish false and deliberately derogatory stories about her, as well as her husband."
In a statement issued in October, Harry said the British media was "bullying" his wife and likened it to the hounding his mother suffered before her death.
"My wife has become one of the latest victims of a British tabloid press that wages campaigns against individuals with no thought to the consequences – a ruthless campaign that has escalated over the past year, throughout her pregnancy and while raising our newborn son," he said.
"I've seen what happens when someone I love is commoditised to the point that they are no longer treated or seen as a real person. I lost my mother and now I watch my wife falling victim to the same powerful forces."
Grant's comments come a week after Harry and Meghan issued a bombshell statement announcing that they intended to step back from their roles as senior royals, work to become financially independent and split their time between the U.K. and North America.
Queen Elizabeth II has agreed for them to begin a "period of transition" of living in Canada and the U.K. following crisis talks held at the monarch's private estate in Norfolk, U.K.
Shortly after issuing their statement last week, Harry and Meghan launched a new website—where they revealed they will be adopting a new media policy and will no longer take part in the U.K.'s Royal Rota system.
They also slammed Britain's Royal Correspondents saying the "misconception" that they are "credible" sources for information about the royal family "propels coverage that is often carried by other outlets around the world, amplifying frequent misreporting."
The website adds: "Regrettably, stories that may have been filed accurately by Royal Correspondents are, also, often edited or rewritten by media editorial teams to present false impressions."
The chart below, provided by Statista, shows how the British public perceive the treatment of the royal family by the media.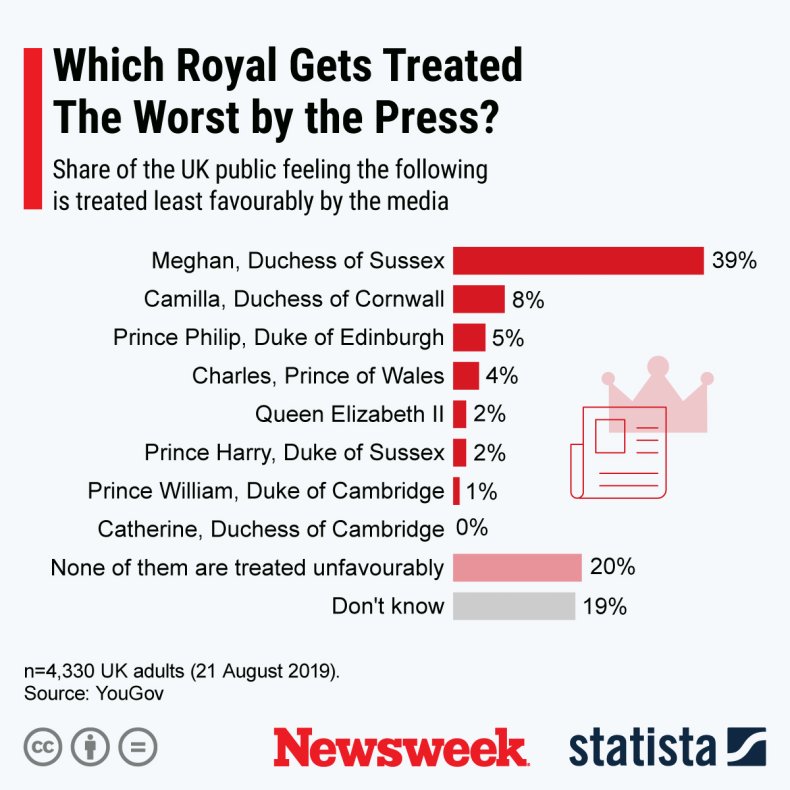 Hugh Grant Defends Prince Harry, Saying Tabloid Press 'Effectively Murdered' His Mother And Tore Meghan Markle 'To Pieces' | World