Who Is Hugh Hefner's Wife? Playboy Founder's Family Were All Linked to the Famous Brand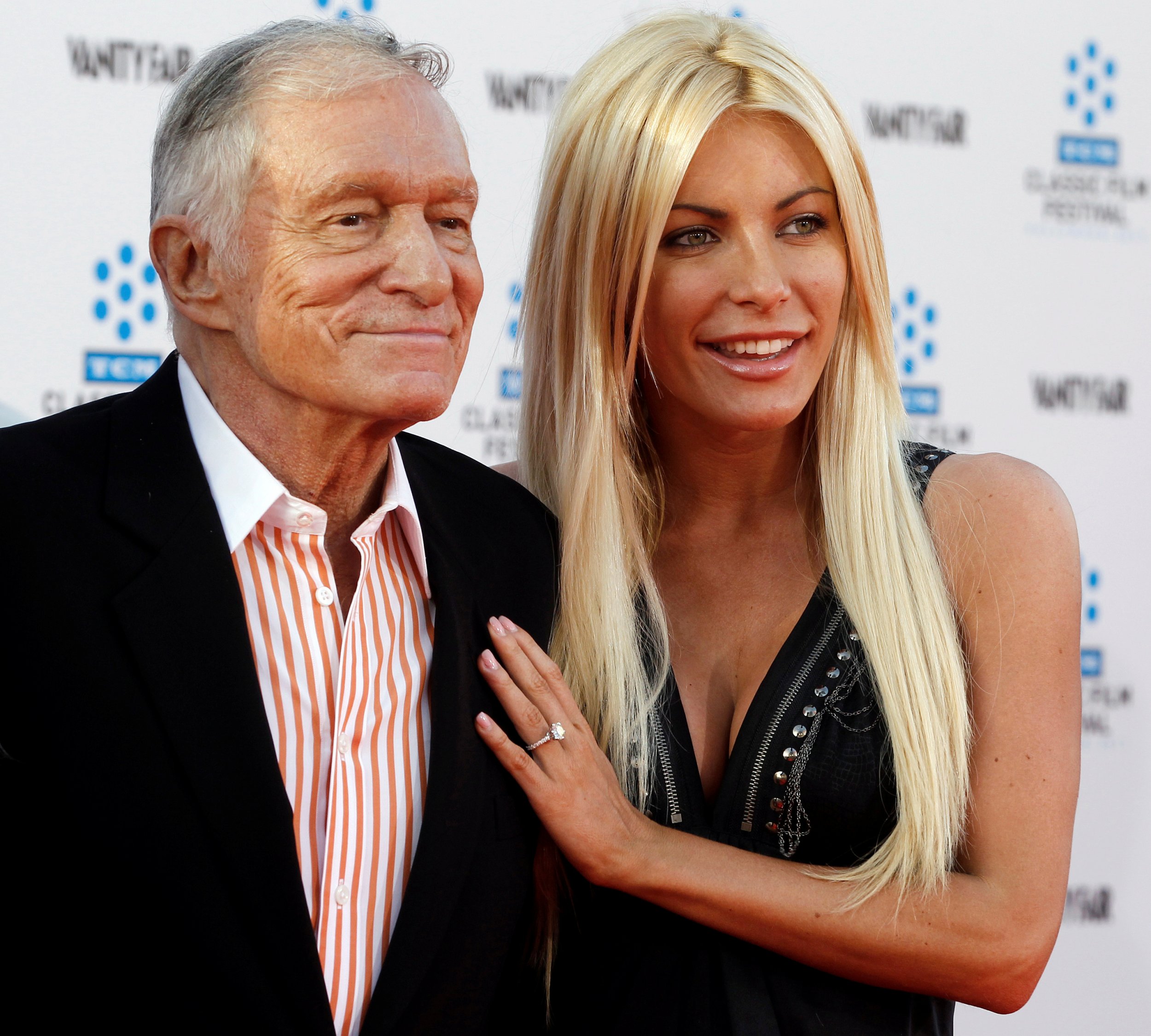 Playboy founder Hugh Hefner, who died at the age of 91, leaves behind four children, from his first two marriages, and his final wife, Crystal Harris, 60 years his junior.
Hefner married his third and final wife, the Playboy Playmate of the Month for December 2009, on the second attempt.
Harris initially broke off their engagement five days before their wedding, with the result that the Playboy announcing her as Mrs. Crystal Hefner was published with a "runaway bride" splash across the cover. But the pair reconciled less than a year later and married at the Playboy Mansion on New Year's Eve 2012.
In 2016, Harris announced she had Lyme disease and toxic mold and that a breast implant illness aggravated the disease. After her implants ruptured, she has them removed and said the procedure improved her symptoms. The two remained married until Hefner's death, which Harris is yet to comment on.
Before Harris, Hefner had two wives, the first of whom he married at 23, after a one-year romantic relationship.
He and Mildred "Millie" Williams tied the knot in 1949, and Hefner later said that Williams had told him before the wedding that she had an affair while he was away in the Army. Hefner called that the "most devastating moment" of his life and said Williams let him have sex with others because she felt guilty.
The couple divorced in 1959, but not before having two kids—Christie in 1952 and David in 1955.
Christie, 5 years old when her parents divorced, became a freelance writer after studying English and American literature at college, before moving to Chicago to work at Playboy. Within four years, she was promoted to vice president of the company and named president of Playboy Enterprises in 1982 and CEO and chair of the board in 1988.
She stepped down from the company in 2009, a year after deciding to cut staff and eliminate Playboy's DVD business, and went on to work with the Center for American Progress, a progressive think tank.
Hefner married his second wife, Kimberley Conrad, in 1989 and divorced her in 2010. Conrad, 36 years her husband's junior, was also a Playboy Playmate, representing Jaunary in 1988, and becoming Playmate of the Year in 1989.
Hefner had two sons with Conrad—27-year-old Marston Hefner, who was arrested in 2012 for allegedly attacking his lover, Playboy playmate Claire Sinclair, and 26-year-old Cooper Hefner, a film producer and a chief creative officer at Playboy Enterprises. Cooper looks most likely to continue his father's brand, telling the Hollywood Reporter in April that he planned to bring back nudity to the publication (banished from the magazine in 2015), and remake the brand for his generation.
As well as his three wives, Hefner had several partners. He was with his first, Barbi Benton, from 1969 to 1976, before marrying Conrad, then had four partners throughout the 2000s—Brande Roderick from 2000 to 2001, Holly Madison from 2001 to 2008, Bridget Marquardt from 2002 to 2009 and Kendra Wilkinson from 2004 to 2008.