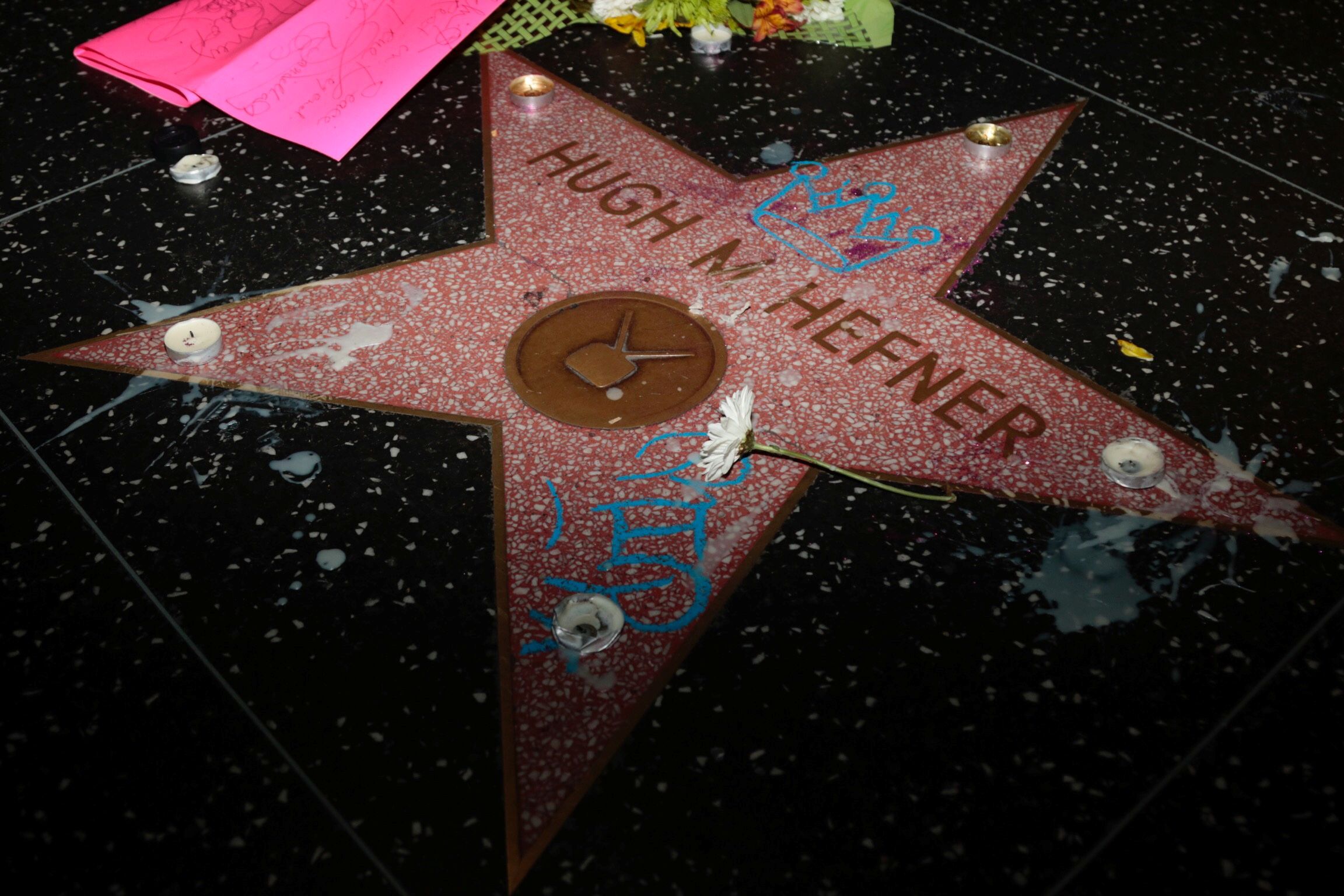 Many people know that Hugh Hefner, who died Wednesday aged 91, saw himself as a campaigner for the liberalization of American attitudes toward sex between straight couples. But less well known was his history of gay rights advocacy.
According to his admirers, his forward thinking on the issue dated back to the 1950s.
A 2009 documentary, Hugh Hefner: Playboy, Activist and Rebel, detailed Hefner's decision in 1955 to publish a science fiction story, The Crooked Man by Charles Beaumont, that describes a dystopian future where heterosexuals are persecuted in a society where homosexuality is the norm.
Facing down a backlash about the story, Hefner wrote: "If it was wrong to persecute heterosexuals in a homosexual society, then the reverse was wrong too." He told The Daily Beast in 2009, "The story was turned down by Esquire, and then we published it."
Hefner also lent his backing to the pro-gay marriage movement in the U.S. "Without question, love in its various permutations is what we need more of in this world," he said in the Daily Beast interview. "The idea that the concept of marriage will be sullied by same-sex marriage is ridiculous. Heterosexuals haven't been doing that well at it on their own."
And in a 2012 Playboy op-ed, reported by Politico, Hefner wrote, "The fight for gay marriage is, in reality, a fight for all of our rights. Without it, we will turn back the sexual revolution and return to an earlier, puritanical time."
"Today, in every instance of sexual rights falling under attack, you'll find legislation forced into place by people who practice discrimination disguised as religious freedom," he wrote, going on to argue that people seeking to regulate sexuality were out to "criminalize your sex life."
In the same op-ed, he detailed other draconian policies on sex and relationships to which he was opposed. "In Arizona, under a proposal bill women who hoped to have their health insurer cover birth control would have been forced to provide their employer with proof they were taking the pill for a medical condition—not just for the purpose of avoiding pregnancy," he wrote.
"A new Kansas law allows a pharmacist to refuse to sell someone contraception on the grounds that such a sale could violate the pharmacist's religious beliefs. Similar laws already exist in Arkansas, Georgia, Mississippi and South Dakota."
"This is a religious nation, but it is also a secular one," Hefner's op-ed concluded. "No one should have to subjugate their religious freedom, and no one should have their personal freedoms infringed. This is America and we must protect the rights of all Americans."
Hefner was also known for promoting civil rights in the harshly racist climate of midcentury America. In 1959, he helped organize the Playboy Jazz Festival, which included performances from black musicians like Dizzie Gillespie, and whose profits went in part to the NAACP. Later festivals would proudly feature black and white musicians sharing a stage.
The first interview published in his magazine was with Miles Davis and was written by a black journalist called Alex Haley. The magazine also published interviews with prominent black figures such as Muhammad Ali, Martin Luther King Jr. and Malcolm X.
And as Hefner rolled out his chain of Playboy clubs in the 1960s, he bought back the franchise rights to clubs that denied entry to black people, and made sure his clubs catered to black and white audiences.