Hugh Hewitt Brings Conservative Talk Radio Perspective to the CNN Debate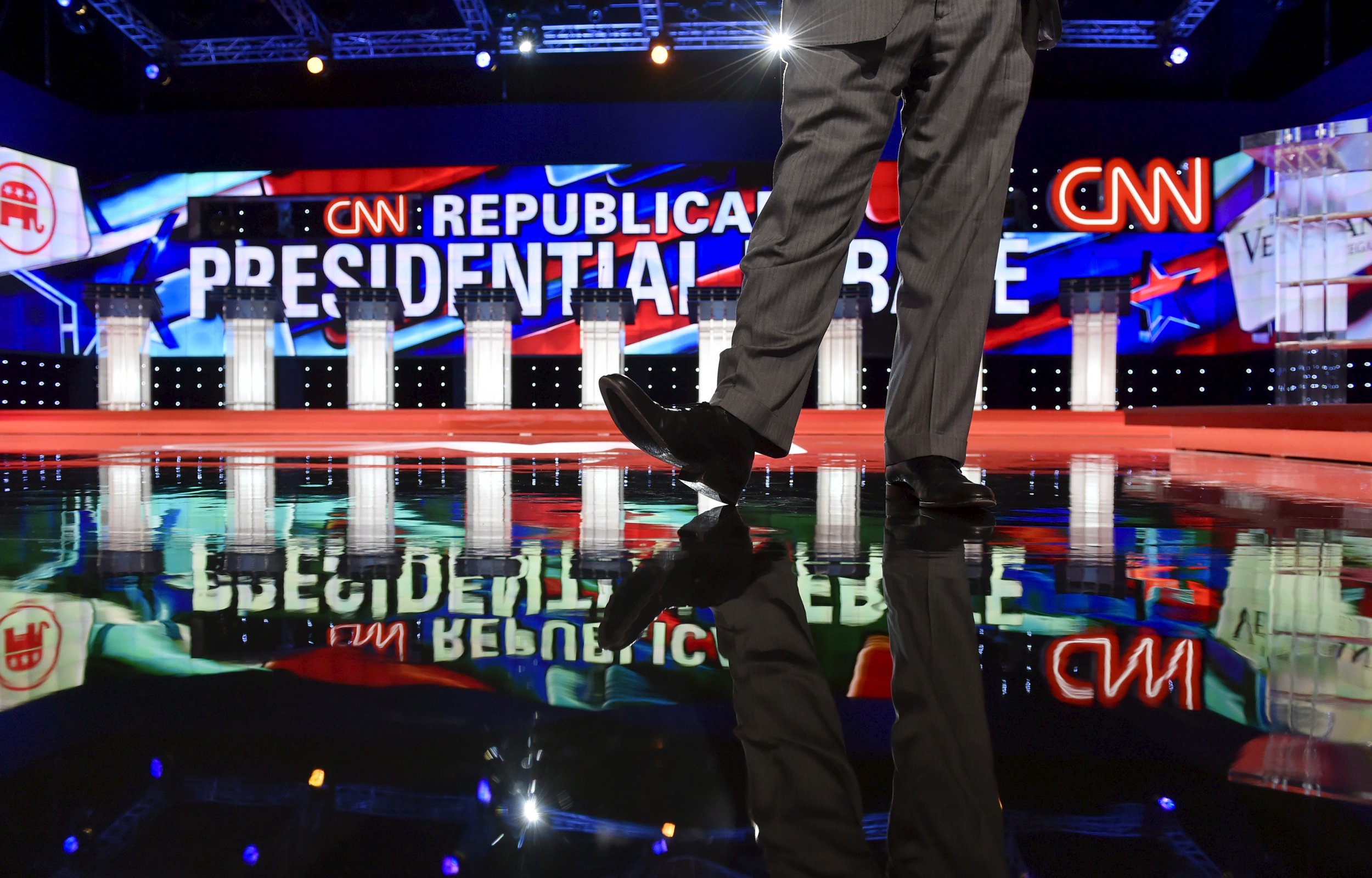 Back when he had a television show, Jon Stewart used to joke that Fox had brought the world of conservative talk radio into mainstream news. It's a pithy observation, but in Republican politics the script has completely flipped. "The media" is viewed so negatively by the candidates and many Republican voters that in highly conservative circles, professional opiners are increasingly considered the rational ones.
Enter conservative writer and talk show host Hugh Hewitt. CNN has brought Hewitt on board for its coverage of the 2016 presidential election, and he will serve as one of the network's interlocutors during the Republican debate on Tuesday in Las Vegas (Wolf Blitzer will host).
Hewitt backed Jake Tapper during the previous CNN debate at the Ronald Reagan library in Simi Valley, California. At that event, he played a relatively minor role, but he did lend a certain conservative credibility to the oft-maligned network, premising his questions in ways that the candidates were eager to answer with substance, rather than attacks against journalists.
CNN's worst-case scenario would be a repeat of the CNBC debate, which saw moderators arguing with the candidates rather than pitting them against each other. Hewitt's presence is insurance, since Blitzer has been known to get confrontational with some of the candidates, especially Ben Carson.
In the hierarchy of right-wing radio, Hewitt is more moderate than Michael Savage, less of an egotist than Bill O'Reilly and calmer in tone than Rush Limbaugh. He has garnered national attention for asking questions that actually deal in fact, such as when he stumped Donald Trump by asking him to identify the leaders of several terrorist organizations in the Middle East (at one point, Trump confused the radical Iranian Quds force with the Kurds). The best part? Hewitt later apologized for the question, saying he should have framed it to give Trump more of a leg up. Trump's charge that Hewitt had asked "gotcha questions" didn't stick. Instead of "media bias" becoming the story, it stayed about Trump: We learned that he viewed leadership as the art of delegating actual knowledge.
Hewitt has been busy this election season. Since the last CNN Republican debate, he has conducted over 80 interviews with the contenders. He tends to give favorable coverage to the candidates when other pundits raise their eyebrows; for example, he wrote a column praising Carson's primary foreign policy adviser, Robert Dees, a retired military officer and Liberty University professor who views the military as an institution charged in part with spreading Christian values. Dees came under scrutiny after Carson erroneously claimed that the Chinese had a military presence in Syria, and media outlets began to wonder who was feeding him information on foreign policy.
Hewitt has been mildly critical of Trump on some fact-based issues, such as the tycoon's controversial claim that American Muslims celebrated 9/11.
Tuesday will tell if the talk show host plays a bigger part in the debate, or if he'll be relegated to the role of token conservative again.
"GOP primary voters are smart," he wrote in a recent column. They'll be able to tell the difference.