Hugh Jackman and Sutton Foster Charm in New Broadway Revival of 'Music Man'
Meredith Willson's The Music Man has always been a show that aims to please, and the latest revival at New York's Winter Garden Theatre succeeds at pleasing on so many levels.
With its folksy hometown humor, a group of whacky townsfolk and a setting that is straight out of a Grant Wood painting peopled by Norman Rockwell characters, Music Man is anything but edgy or hot. What it is, however, is a finely crafted piece of musical theater, with a strong book by Willson and Franklin Lacey, and a set of beautiful songs that have become standards in the Great American Songbook. Music Man also features the most celebrated person to come from Gary, Indiana, Harold Hill (sorry MJ, but I am just reporting the facts). The show may have a reputation in the musical theater for being corny, but this is from Iowa, the buckle of the corn belt. So this corn is good, tasty comfort food.
Music Man, as directed by Jerry Zaks, has a powerhouse cast led by Hugh Jackman and Sutton Foster. When Jackman takes the stage, the audience virtually levitates. Levitating ovations are pretty rare; I think Bette Midler in Hello, Dolly was the last. (This is a far cry from 2003's Oklahoma! when Jackman was not allowed to come over with the London production because he was not famous enough. A few Marvel movies have changed all that. Now they wouldn't think of opening a show without him.) And just when the audience is ready to return to earth, enter Sutton Foster. Once boy meets girl, boy oh boy do the sparks fly. After that, everything goes swimmingly till the last virtuoso leaves the stage.
In a previous post, I pointed out how it is not often a good idea to conflate the art with the artist, but in this case that might be a good idea. Jackman's shout-out to understudy Kathy Voytko, who took over at the last minute for a sick Foster, and the other swings in the cast was just classy and charming. Harold Hill is a charmer. He has to be for the audience to stay with him as he cons a whole town into buying band equipment. Jackman's Hill oozes with charm. He is matched by Foster, as the moody Marian the librarian who falls under Hill's spell.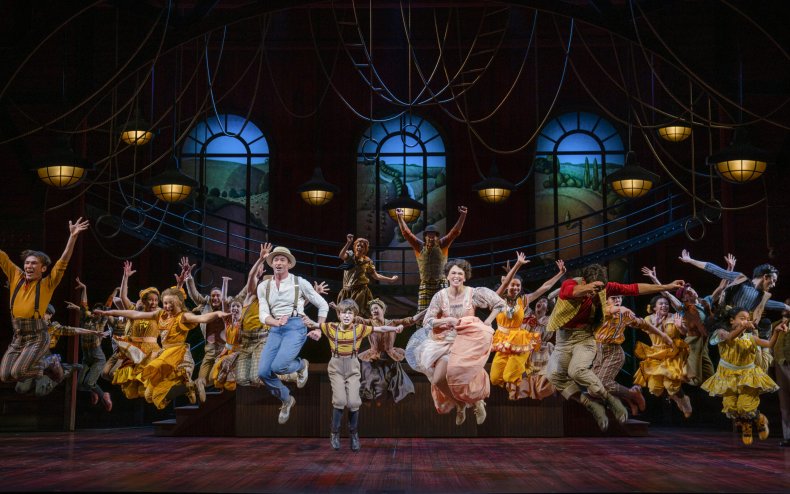 It is a testament to a show's power that it attracts some top-shelf talent for nonleading roles and the talent runs deep in this Music Man. Jayne Houdyshell (as Eulalie Mackecknie Shinn), Jefferson Mays (as Mayor Shinn) and Shuler Hensley (as Marcellus Washburn) are all Tony award winners and they all shine in their comic roles.
The quality and range of the songs is amazing. Of course, there are those 76 trombones. But there is plenty more. Opening with "Rock Island," what some call an early rap song set to the rhythm of a train in motion, to the wonderfully choreographed "Marian the Librarian" to the ebullient "Shipoopi," and the touching "Till There Was You." And the Wells Fargo wagon is an entrance worth waiting for. Variety is the spice of life, and the range of music styles here makes this Music Man one spicy show.
Music Man's dancing is across-the-boards fantastic, especially by some of the youngest members of the cast. I would estimate their ages to be under 10, an age when I was barely capable of watching a Broadway musical, let alone performing at such a high level.
Don't underestimate this Music Man's ability to win you over. After two years of pandemic hell, this production offers audiences a glimpse of musical theater heaven.
The Music Man is now playing at the Winter Garden Theatre, 1634 Broadway at 50th Street for more information go to MusicManOnBroadway.com.