Hugo Boss and Volkswagen Repeat History by Exploiting Enslaved Uyghurs | Opinion
Jewish communities around the world recently celebrated Passover, gathering with loved ones to commemorate the journey out of Egyptian slavery. The Seder meal is central to the holiday, enjoining celebrants is not only to recount the Exodus, but to remember it: "If the Holy Blessed One had not brought us out of Egypt, then we, and our children, and our children's children, would still be enslaved to Pharaoh."
Simon Wiesenthal, a survivor of Nazi concentration camps, became a great Nazi hunter. He taught us that freedom is not guaranteed: "We must fight for it every day."
Freedom is contingent on people's choices and actions and carries a responsibility toward those who are not yet free. Yet continuously, the free world has stood by as the rights of others are brutally trampled and as atrocities that echo the unspeakable barbarism of the Holocaust unfold unimpeded.
It is well-documented that the Chinese government is currently enslaving an ethnic minority. It has conscripted more than half a million Uyghurs to work without pay in cotton fields, and another 1.6 million are estimated to be vulnerable to full-time forced labor. The government is implementing an aggressive program of forced sterilization to limit childbearing by Uyghur women and making it a crime for Muslim Uyghurs to worship the God of Abraham.
Unlike the story of the Exodus—which described persecution along precisely those lines—this genocide—recently recognized as such by the United States and Canada—is ongoing.
We are probably all more implicated in it than we care to acknowledge. An estimated one-fifth of all cotton garments are made using Xinjiang cotton. Uyghur enslavement is so widespread in the Xinjiang cotton industry that most people reading this article are probably wearing a T-shirt or face mask produced using Uyghur forced labor.
Under heavy pressure from a global civil society coalition, some apparel brands are starting to distance themselves from the Xinjiang cotton industry, but others are doubling down.
In October, the Better Cotton Initiative (BCI), a non-profit that certified organic cotton, finally ceased all operations in Xinjiang. British retailers Marks & Spencer and ASOS, and a handful of other brands, committed to redirecting their supply chains away from Xinjiang cotton and all factories across China using forced labor. If a few more large brands sign on, it will have the potential to make a real dent in the profitability of Uyghur forced labor.
The Chinese government's propaganda treats the history of human rights violations in the West—including the historic enslavement and oppression of Black people in the United States—to justify, deflect attention from and downplay its violations of human rights committed today. Beijing's underlying rationale is that nations guilty of any human rights violations at any point in history have no right to criticize the internal affairs of other countries. In this view, history is treated as little more than a grab bag of ideological justifications to justify any and all crimes of the Communist regime.
But there are many other brands that have proven resistant to calls for accountability on this issue. Luxury German fashion house Hugo Boss has been in the spotlight after responding to Chinese pressure by saying on a Chinese social media account that it will continue purchasing cotton from Xinjiang. Corporate headquarters quickly sought to correct the record, stating the comment was unauthorized and that the company does not source cotton from the Uyghur region.
Given its history, one would hope that Hugo Boss would be particularly sensitive to the practices in Xinjiang. This is a company that employed an estimated 140 forced laborers during World War II, many of whom were forced to manufacture SS officer uniforms. Not so long ago, the company declared its "profound regret to those who suffered" as a result of the exploitation.
Volkswagen also appears not to have learned the same lesson from its history as part and parcel of the Nazi regime. This is a company so involved with the enslavement of Jews and thousands of other forced laborers across Europe during the Nazi era that one executive was sentenced to death at the Nuremberg trials for his role in the slave labor program. "[Volkswagen's] executives—not Nazi officials—oversaw the murder of hundreds of infants of slave laborers," wrote Neal Gabler in The Nation.
In May 2019, a 38-year-old Uyghur woman contacted her sister in Australia to let her know that she was taken from the camps and forced to work at a factory in Urumqi. "660 people are brought in shackled and handcuffed," she wrote.
Volkswagen has a factory in Urumqi, the capital of Xinjiang, and has refused to acknowledge any problems with operating a plant there. Global protests are mounting, including a coordinated Passover campaign by 17 Jewish human rights and genocide prevention groups, urging Volkswagen "to repair their past mistakes by ensuring they do not repeat them."
Too many companies are buckling under a Chinese government intimidation campaign, including a manufactured "consumer boycott" against any foreign brands daring to acknowledge concerns over Uyghur slave labor. According to Human Rights Watch, "Inditex, which owns Zara, has removed a statement explaining its policies against forced labor; PVH has done the same. [As has] VF Corporation." Fila, an Italian sportswear manufacturer, stated that it would continue to use Xinjiang cotton.
Companies are also sending lobbyists to Capitol Hill to make the case for continuing business as usual. Last year, it was reported that Apple, Nike and Coca-Cola were lobbying against the Uyghur Forced Labor Prevention Act (UFLPA), the landmark piece of legislation that would prohibit tainted products from entering the United States. The bill passed overwhelmingly in the House last fall, but has stalled in the Senate. The new Congress re-introduced the bill last month and is receiving broad bipartisan support.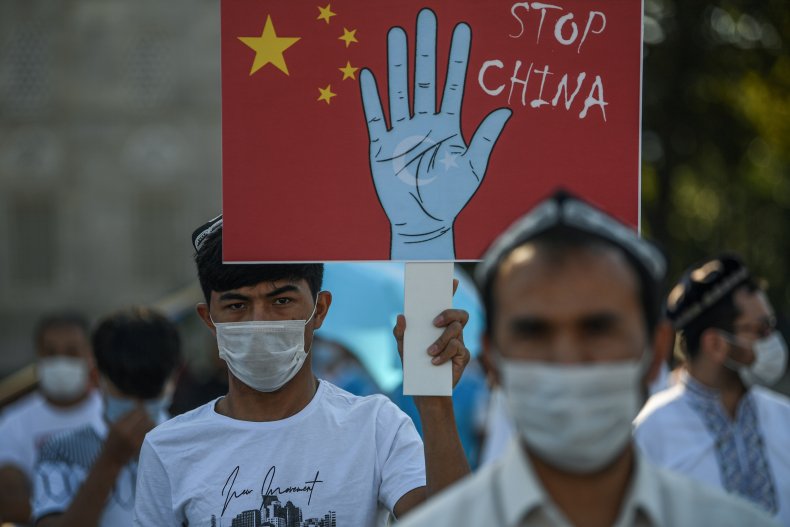 To its credit, Apple terminated its relationship with OFilm, an iPhone camera module supplier that the Commerce Department added to its Entity List in July 2020. Foreign persons, government entities and companies in the Entity List are subject to specific licensing requirement when contrary to U.S. national security and foreign policy interests.
It is past time to pass the UFLPA—and summon executives of major companies that operate in Xinjiang to Congress, forcing them to reveal to the hashtag generation if they use forced labor and which side of the Uyghur tragedy they are on.
The German government, which is committed to preserving the memory of the Holocaust, should put some of the lessons of its past supposedly internalized by their democracy to demand that Volkswagen and Hugo Boss executives come clean about their supply chains in Xinjiang. These companies must not be allowed to hide behind their logos and products when their profits are based on atrocity-tainted supply chains.
U.S. sanctions against Chinese officials responsible for the genocide in Xinjiang must continue and should be coordinated with other countries as much as possible. President Joe Biden and foreign leaders, such as German Chancellor Angela Merkel, must speak clearly and forcefully on the world stage to defend Uyghur rights.
The international community must take a serious look at the 2022 Winter Olympics slated for Beijing. As Hitler's Germany did with the 1936 Olympics, China will seize the games as a major public relations triumph. The 13 major corporate sponsors, national Olympics teams and diplomats who go to Beijing will be—whether they like it or not—endorsing a genocidal regime. It is time for all people who value human dignity above medals and fame to demand that the International Olympic Committee move the 2022 games to a democratic country in Asia. In the absence of such action, individual countries led by the U.S. should consider boycotting the Olympics.
If God had not intervened, say Jewish families, then they would likely still be slaves in Egypt. Perhaps if the free world had done more, sooner, then Uyghurs would not be enslaved today. Choices and actions matter.
Perhaps we will fail to force Beijing to halt the blatant pursuit of this morally corrupt policy, but we cannot just sit on the sidelines and send in our Amazon orders to companies that already had the worst history with genocidal forced labor during the Nazi era, and now collaborate with Beijing by using slave labor in Xinjiang.
It is our responsibility to act so that those who are this year enslaved will hopefully be free next year. The longer the free world dithers, takes half measures, or compromises its morals for profits and cheap goods, the longer the enslavement and suffering of the innocent Uyghurs will continue.
Nury Turkel is a senior fellow at Hudson Institute, co-founder and chair of the Uyghur Human Rights Project and a commissioner on the United States Commission on International Religious Freedom.
Rabbi Abraham Cooper is the associate dean and director of Global Social Action Agenda for the Simon Wiesenthal Center.
The views expressed in this article are the writers' own.