Hulu Down, Not Working Today: Users Getting Error Code Messages

The popular streaming service Hulu is down for millions of its users Friday. When trying to open Hulu, many users saw an "error code bya-403-007" message or a "not available in your location warning.
Hulu confirmed the outage Friday around 10 a.m. EDT. "We are aware of an ongoing technical issue that is impacting playback this morning. Our teams are investigating this with a high priority, and we will be updating this thread accordingly," the company said in a statement.
At 11 a.m. EDT, Hulu provided an update but said it's still not working. "While we have no new information to share at this moment, please know that our developers are working on this with the highest priority. We appreciate your patience."
Hulu's support Twitter account was also responding to users complaining about the streaming service not working today.
"Please know that you're not alone and we've got all hands on deck working to resolve this issue. Getting you back to your shows is our top priority," the company said.
According to Down Detector, the first reports of Hulu being down and not working appeared shortly after 9 a.m. By 10 a.m., more than 2,000 people reported outages on the site. The Hulu outage map shows most of the reports are in the U.S.
"Video not available in your location message with every attempt to watch anything," one user said. "Central PA, USA. Super frustrating. Everyday Hulu bumps me off at least twice right the middle of watching shows, and now this."
Another user said Hulu said the wait time would be more than an hour.
"Worked fine last night, Hulu not working today on phone, computer, or PlayStation. Same as everyone else, not available in my location," Down Detector user Stephen said. "Looks like a massive issue happening at hulu. Called customer service and was told expected wait time over an hour."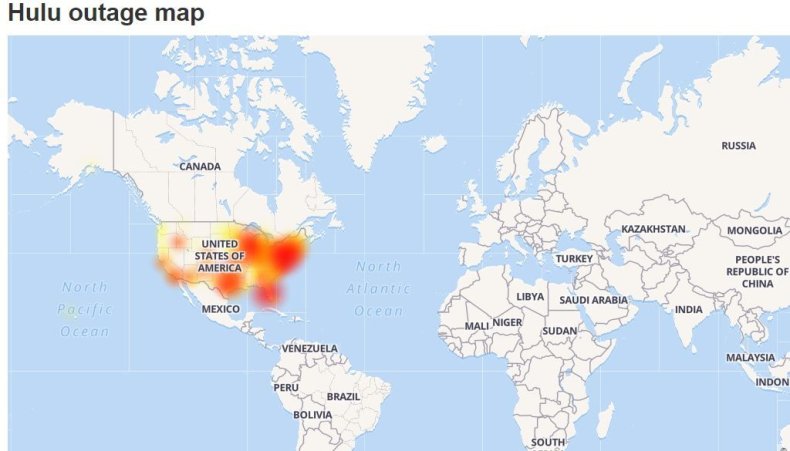 Hulu users showed their "frustration" with the outage on Twitter. "Hulu is down. I can't watch naruto and it was on a cliff hanger! Lord be with me in these trying times," Twitter user Tyto Alba said.
Another complained they can't watch the newly canceled Brooklyn Nine-Nine now.
Update: Just after 12 p.m. EDT, Hulu appears to be working for more users. The company said, "Thank you for your patience. Our developers are working hard on implementing a fix for the current playback issue you may be experiencing. We hope to update you soon with a full resolution."
Stay with Newsweek for updates on Hulu being down.