The month of February will bring all the feels to Hulu. The streaming network will release dozens of new titles, and as expected, plenty of classic features in honor of Valentine's Day.
Along with rom-coms and movies to tug at the heartstrings, Hulu will release a brand new series, High Fidelity, starring Zoë Kravitz. A modern-day take on Nick Horby's 2000 film of the same title, the series follows Kravitz's character Rob Brooks as she helms a record store in the ever-changing neighborhood of Crown Heights, Brooklyn while grappling with the return of her first true love.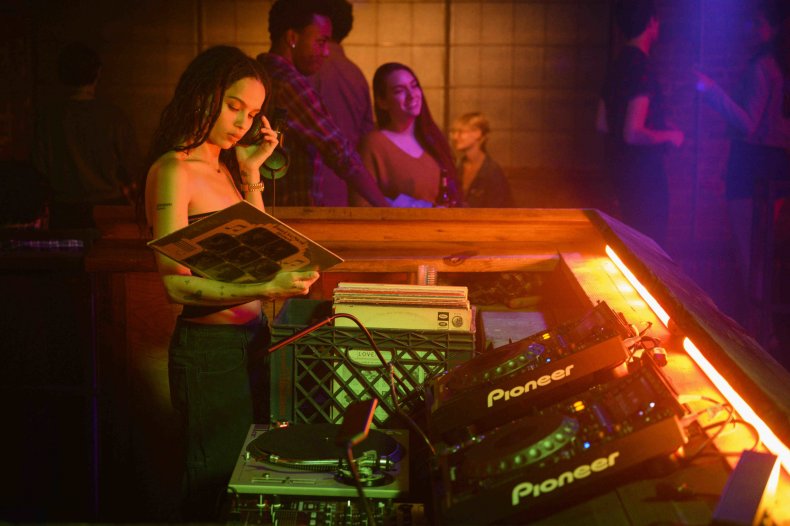 Hulu will also debut the latest episode of Into the Dark. However, the horror series will deliver a timely and terrifying take on Valentine's Day.
See the complete list of titles releasing on Hulu in February below.
Asterisk indicates an original Hulu TV series or film.
February 1
300
28 Days Later
Adam
All About E
Bridget Jones Diary
Bridget Jones: The Edge of Reason
Bridget Jone's Baby
Buffalo 66
Captain Kronos: Vampire Hunter
Cheech & Chong's Still Smokin'
Cherry Pop
Earth Girls are Easy
For Colored Girls
The Fugitive
Getting Go: The Doc Project
Ghost
The Girl King
Hitch
Henry Gamble's Birthday Party
Hot Guys with Guns
John Q
Judgement Day
The Last Stand
The Last Warrior
Liz in September
Lord of War
The Man Who Could Cheat Death
Margarita with a Straw
Ms. Purple
Menace II Society
Mimic
National Lampoon's Christmas Vacation
National Lampoon's Dirty Movie
National Lampoon's Dorm Daze 2: College @ Sea
National Lampoon's European Vacation
National Lampoon's Vacation
Naz and Maalik
The Phantom of the Opera
Precious
Robin Hood
Say Anything
Southie
The Spy Next Door
Those People
Touched with Fire
Vegas Vacation
When Harry Met Sally
Where We Go From Here
February 2
A Madea Family Funeral
February 3
The Cabin in the Woods
The Masked Singer, Season 3 premiere on Fox
February 5
Warrior
February 6
Angel of Mine
David Crosby: Remember My Name
Disaster Movie
Lego Masters, Series premiere on Fox
Wrinkles the Clown
February 7
Brooklyn Nine-Nine, Season 7 midseason premiere on NBC
Indebted, Season 1 midseason premiere on NBC
*Into The Dark: My Valentine
February 9
Alive
February 10
The Oscars on ABC
February 12
For Life, Series premiere on ABC
Where'd You Go, Bernadette
The Real Housewives of Beverly Hills, Season 9
February 13
Mister America
February 14
Beverly Hills Ninja
From Hell
*High Fidelity, Season 1
Racetime
Radioflash
The Other Guy, Season 2
*Utopia Falls, Season 1
Villains
February 15
28 Hotel Rooms
American Ultra
Anchor and Hope
Monogamy
Princess Cyd
February 17
American Idol, Season 3 premiere on ABC
Duncanville, Series premiere on Fox
Good Girls, Season 3 midseason premiere on NBC
February 18
Super 8
February 19
Getaway
February 22
The Prince
February 25
The Voice, Season 18 midseason premiere NBC
Run the Race
February 28
After the Wedding
The following will be available with the STARZ premium add-on:
February 1
America's Sweethearts
American Psycho
American Psycho 2
Are We There Yet?
Being John Malkovich
Cesar Chavez
Chinatown
Damien: Omen II
Double Jeopardy
Fallen
Hotel Rwanda
Muppets Most Wanted
Shane
Showgirls
Sideways
Unthinkable
X-Men Origins: Wolverine
February 9
Wrong Man, Season 2 premiere
February 14
About a Boy
Garfield: The Movie
Identity
In the Line of Fire
Joe
The Final Conflict
The Game
The Haunting in Connecticut
The Haunting in Connecticut 2: Ghosts of Georgia
The Omen
The Whole Nine Yards
Vertical Limit
February 16
American Gangster
Milk
Repo Men
February 27
Ghost Rider Spirit of Vengeance
February 29
The Texas Chainsaw Massacre
The following will be available with the HBO premium add-on:
February 3
McMillions, Series premiere
February 7
High Maintenance, Season 4 premiere
The following will be available with the SHOWTIME premium add-on:
February 9
Homeland, Season 8 premiere
Kidding, Season 2 premiere
The following will be available with the CINEMAX premium add-on:
February 14
Strike Back, Season 7 premiere