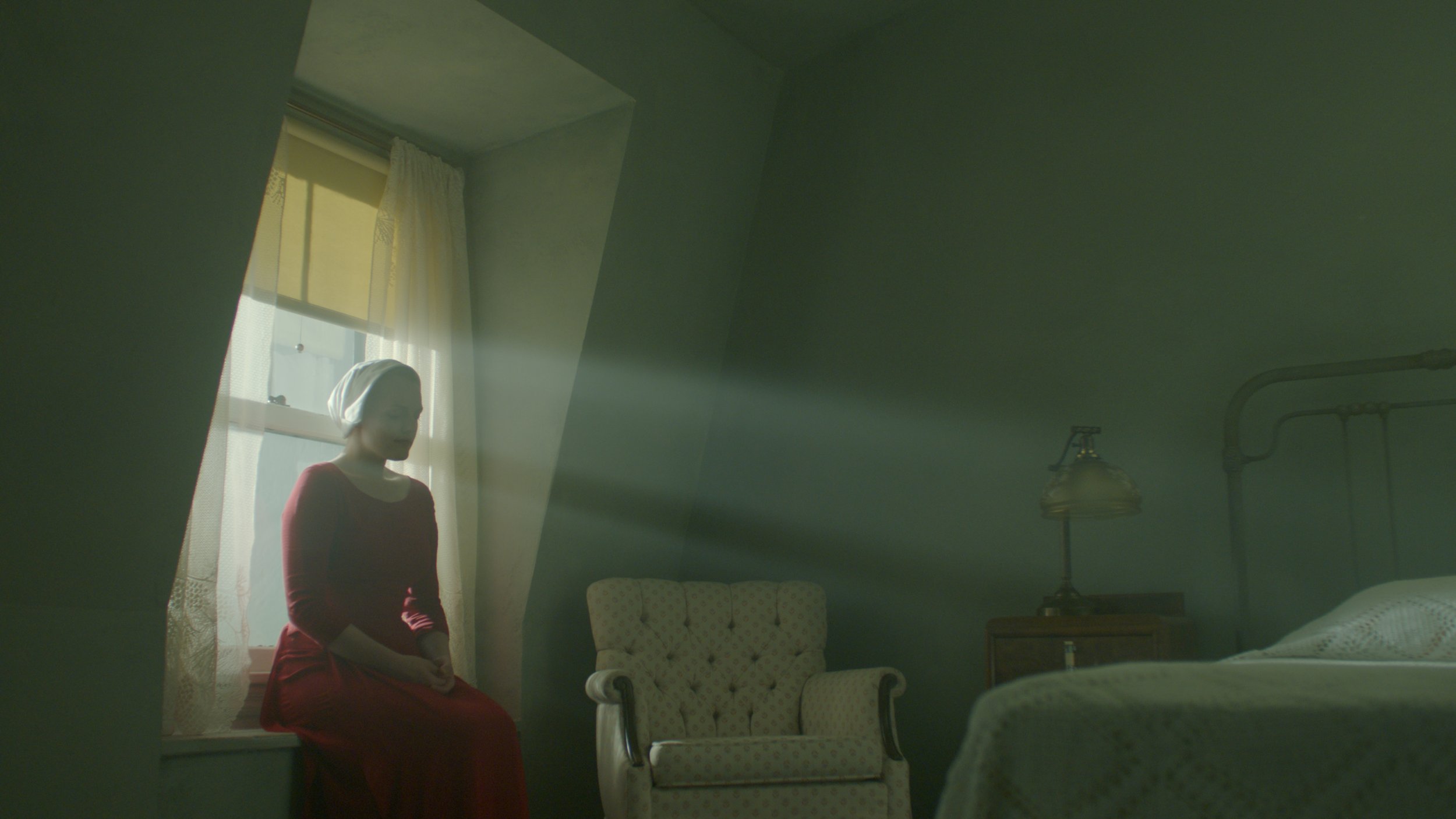 Hulu released the first full trailer for its adaptation of The Handmaid's Tale on Thursday and the excerpted scenes are chilling. The streaming platform's forthcoming original series, due out April 26, is based on the 1985 novel of the same name by Canadian author Margaret Atwood.
"I was asleep before. That's how we let it happen," the trailer begins, narrated by Elisabeth Moss (Mad Men), who stars as Offred. She's standing in a dim room, a silhouette facing the bright window. "When they slaughtered Congress, we didn't wake up," she continues as viewers glimpse scenes from the events she's describing. "When they blamed terrorists and suspended the Constitution, we didn't wake up then either. Now I'm awake."
Related: Netflix, Amazon, Hulu: The shows and films coming and going in April
The Handmaid's Tale is the story of a post-United States dystopia, a totalitarian society named Gilead in which fertile women "serve the leaders and their barren wives." Offred—who once had a different name, but now is referred to as "of," or "belonging to," a man—tried to escape the Republic of Gilead after all the women were let go from their jobs. But she was caught and her daughter was ripped from her arms and taken away. Now she's a Handmaid, dressed like all the others in red frocks and white bonnets, expected to bear children for the leaders of the totalitarian state she now lives in.
Atwood's book, like George Orwell's 1984, garnered renewed attention around the 2016 presidential election. Sales of The Handmaid's Tale went up 60 percent in the last year and were up 200 percent since election day, publicist Russell Perreault told NPR in February. Speaking more than a month ago, Perreault said Anchor Books had printed 125,000 new copies of the novel just in 2017.
"Having been born in 1939 and come to consciousness during World War II, I knew that established orders could vanish overnight," Atwood wrote last month in an essay for The New York Times Book Review. "Change could also be as fast as lightning. 'It can't happen here' could not be depended on: Anything could happen anywhere, given the circumstances."
Though the speculative, dystopian novel is a work of science fiction, it relies on real events. "If I was to create an imaginary garden I wanted the toads in it to be real," Atwood wrote. "One of my rules was that I would not put any events into the book that had not already happened in what James Joyce called the 'nightmare' of history, nor any technology not already available."
When Atwood was working on the book in the early 1980s, "the main premise seemed—even to me—fairly outrageous," she wrote. "Would I be able to persuade readers that the United States had suffered a coup that had transformed an erstwhile liberal democracy into a literal-minded theocratic dictatorship?" More than three decades later, the task might be far easier than Atwood could ever have anticipated.
"We only wanted to make the world better," The Commander tells Offred in the trailer. When she questions his statement, he adds: "Better never means better for everyone."