Hulu Spotify Bundle: How to Sign Up for Free Hulu with Premium Spotify Plan
Spotify is once again teaming up with Hulu to offer free video-on-demand subscriptions. Find out how to sign up for the Spotify/Hulu bundle, here.
On Tuesday, Spotify and Hulu announced a limited time Premium Bundle that allows Spotify users to get a free subscription to Hulu's ad-supported plan. The plan is available to both new and existing Spotify and Hulu customers. It only requires having a Premium Spotify account. Spotify's Premium Account will set you back $9.99 a month, but with it, you'll be getting a free basic Hulu plan valued at $5.99 a month. Spotify's Premium/Hulu Bundle previously ran $12.99 a month, so while new customers are getting a super low bundle price, existing bundlers will see a limited time $3 dollar reduction on their bill. Customers subscribing to either Hulu or Spotify Premium separately are eligible for the offer as well. According to Spotify's website, the offer is open until June 10, 2019or while supplies last, so we'd advise jumping on the deal quickly. In order to help you get signed up for free Hulu with Spotify, we've put together a complete guide below, along with answers to questions you may have concerning the Hulu/Spotify bundle.
Hulu Spotify Bundle: How to Sign Up for Free Hulu with Premium Spotify Plan​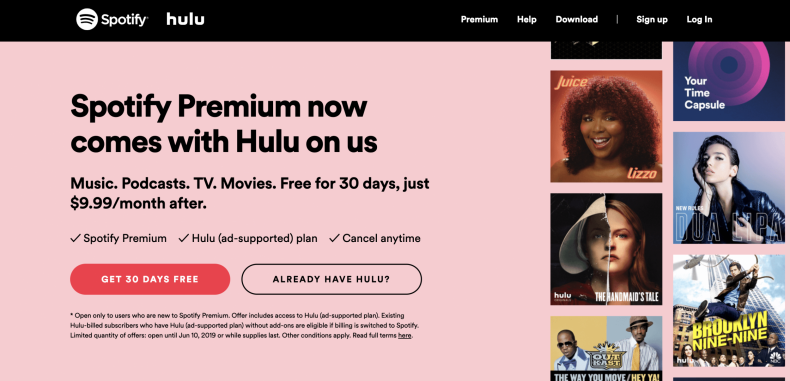 If you are NOT a Spotify subscriber…
To take advantage of the Spotify Hulu bundle, you will need to go to the official Spotify website and sign up for the deal. You will be charged $9.99 a month for the ad-free Premium Spotify plan and receive a free basic Hulu plan (with ads). Once signed up, you will need to activate your new Hulu plan through the "Your Services" page in your Spotify account settings.
If you already have Hulu Spotify Bundle …
If you are already paying for the $12.99 Hulu Spotify bundle, you don't have to do anything at all. Existing bundlers will see a $3 dollar lower bill during the time of the promotion. After the promotion ends, however, existing subscribers will see their bundle return to the earlier price of $12.99.
What if I have a Hulu account already? How to add Hulu to your account
For users who already have a Hulu account, things get a little more dicey. In order to take advantage of the bundle, you will need to cancel your existing Hulu plan and set up the new account you'll receive as part of the bundle. If you subscribe to Hulu's Live TV services or channels like Showtime or HBO, those won't be accessible with the Spotify bundle.
Can Spotify Family subscribers sign up for the Hulu Bundle?
Unfortunately, the Spotify Hulu bundle is strictly for solo Hulu Premium plans. Family plan users cannot take advantage of the offer.
How does this bundle compare to the Spotify Student Bundle?
Though the new Spotify Hulu bundle can save customers some money, if you are a student, there is an even better plan to take advantage of. Subscribers who can verify their student status can sign up for Spotify's $4.99 Student Bundle that includes a free basic Hulu subscription and Showtime.
What do you think of Spotify's new Hulu bundle? Will you sign up? Share your thoughts in the comments below!