Human Remains, Bracelet Found in Tiger Shark's Belly
Human remains were found in the belly of a shark caught off Saint-Leu in Réunion Island, a French department in the Indian Ocean near Mauritius.
According to local reports, a male tiger shark was caught Thursday night at around 8 p.m as part of a preventive fishing program.
A routine dissectio found human limbs and a curb chain in its stomach. A septuagenarian kayaker had been reported missing declared after a trip in the waters off the coast of Saline-les-Bains on December 12, and ccording to Clicanoo, relatives recognized his jewelry.
However, forensic tests are needed to confirm that it was indeed the kayaker. It may never be known if he was bitten by the shark before or after he died.
Newsweek has contacted the Saint-Leu, Réunion Island, authorities for comment.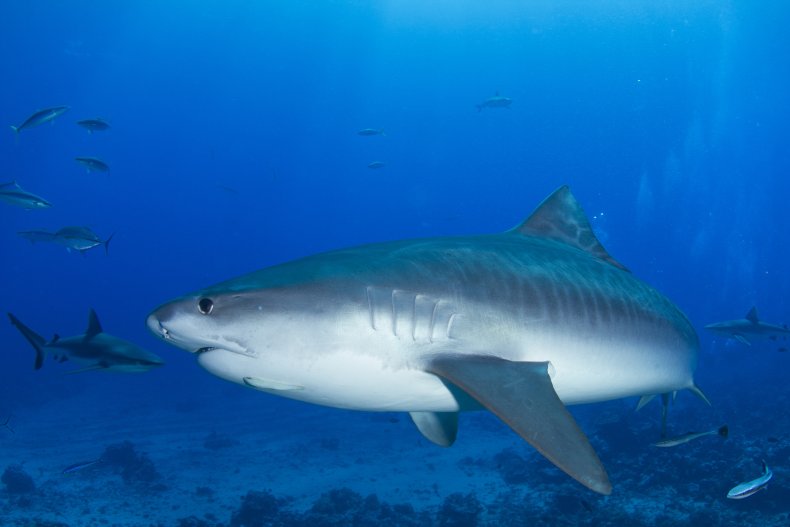 This is not the first time scientists have uncovered grisly remains while dissecting a tiger shark. A banker fishing off the coast of New Providence, Bahamas, had an unpleasant surprise when a shark he caught and was about to release back into the water retched up a human leg.
According to a report from Royal Bahamas Police Force and Fairfax Identity Laboratories, a dissection found the remains of two bodies, which included a right leg, two arms and a torso.
While this might sound like the stuff of nightmares, fatal shark attacks on humans are incredibly rare. According to the International Shark Attack File, there were 132 shark bites reported worldwide. In at least 34 of these cases, the shark had been provoked.
The majority of incidents (32) took place in the U.S. with Florida alone reporting 16 attack. Surfers, swimmers and snorkelers were the groups most likely to be bitten and were involved in 53 percent, 30 percent and 6 percent of attacks respectively. Very few died of their injuries.
"On average, there are only six fatalities attributable to unprovoked attacks by sharks worldwide, each year," said the International Shark Attack File. "By contrast, fisheries kill about 100 million sharks and rays annually."
While it can be tricky to identify the species of shark identified in any one attack, the most commonly implicated species are ,in descending order, the great white (Carcharodon carcharias), the tiger (Galeocerdo cuvier) and the bull (Carcharhinus leucas).
The graph below, provided by Statista, shows the number of unprovoked shark attacks that have been reported across the world between 1580 and 2019.