Human Remains in Nashville RV That Broadcast 15-minute Countdown to Bombing
Nashville Police Chief John Drake said that "tissue" had been found at the site of the massive explosion that shook the city on Christmas Day, with the tissue reportedly consisting of human remains.
Three people were injured in the early morning blast. The explosion originated from an RV parked in downtown Nashville. Witnesses said that a 15-minute countdown to the explosion was broadcast from the vehicle, warning those nearby to "evacuate" the area due to a bomb. It is not clear whether anyone was inside the RV.
No further injuries or deaths have been confirmed. However, Drake said that police believe the tissue "could be" remains, while two law enforcement officials, speaking on the condition of anonymity, told The Associated Press that human remains were found in the area.
"We have found tissue that we believe could be remains," Drake said after being asked to confirm if remains had been found during an evening press conference. "We'll have that examined, and then we'll be able to let you know from that point."
"The RV was detonated so if it was someone inside, we have no idea, it was such a large explosion," he added. "The investigation is continuing. There's matter all over the area down there. So, we'll continue to examine that to see if it's human remains."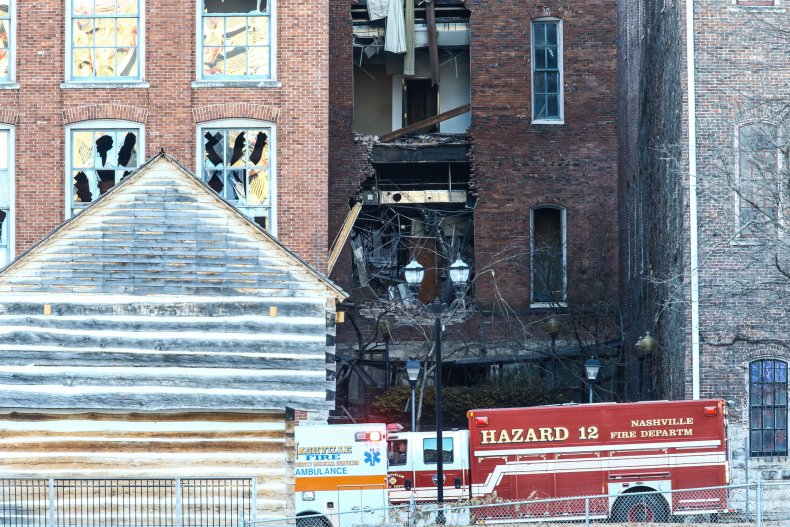 When asked for an "estimate" on the number of fatalities at the scene, Drake reiterated that no deaths had been confirmed, saying "right now, it's no known fatalities, that we know of."
A video appearing on social media appears to show the explosion from a video camera placed nearby. A recorded voice can be heard on the video repeating "this area must be evacuated now," before saying, "If you can hear this message, evacuate now" twice. The image then quickly flashes and goes white as a large explosion is heard.
The motive of those who carried out the apparently intentional incident remains unclear, although an ongoing investigation could help to clear up some of the uncertainties soon, in particular whether the tissue found was from a person who perished in the explosion. All three of the people who were injured were reported to be hospitalized in stable condition as of Friday night.
"We're following up on every lead that we can," Drake said. "Why Christmas morning? We have no idea, it was a total surprise. In fact, when I was briefed this morning I thought maybe it was going to be a propane explosion from an RV but it turned out to be an intentional act."
"We're following up on tips that are coming in now," he added. "We'll continue our investigative efforts."
Newsweek reached out to the Nashville Police Department for comment.